On the first ever episode of the Vikes Life Podcast, we talked about Vikings pets, baby names and interviewed Jay Matuzak, the man behind the epic Skol Chant that originated at U.S. Bank Stadium. Follow along with the show notes as you listen to Episode 101: Welcome to #VikesLife!
Kitten Caboodle: After volunteering at a Community Tuesday event with the Animal Humane Society in November, Vikings Safety Anthony Harris adopted two cats, one named Cookie and one named Ella from the Golden Valley, Minnesota location. For every animal adopted during the event, the Minnesota Vikings donated $50 towards the Animal Humane Society. The total money raised for the event reached $2,850! Follow @hoosdatdude and the adventures of his new feline friends via @hooscoolcats on Instagram.
Flying Fish: One of Seattle's most famous attractions is the Public Market. At Pike Place Fish Market, employees are known for tossing around their famous fish to customers passing by. Vikings QB Trevor Siemian played tourist and got in on the action. As a quarterback, he's used to catching and throwing on the fly!
Not Your Average Baby Name: Vikings super fan Brian Woodke and his wife recently welcomed a baby boy to their family. The couple got their naming inspiration from a well known Detroit Lakes native, but it's not just because he's a record-breaking wide receiver.
Felicia got the inside scoop from Brian on how the family chose the name: "My wife and I have both been Vikings fans forever and we always bonded around watching the games on Sundays. When my wife was pregnant and we were spit-balling names while watching the game I just kind of mentioned I really liked the name Thielen and it just stuck. And I've always been a fan of naming kids after people you admire and respect. Adam is an amazing role model on and off the field, as a family man and part of the community. Knowing how he persevered from a walk on to reach the top of the league is a true testament to his character. And I hope one day my son can be that kind of man." -Brian Woodke, Vikings fan from Iowa
Dear Kyle: Kyle Rudolph is the Vikings nominee for the 2018 Walter Payton Man of the Year award. The video "Dear Kyle" produced by Vikings Entertainment Network explains just how much Kyle's charitable work has impacted families at University of Minnesota Masonic Children's Hospital and beyond. Grab a few tissues before watching this one!
Don't forget to tweet your vote for Kyle using "#WPMOYChallenge Rudolph" on Twitter. Retweets also count as votes!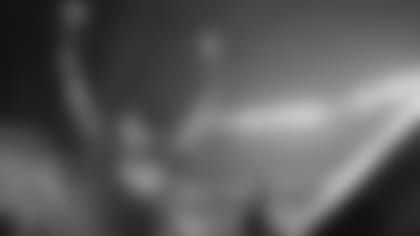 By day, Jay Matuzak is a middle school teacher, but on Sundays at U.S. Bank Stadium, you may know him as the man who single-handedly leads 66,000 people in the Skol Chant. Jay taught us a little history about the Skol Drum, shared how it feels to get the crowed hyped at every game and told us how he originally got the gig.
Here are a few close-ups of the Skol drum:
Stay tuned for next week's episode of Vikes Life, where we'll talk about all things social media and chat with another special guest. Tweet us your photos, videos or anything you want us to talk about using #VikesLife. Skol!