Two families — who have given immensely to protect freedoms through military service — recently received a surprise visit by Pete Bercich, who delivered news they will receive free groceries for a year from Hy-Vee and an ultimate tailgating package from the Vikings.
Bercich, the former Vikings linebacker and coach who is now an analyst, connected with the families via video calls moments before ringing doorbells and expressing appreciation from Hy-Vee and the Vikings while maintaining social distancing guidelines.
The surprise visits on a chilly Oct. 26 were a way to replace the Hy-Vee Veterans Voyage as the coronavirus pandemic continues.
"Obviously this has required a little bit of thinking how we can help in different ways, given the environment we're in," said Carl Haidar, Hy-Vee District Vice President, Northern Region. "So, here we are outdoors, social distancing, trying to find a way to help make a difference and thank our veterans.
"When it comes to tailgating and bringing families together and having snacks and meals, this is a perfect combination for watching the Vikings," Haidar added.
The tailgating package included a 55-inch television, infrared grill, patio heater and a Vikings-themed tent, tables and chairs, as well as a custom cornhole set and Vikings swag.
"It's truly been amazing, and you know, to be able to do things like this for families like this and hear their stories, I want to personally thank the Wilf family and entire Vikings organization for making something like this happen because it's been an amazing day," Bercich said. "I've been a Viking for 25 years, and this is probably one of the most amazing things I've been able to do. I want to thank Hy-Vee for making it possible to show support to a couple of families who have supported this country in amazing ways."
The surprise for Army National Guard Staff Sgt. Erik Mossberg, who medically retired in May 2019, occurred at his home in Wyoming, Minnesota, two weeks after the father of two had his leg amputated at Mayo Clinic.
The 29-year old had committed to the Army National Guard in 2008 while still a junior in high school. He considered active duty "right away," but his parents hoped he would have the opportunity to attend college.
"I kind of did the best of both worlds where I could serve and get my college degree paid for," Mossberg said. "I joined the National Guard as a junior in high school and stayed in with the intentions of doing 20 years of service, and then this injury is what led to my service coming to an end."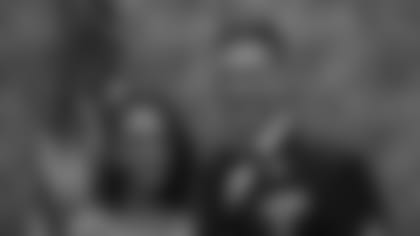 Mossberg, an infantryman working as a gunner during a deployment to Iraq, suffered his life-changing injury when he fell from a military truck.
"I split open my knee and had a bunch of issues, but then six months after coming back from Iraq, I started to develop a lot of pain and having my calf swell up, so I experienced my first blood clot of many to come," Mossberg explained. "Over the last five years I've had over 20 blood clots in my left calf and two in my lung. They could have killed me at any time, so it's kind of the post effects of what happened overseas."
Mossberg began making frequent trips to Mayo Clinic, trying to find a solution about a year-and-a-half ago.
"I was losing feeling in my leg. I was constantly clotting, on blood thinners and everything. It wasn't good, so we went to Mayo and spent, I can't tell you how many days a year, trying to do testing and figuring it out.
"My leg was going dead at least twice a day," Mossberg said. "Just from standing at work, I'd come home and have to go straight to the bedroom, put a heating pack on and go to sleep. It just wasn't a life to live."
Mossberg and his wife, Zanetah, have a daughter and son. Viviana loves basketball, and Mossberg is hoping that young son Ragnar will be drawn to hockey.
"I've got two little kids that I love so much and want to play with, and as crazy as it sounds, the last stage was removing my leg, call it 'kind of cutting away the problem,' " he said.
Seemingly without another option to provide sustained relief, Mossberg underwent the operation. He will have to re-learn to walk with use of a prosthetic leg, making physical and mental strides along his journey.
"I'd like to be part of [their participation in sports] as much as I can, and then I have a lot of other friends that are amputees, too, that have really pushed me mentally to be in a better place and prepared me for this before I did it," Mossberg said. "Fortunately it wasn't directly combat related where I woke up without a leg. It was kind of a long decision of health and future, so it gave me some time to really be at peace with it."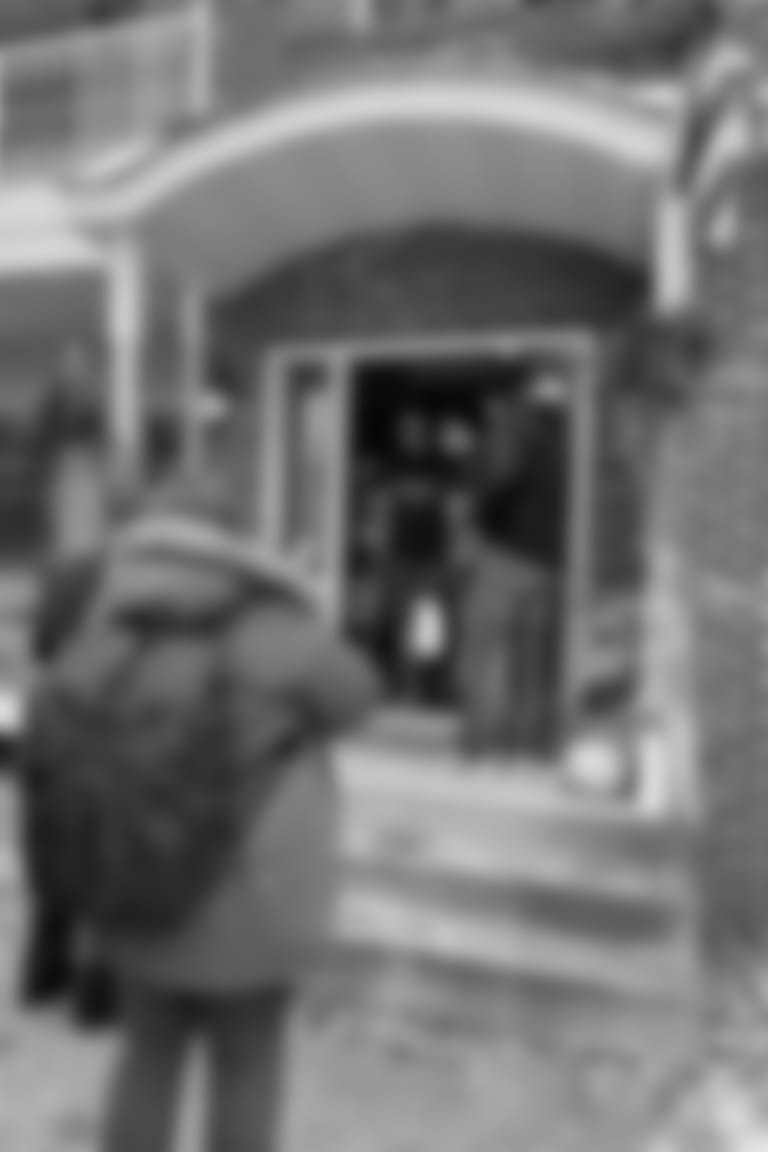 The surprise visit "humbled" Mossberg as he continued to adjust to his new normal.
"It's awesome to see that other people outside of my friends care and are here. The gifts are awesome. The groceries, that's huge," Mossberg said. "There's been so many unexpected costs with this surgery and life that I never thought would be there, so being able to alleviate two hungry kids and everything else brought me to tears. It's about to again. It's just awesome to see that there's people out there doing good stuff like this and that they care to take the time to come here and be here with me."
Mossberg's family has a gofundme page to help with medical bills and health expenditures.
Bercich said Mossberg's resiliency is impressive.
"With everything that he's been through, there's a guy who has every reason to be upset, to be negative," Bercich said. "All the work that needs to be done to his house and those things, and to be able to help him and provide for he and his family and make life just a little bit easier means so much. He mentioned the support of his friends and the support of his fellow military veterans and amputees have all been there for him and they've made an unbelievably difficult time in his life bearable, so to be able to be part of that and help that family out a little bit is just amazing."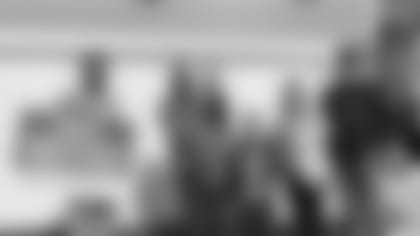 Later that afternoon, the focus turned to surprising 8-year-old Liam Zeigler and his family.
Liam lives in Lakeville with his mom, Jessica Hansen-Kriesel, her husband, Ryan Kriesel, as well as his younger brother Henry and infant sister Hattie.
Kriesel is an Army veteran who served two tours of duty in Iraq and a Packers fan along with Henry. Liam and his mom, however, are on the "right side of things" in the Border Battle, Hansen-Kriesel explained.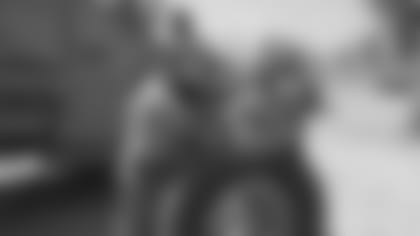 The front-yard featured a towering snowman accented by parts of a toy skeleton, combining the fun of an early snow and Halloween, and "A House Divided" flag with green and purple flapped in a crisp wind.
The tailgate package will provide purple reinforcements, but the bottom line is that football brings this family together.
"It's a lot of fun in our house and something that we all bond over, so he's pretty excited," Hansen-Kriesel said moments after Bercich showed up on the porch and instantly connected with Liam.
The 8-year-old's biological father is Patrick Zeigler, an Army Staff Sgt. who served two combat tours as a cavalry scout with the 1st Cavalry Division during the surge of American forces in 2007.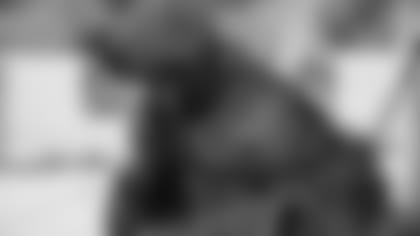 Zeigler returned to Fort Hood, Texas, and was taking care of affairs on Nov. 5, 2009, not knowing the afternoon and its aftermath would permanently alter his life.
A soldier committed a terrorist attack, slaying 12 soldiers and a civilian employee. Shots fired wounded more than 30 others.
Zeigler was struck in his head, causing a wound to his right temporal lobe. He also was struck in his shoulder, arm and hip. Army Times reported that doctors gave Zeigler a 1-in-10 chance of surviving. A black tag had even been placed on his toe before he started screaming and received medical care.
Grim would be an understatement, but Zeigler showed amazing grit through nine brain surgeries and re-learning to walk three times. Zeigler lives near Daytona Beach, Florida, and continues his rehab.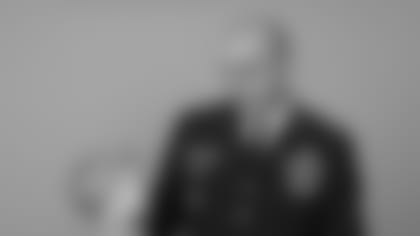 Liam has never known his father any other way.
"The first six months of his life, seven months, we lived at Walter Reed [National Military Medical Center], at the Fisher House," Hansen-Kriesel said. "We bounced around to different hospitals, different military bases, rehab centers, so it's really consumed his life and defined his life, taking care of his dad and knowing that sacrifice, so he's a very mature kid, super compassionate.
"His preschool teachers would tell us that they never had a kid who sat down and asked, 'How is your day going? How are you doing?' They said he's like a little old man in a kid's body, but he's just a really good kid," Hansen-Kriesel said. "He's really been struggling lately with what his dad's injuries mean and that it's something that's forever for our family, so this [surprise] was perfect timing, especially with the virus and everything that kids have lost on top of what he's already lost in his life. This is an absolutely incredible surprise for him."
Hansen-Kriesel explained that Liam has grown up fast, witnessing hardships and realizing the permanence of his father's condition.
"I've been so immensely proud of him, but I've also felt so much guilt for him having this life and not having a choice in that," Hansen-Kriesel said. "But he's just so resilient, so compassionate, that at the end of the day, I'm just so proud of him and I think ultimately it's going to make him a much better person."
She and Liam have recently discussed how the sacrifices of children in military families can go underappreciated.
"Liam said something that really struck me, 'A lot of people make sacrifices, but I'll have to make sacrifices every day for the rest of my life,' " Hansen-Kriesel said. "Again, feeling that guilt as a mom, that's something that he has to bear, but just explaining to him that people do recognize and appreciate the sacrifices that kids make, too, and I think that's what's so cool about what is happening here today, that, 'People see me, they see my loss and respect me and appreciate me.' I know he's really going to take that to heart. Truthfully, it's going to change his life and his outlook on life."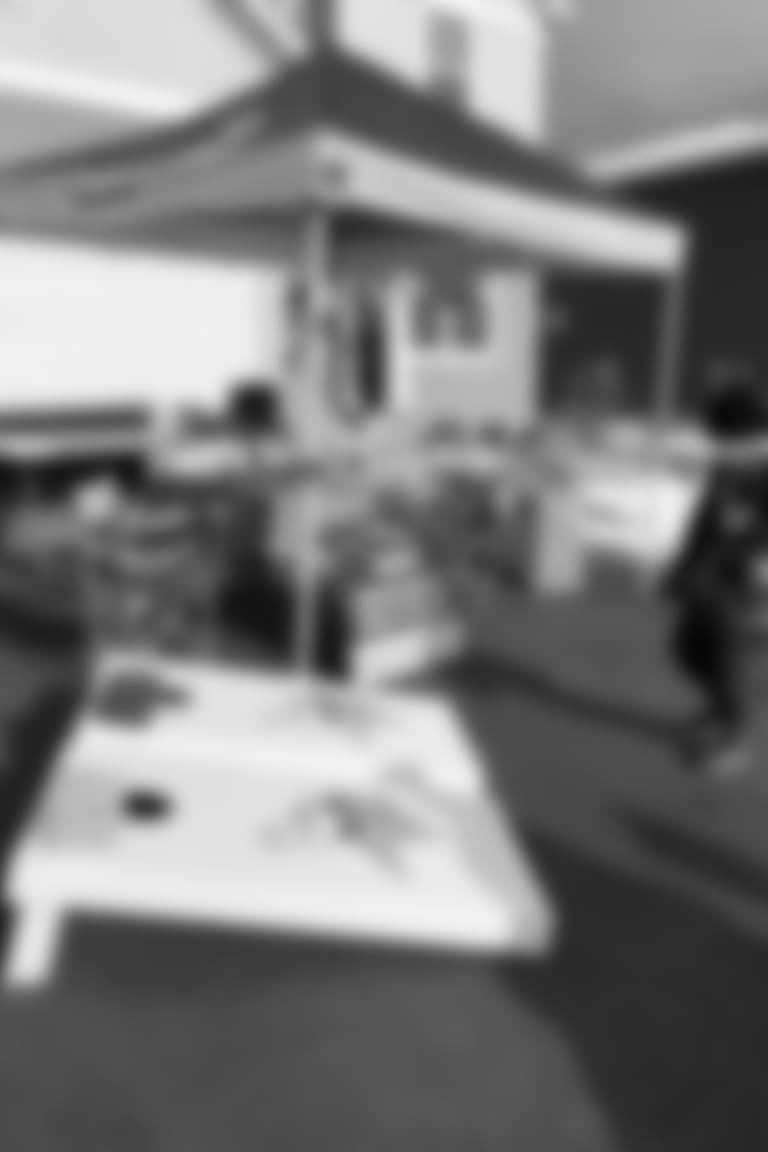 Haidar said listening to Hansen-Kriesel explain the hardships the family has dealt with "opens your heart."
"It just makes us even more appreciative of the sacrifices of our veterans and their families make," Haidar said. "We're really proud to be a part of this."
Bercich told Liam that spending time with him — they discussed the Minneapolis Miracle and other topics — is "one of the most memorable days I've ever had."
"[This] family, you talk about the Red, White and Blue and sacrifices for this country, they've done that," Bercich said. "For Liam, I can imagine the challenges that he's facing and the things that he's had to deal with, and he's only 8 years old. A second grader should be out playing in the snow and building snowmen and those things. To be able to help this family out, worry a little less, he can have his friends over and watch his big-screen TV and do some grilling out. It's just to bring a little bit of gratitude and joy to the family to let them know we do think about them."