EAGAN, Minn. — After he finished practice, Trey Lance walked over to say hello to a group of fans.
They were not from San Francisco, the team he is preparing to lead as the starting quarterback in just his second season.
And they weren't wearing Vikings purple, either.
Awaiting the 22-year-old was a large crowd wearing blaze orange and black, the colors of Marshall High School, his alma mater.
The Vikings provided buses for the 115 players and coaches from Marshall High School to make the 151-mile trek to Twin Cities Orthopedics Performance Center on Thursday to watch their former QB in action.
Lance and the 49ers spent Wednesday and Thursday participating in a pair of joint practices with the Vikings ahead of their preseason game on at 6 p.m. (CT) Saturday at U.S. Bank Stadium.
Lance posed for a group photo with the team before signing autographs and taking pictures with the players. He also paid for the group's lunch.
Marshall Head Coach Terry Bahlmann was very appreciative of the opportunity for his team.
"It's awesome to be out here. It's a great thing for our kids, a lot of our kids would never have this opportunity. And nice of the Vikings, they picked up the cost of the buses and Trey's paying for our meal," Bahlmann said. "It's been a fun day for our kids. We got up early and the weather cooperated, so we got to see a lot of football today."
Bahlmann added it was beneficial for his team to watch Lance, the other 49ers and Vikings up close.
"You get to see the top level of football," Bahlmann said. "We're going to go from here and practice at Eagan High School, so I'm sure we'll be revved up and have a lot of excitement and enthusiasm for that practice. It's just a great opportunity for our kids to come out and see professional athletes that they usually wouldn't get to do."
It was the perfect ending to a warm homecoming for Lance, who was selected third overall by the 49ers in the 2021 NFL Draft.
"It's good to be back," Lance said during a media session after Wednesday's practice. "It's fun, obviously. Going to get a couple of great days of work in. It's fun to practice against someone else, see another defense. And then traveling and then getting in the hotel and spending a lot of time with the guys."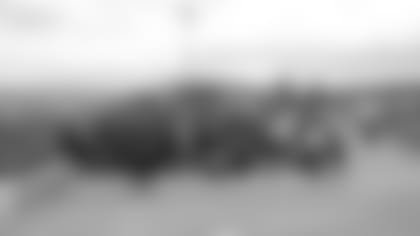 On the first day of the two-day practices, Lance quickly showcased his arm, connecting with Danny Gray for a 60-yard touchdown on third-and-inches during a 7-on-7 drill. Then during a 2-minute situational drill, on fourth-and-long near midfield, Lance escaped some pressure by the Vikings defense and rolled out to his right before throwing across his body to Deebo Samuel for a first down.
In Thursday's practice, Lance showed off more of his dual-threat ability, including a quarterback keeper for a first down and another big gain on a second down. He also found 49ers TE George Kittle for a first down across midfield in a 2-minute situational drill.
"It's been great, actually," Kittle said about establishing chemistry with Lance. "A lot of reps in the last week and a half, so it's been really fun connecting a lot of plays. It's a learning process; [he has] to learn I run routes a little bit differently than probably what he's used to, so we're just getting on the same page with some of the main routes that we run, and I think we're getting a little bit better at those each day."
Kittle added they strengthen that chemistry both on and off the field, whether it's running additional routes or watching film.
"We do a lot of stuff in practice during down periods. If it's a special teams [period], [I] try to run routes with him, just try to give him different looks, after practice more routes. Honestly, just a lot of conversation too," Kittle said. "We need to watch more film together, and it's kind of been a hectic week last week just with two days on, one day off, but we're going to be settling down here. After this game we have one more game and then we have 16 days to figure some stuff out. I'll just hang out with him a little bit more and just continue to open that communication."
49ers Head Coach Kyle Shanahan said Lance has been solid throughout training camp.
"Trey's done a good job," Shanahan said. "We're in the middle of camp, so you get some good, some bad, but he's getting better throughout the whole process."
In his rookie season, Lance appeared in six games, two of which he started. He completed 41 of his 71 pass attempts for 603 yards and five touchdowns while also adding 168 rushing yards on 38 carries and a touchdown.
Since then, Shanahan said Lance has improved in nearly every aspect of his game and now they're working toward building consistency.
"You throw everything at him and sometimes he gets one down, and then you throw a bunch of new stuff, and then that takes a step back," Shanahan said. "That's been the process here throughout all last year and coming into this year just in every single area, the consistency of not having to take two steps back as much. As I keep saying, 'The more he plays, the more reps he gets.' "
Lance said the joint practices provided a lot of benefits.
"It's just good to go against another defense, 1-on-1s, 7-on-7, red zone, everything against another team," Lance said. "The new set [Minnesota is] doing this year also is fun to practice against. They get a lot of good looks. Obviously they're a really talented defense with a lot of guys who have played a lot."
Lance added he's learned a lot from watching the Vikings defense, especially the secondary.
"They've got guys … that have played a lot of football," Lance said. "So just picking those guys' brains and watching how they play helps me out a lot."
Lance continued, "I know Harrison's [Smith] going to mix up the looks, [Patrick Peterson is] also really good. Their whole secondary, they do a great job of holding their looks pre-snap and waiting until post-snap to move."
While Lance isn't scheduled to play Saturday, Shanahan hasn't entirely ruled it out, either.
"Right now, I'm not expecting to," Shanahan said. "But we're day-to-day with that, we'll see how practice goes and there's a chance he will, but [not playing] was the original plan."
As the regular season approaches, Lance said he's taking things one day at a time.
"Just coming out here every day and trying to get better and taking it one step at a time," Lance said. "Especially with these practices, one step at a time, one day at a time, and just continue to groove with these guys."