They say "home is where the heart is," and for the Minnesota Vikings, TCF Bank Stadium has been their home for 17 games. From the single 2010 game (Dec. 20) after the Metrodome's roof collapsed to the full 2014 and 2015 seasons and now heading into the playoffs, the interim home turf has witnessed the heart of 53 players each and every time they took the field.
With help from hearty Vikings fans, Minnesota has gone 11-5 at home games in the past two seasons, posting the best win percentage (.687) of any team in a temporary home and becoming the first to make the playoffs after playing a season in a temporary home.
As the Vikings prepare to enter the new U.S. Bank Stadium for the very first time in 2016, we took a look back at nine of the top moments in Minnesota's time at TCF Bank.
Dec. 20, 2010 – Vikings first outdoor home game in 29 years
When the Metrodome roof collapsed mid-week following a major snowfall, the Vikings played their first game at TCF Bank Stadium. The Monday night game landed 29 years to the day after the last time the Vikings played outdoors in Minnesota: Dec. 20, 1981.
Snow and cold made the night unique, but a halftime ceremony honoring the 50 Greatest Vikings, including Hall of Fame Head Coach Bud Grant, brought back memories of the previous outdoor era. True to form and even with the snow, Grant wore a short-sleeved golf shirt. To cap off the moment, several Grant's former players hoisted him to their shoulders and carried him off the field as he waved to fans.
Sept. 28, 2014 – Head Coach Mike Zimmer's first home win and Teddy Bridgewater's first start
Zimmer led Minnesota to his first home win over the Atlanta Falcons with help from a crucial coaching decision in the fourth quarter and a big day from Bridgewater in his first career start.
Trailing 28-27, the Vikings finished an eight-play drive at the Falcons' one-yard line and faced a fourth-and-goal situation. Zimmer called a timeout, and rather than kick the field goal, he called for his team to go for it – and it worked. Running back Matt Asiata rushed the ball into the end zone, and Zimmer made a follow-up call to go for the two-point conversion, which also ended successfully.
Bridgewater set franchise records for passing yards (317), passer rating (98.9) and completions (19) by a rookie QB in his first start and orchestrated the comeback victory with a calm demeanor.
Nov. 2, 2014 – Matt Asiata's 3 TD's help in comeback win over Redskins
After being down for most of the game, running back Matt Asiata showed up in the second half to help the Vikings earn a 29-26 comeback win over Washington. Asiata scored a 1-yard rushing touchdown four minutes into the third quarter to give Minnesota a 14-10 lead, but the Redskins answered and scored a touchdown and consecutive field goal to hold the 20-14 advantage. Asiata rushed for two more touchdowns in the fourth quarter and topped it all off with the two-point conversion for a Vikings win.
Following the game, Asiata retained his usual humble demeanor when asked about the triple touchdowns.
"We just wanted to let them know we mean business, and that's what we did today," Asiata said. "That was our main goal, to finish the game and finish tough, come out and win. Coach said to get 28 points today, and we got 29."
Nov. 30, 2014 – A pair of TDs off blocked punt returns
At the start of the game against Carolina, the Vikings had not returned a blocked punt for a touchdown since 1986. By the end of the first half, they had returned not one but *two *for touchdowns. Second-year wide receiver Adam Thielen blocked the Panthers' first-quarter punt, fell on the ball, hurried to his feet and ran it 30 yards into the end zone for his first career touchdown.
"It was kind of a crazy moment, because everything happened so fast," Thielen recalled. "There wasn't a whole lot of thinking – it was just kind of reacting. It was pretty awesome. The teammates were pretty pumped, which always makes it better, and we got the win that day."
Thielen held the franchise record for longest blocked punt return … for about 10 minutes. In the second quarter, linebacker Jasper Brinkley blocked a second punt, and defensive end Everson Griffen scooped it up to return it 43 yards.
Thielen became the fourth player in franchise history to block a punt and return it for a touchdown. The Vikings went 453 games without a blocked punt returned for a touchdown before having two in a single game.
The temperature at kickoff was 12 degrees Fahrenheit with a minus-7 wind chill, marking the fifth-coldest home game by wind chill in franchise history.
Dec. 7, 2014 – Jarius Wright's TD delivers a Vikings OT win
Minnesota's first possession of overtime, facing third-and-5, quarterback Teddy Bridgewater audibled the call, dropped back to the 7-yard line, and threw a quick pass to the right , where wide receiver Jarius Wright made the reception at the 12-yard line. Wright dodged an initial defender before kicking it into gear and taking the ball 87 yards to the end zone.
"[The Jets] had been playing a lot of zero coverage, a lot of blitzing on third down, and once we got the look we wanted, Teddy did a good job of recognizing it and getting the ball out," Wright recalled. "The offensive line did a great job of getting out and blocking, Kyle Rudolph and Greg Jennings, and then you see Big Sully [John Sullivan] got a chance to get a nice block for me, and everything just worked out on that play."
After scoring the touchdown, Wright took a flying leap onto the stadium wall and into the arms of ecstatic Vikings fans.
"It was a great moment not only for the team but for the fans, so I jumped in the crowd because I wanted to celebrate that moment with the fans," Wright said. "Also, I got back to my phone and had like 100-and-some text messages, and on social media I was just getting a lot of love for the win and the way it was won."
Sept. 27, 2015 – Chad Greenway 91-yard pick six
The Vikings led 24-7 to start the fourth quarter, and San Diego was inside the 20-yard line searching for the end zone on third down. Chargers quarterback Philip Rivers threw a short pass into the middle for receiver Stevie Johnson, who muffed the catch. When the ball popped up into the air, linebacker Chad Greenway was ready.
Greenway made the one-handed grab, then rumbled down the sidelines. With the help of several Vikings teammates making crucial blocks, the 10-year veteran ran the interception 91 yards for the touchdown.
"I was really pretty good until that last 15 yards," Greenway said after the game. "I don't run 91-yard sprints much, and I'm not going to start because of this play, either."
What made the play even more special was Greenway's grandfather, Tom, who was attending his very first Vikings game that day. Having his grandfather witness the exciting play in person is something that's still very special to Greenway.
"He's just an amazing guy; obviously with my dad, the apple didn't fall far from the tree," Greenway said of his grandfather. "He's getting a couple knee replacements. He's mad he can't go work on his tractors. … (He's) a guy that you're proud to have as a grandpa and you're proud to wear the name on the back of the jersey that he has. For me, it's about carrying that legacy forward."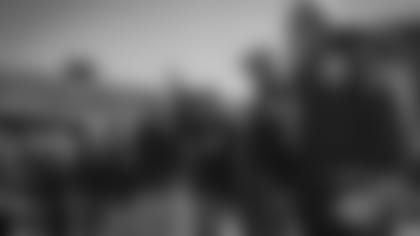 Oct. 18, 2015 — Heroes of yesteryear recognized
Fewer than 100 players in NFL history have been members of teams that appeared in four Super Bowls with the same franchise. We're proud that 11 are Vikings and held a ceremony recognizing past greats when Minnesota hosted Kansas City in a rematch of Super Bowl IV. The on-field ceremony was part of a weekend of memories shared between past greats.
The players are Bobby Bryant, Fred Cox, Hall of Famer Carl Eller, the late Wally Hilgenberg, Hall of Famer Paul Krause, Jim Marshall, Hall of Famer Alan Page, Hall of Famer Mick Tingelhoff (who received his Hall of Fame Ring at TCF on Sept. 27), Ed White, Roy Winston and Hall of Famer Ron Yary. Also honored were Hall of Fame Head Coach Bud Grant, former Offensive Coordinator and Head Coach Jerry Burns and original Vikings Jerry Reichow and Fred Zamberletti.
The Vikings defeated the Chiefs 16-10 with a key defensive stop late in the game. It was the most-recent loss for the Chiefs, who closed the regular season by winning 10 in a row.
Nov. 8, 2015 – Blair Walsh's game-winning FG
After quarterback Teddy Bridgewater left the game with a concussion, the Vikings continued to fight against the St. Louis Rams, sending the game into overtime, at which point Head Coach Mike Zimmer opted to start on defense – and it paid off.
Minnesota's defense held the Rams scoreless in their first possession, and cornerback Marcus Sherels made a 26-yard punt return to start the Vikings off in better field position.
Over a series of three plays, running back Adrian Peterson ran the ball into Blair Walsh's range. Walsh lined up for the 40-yard field goal attempt and sailed one between the uprights to win the game 21-18.
Dec. 20, 2015 – Teddy Bridgewater's first game with four passing TDs
In Week 15 of his second season, quarterback Teddy Bridgewater became the first quarterback to throw four touchdowns in a game since Brett Favre did it on Jan. 3, 2010.
"That's amazing," Bridgewater said after the game. "Talk about Brett Favre being my idol. It all points back to [Offensive Coordinator Norv] Turner calling a great game plan, allowing us to go out there and play fast today. The guys did a great job, like I said, every time I put the ball in the air my guys came down with it."
Bridgewater added a rushing touchdown to the afternoon as well, leading the Vikings to a 38-17 win over the Bears in the first sweep of Chicago since 2007.
Dec. 27, 2015 – Vikings Clinch 1st Playoff Berth Since 2012
By easily defeating the Giants in a lopsided 49-17 *Sunday Night Football *broadcast, the Vikings sealed a spot in the playoffs for the first time since 2012. Although other scenarios could have helped Minnesota clinch prior to its game, none of them panned out, and the Vikings needed a win against New York to get into the playoffs.
"It feels good," said Adrian Peterson after the game. "You know, coming in tonight we knew how big this game was, not depending on anyone else to win so we can get in, doing it ourselves, taking care of business. I'm just proud of all these guys, the coaching staff for making good decisions today. We performed well, but ultimately we got it done."
Several factors helped in the dominant Vikings win, including five Blair Walsh field goals, interceptions by Captain Munnerlyn and Andrew Sendejo and a pick six by Harrison Smith, the franchise-record fourth of his career.
There are a **limited amount of tickets* still available for Sunday's Wild Card game. Come out and join us to help the Vikings defeat the Seahawks and help us make another memorable moment at TCF Bank Stadium!*