Perhaps Ifeadi Odenigbo's choice of housing is the reason behind his breakout season.
The Vikings defensive end was a 2017 seventh-round pick out of Northwestern who spent that season on the Vikings practice squad.
Although he was released by Minnesota at the end of training camp, Odenigbo was picked up by Cleveland and later had a stint with Arizona (where he made his NFL debut), before re-joining the Vikings practice squad halfway through the 2018 season.
So when the 2019 offseason came around, Odenigbo knew his time to make an impact might be running out. And in an effort to help his focus, he got an apartment. Odengibo switched from living in an extended-stay hotel, and a switch flipped in his game.
"This was my third year, and I hadn't established myself yet," Odenigbo said. "Usually that means you're no longer a young guy, so it was a do-or-die situation, and I needed to do whatever I could to make the team.
"You're either a journeyman bouncing around from one team to another, or you're out of the league," Odenigbo added. "I had the approach that I was making this team regardless … no more half-in or half-out."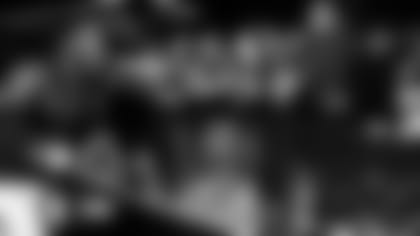 Odenigbo has been a pleasant surprise for the Vikings defense in 2019, as he has recorded the first five sacks of his career. He also has a pass deflection and a fumble recovery, which he returned 56 yards for a score in Week 15 against the Chargers.
Odenigbo, who entered Week 16 third on the team in sacks behind Danielle Hunter and Everson Griffen, reflected on how far he has come over the past year.
"I never get content, especially when we have guys like Everson and Danielle," Odenigbo said. "But it's cool to see what I'm doing now, because everything I did, I earned it. I didn't take any shortcuts.
"All the training I did with Coach Rob [Rodriguez] and Coach Dre [Andre Patterson] in the offseason — all the hours I put in — it's starting to pay off now," Odenigbo added. "But if you ask any of the other defensive linemen, they will tell you I earned all of the snaps and everything I'm doing now."
We caught up with Ifeadi to talk about draft-day memories, his sword celebration and his favorite type of Nigerian food:
Q: Where did you put the ball from your touchdown against the Chargers?
A: "I actually don't have it because they are painting it right now for me. It was my first game ball, so I'll get it back soon."
Q: Where are you going to put that one?
A: "I'm not sure yet. But I know I'm going to get one of those glass cases for it, just because it was so special. My first-ever touchdown. It was pretty memorable."
Q: You had a funny draft day story, right?
A: "Yeah (laughs). I was watching [Day 3 of] the draft and was just becoming angry at the guys being picked because I thought I was better than them. I got so mad that I just left the house. My mom asked where I was going and I just said, 'Out for a drive. I just have to drive somewhere.' And then the Vikings called."
Q: Where were you when you got the call?
A: "In my friend's car. Sitting in bad Chicago traffic. But we went out to eat after, so that made it all better."
Q: Let's talk about the sword celebration you do … what's the origin behind that?
A: "Well, George Martin, [who wrote the Game of Thrones books], went to Northwestern. Everyone there was all about the show. I was really into the show in college, so my redshirt freshman year I said I wanted to do something to honor that. It was the night before we played Minnesota, and I said that if I got a sack, I was going to unsheathe a sword."
Q: And then you got a sack?
A: "Yep. Next day, got a sack and then I did it. People were like, 'Ifeadi!' But I loved it."
Q: Have you gotten any feedback on it?
A: "Not a ton. But I do kind of want to get a real sword now."
Q: Your parents are from Nigeria … does your name mean anything special?
A: "My full name is Ifeadikachukwu. It means, 'Nothing is greater than God.' "
Q: Do you have a favorite Nigerian food?
A: "Jollof rice. That's where I get my superpowers from (laughs). If you talk to any Nigerian, they'll say that jollof rice gets you right. It's like red spices mixed in with white rice. It's pretty delicious. There's always a talk in Western Africa … you have Ghanaians and you have people from Nigeria … and the debate is whose jollof rice is better. Nigerians make the best jollof rice, hands down. Especially my mother. Having someone like my mom cook Nigerian food all the time when we were kids, it helps with the culture aspect."