Devante Downs earned a degree in legal studies at Cal. He has an interest in becoming a criminal prosecutor later on, but right now he's building a case for himself on the gridiron.
Downs was selected by the Vikings in the seventh round of the 2018 NFL Draft and made his Vikings debut against Jacksonville.
The native of Mountlake Terrace, Washington, has worked his way back from a knee injury he suffered as a senior. Downs claimed Pac-12 Defensive Player of the Week honors twice in the first three weeks of the 2017 season and was named the team's Defensive MVP, despite missing the second half of the season.
An All-State Honorable Mention as a running back in high school, Downs excelled on the other side of the football for the Golden Bears. He totaled 212 tackles, 8.0 sacks, 14.5 tackles for loss, eight passes defended, three forced fumbles and three fumble recoveries.
Downs said the speed of the game has been faster at the NFL level. He credited linebackers coach Adam Zimmer and teammates for helping him learn the Vikings system. He's always placed emphasis on learning what everyone on defense is supposed to do.
"Being able to know what other people are doing helps you with your own position because you know where everyone is and how all of the pieces fit," Downs said. "That's something I learned in college. My college coaches taught all the players that. I think everything has translated well. … Little things, where to keep your eyes, tendencies of the other team, what to look for."
Q: You were off to such a great start to 2017 at Cal before your injury. Did you believe you had done enough to get drafted?
A: I thought that the season I was having was really good. I just came into the draft ready for whatever opportunity I got. I knew I was going to make the best of it.
Q: What are your impressions of the Vikings defense so far?
A: Obviously has a lot of talent, a lot of good players. I think we're really well-coached. The coaches bring a really great scheme. I'm just soaking it all in and learning. It's really cool.
Q: How did Twin Cities Orthopedics Performance Center impact your rehab efforts?
A: It's a really nice facility here. They have everything you could think of, and I think it helped me a lot. Just the different technology is really beneficial.
Q: Do you utilize the cryogenic chamber?
A: Yeah, oh actually, no. I tried it one time and could not breathe in there. It was too cold.
Q: What was growing up in Washington like?
A: It was really cool. People think it rains a lot. It doesn't really rain that much; maybe a little bit of drizzle for a couple of months, but in the summer time, there's a lot to do, a lot of activities outside and cool people.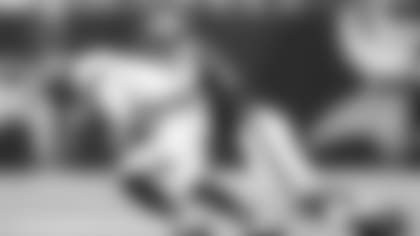 Q: Are you a go-to-the-mountains guy?
A: No, I only went on one hike. I [preferred] Puget Sound and all of the beaches. [The one hike was] Rattlesnake Ledge. It's kind of dangerous. Someone fell off one time, but it's really beautiful. It's pretty high. I don't know what area it's overlooking, but it's a really beautiful view.
Q: Were you a Seahawks fan growing up?
A: Kind of, because they were the home team. I'm a Vikings fan right now. … [Seattle's] had good linebackers. So do we, though.
Q: Was there anyone you tried to shape your game after?
A: I used to like running backs because I used to play running back in high school. Adrian Peterson, for sure, and then when I was at linebacker, Luke Kuechly was really good, Sean Lee was really good. I like some Ray Lewis highlights.
Q: How does your background as a running back help you at linebacker?
A: Being able to change directions quickly and seeing the gap that the running back would want to take and being able to shoot [the gap] and, at the same time, be faster.
Q: After you were drafted, you explained that academics played a role in your decision to attend Cal. Why was that so important to you?
A: My parents, they kind of give you possible scenarios of the future. Football can always get taken away from you, bad things happen, injuries, stuff like that, but you get to go to college for free, so why not make the most out of it and get the best degree possible, have really good opportunities in the future?