David Morgan's Central Texas hometown of Marble Falls is more than 200 miles from the Gulf of Mexico and the wrath of Hurricane Harvey, but the second-year tight end felt quite connected.
He observed the damage caused by the downpour and the ensuing outpouring of support for victims from people near and far, famous or not, from coast to coast.
"It's crazy, but I expect nothing less than that from the people in Texas," Morgan said. "That's a state that's really proud and supportive and loves people.
"People say, 'You know how someone is from Texas? They'll tell you,' so that's something that I knew we could come together in a time like that," Morgan said. "It was so cool to see the whole country rally around that and buy in. It really meant a lot to be from Texas and made me proud."
Growing up, Morgan enjoyed fishing and added hunting to his outdoors activities when he was in college.
Now in Minnesota, Morgan's truck finds a Chipotle at least twice a week. The playlist on the trips is wide-ranging, but he also still enjoys Texas country musicians Josh Abbott, Randy Rogers and Aaron Watson.
Morgan played football, basketball and soccer before opting to help start the University of Texas-San Antonio Roadrunners football program in 2011. He totaled 45 receptions, 566 yards and five touchdowns as a senior and became the first player drafted in program history.
After appearing in 12 games as a rookie, Morgan is positioned for an expanded role in his second season with the Vikings on offense and special teams. He was selected as a captain for Minnesota's final preseason contest.
"I had no idea," Morgan said. "I was told that right before the game, so that was something that was pretty cool to be out there and a captain for the first time."
Q: How do you think playing basketball and soccer helped with football?
A: I started with basketball and soccer and didn't start playing football until seventh grade, so I feel like soccer was a good basis for pretty much everything, agility and coordination, so starting football later, it kind of gave me an advantage. You've got to have a good base playing football, regardless of the position you play.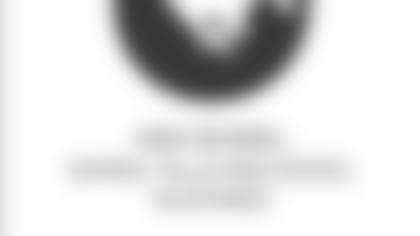 Q: You also enjoy playing golf, a sport that runs in the family and that your cousin (Gil Morgan) plays professionally.
A: I try. I definitely didn't get the genes that some other people have in the family, obviously, but I definitely enjoy it. The family likes to play it, so it's something I'm trying to get better at.
Q: You weren't born when he played on the Ryder Cup teams in 1979 and 1983, but have you seen him compete?
A: We were never really super close but every time he was in Texas — he's from Oklahoma, and that's where he lives — so every time we had the chance, we'd go see him and watch him play, so it was definitely a cool experience. I saw him play in San Antonio three or four times when I was younger, so I definitely got to watch him compete.
Q: What do you think is the best golf movie?
A: Happy Gilmore. I'm an Adam Sandler fan, so I love Happy Gilmore.
Q: What was your time like at Texas-San Antonio?
A: That was a great experience. Going in there, the first year of the program, it was really cool to see something develop from the inside out. Being able to be a part of that foundation and the start of something was really special and something I'll hold on to forever.
Q: What was the sales pitch by coaches of a first-year program?
A: That's kind of what it was, a chance to come in as a true freshman and compete. Obviously the roster is not very dense at the time, but it was a chance to come in and compete and lay a foundation, to look back in 30 or 40 years, and that program is up and running and successful, and you can say you were there and started that.
Q: You were able to learn from two different types of veteran tight ends last season. What are you looking forward to in an expanded role this season?
A: I'm definitely excited. I had two great veterans in front of me last year and learned so much from those guys, a lot about the position and being a professional. Having those guys help me out was really important in my growth, and I'm just looking forward to contributing in whatever way they need me to.
Q: How long have you been working on the hair?
A: It's been since my sophomore year in college. Long story short, the last time I cut my hair, I pretty much fractured my femur and had knee surgery. I cut it, and two days later, the injury happened. I haven't cut it since.
Q: Do you compete with Eric Kendricks for best hair on the team?
A: His is better than mine. I can't compete with it, but it's a close second. I try.