EAGAN, Minn. – Two first-round draft picks were at the Vikings second Training Camp practice Thursday.
While cornerback Mike Hughes ran drills on the field, Timberwolves guard Josh Okogie took in practice from the sideline.
The 19-year-old Okogie, whom the Timberwolves selected 20th overall in June's NBA Draft, grew antsy as he watched Hughes and his teammates run through plays.
"I could play receiver," he said with a laugh, taking a few steps back and reaching his arm high and behind him to catch an imaginary pass. "No plays, though. Just have me run a go route, and I'll go up and catch it."
Born in Nigeria, Okogie grew up in Snellville, Georgia – sharing a hometown with Vikings defensive end Stephen Weatherly – and never played organized football. He instead played basketball all the way through at the preference of his mother.
"My mom … doesn't like a lot of contact," Okogie said. "I thought I could take it, but it all worked out in the end."
Okogie played two seasons at Georgia Tech, leading the Yellow Jackets in scoring with 18.2 points per game as a sophomore during the 2017-18 season.
Since being drafted, Okogie played four games for the Timberwolves in Las Vegas for the NBA Summer League, where he averaged 11 points, 5.3 rebounds and 2.3 assists per game.
"It's great," Okogie said. "It's definitely a blessing – a lot of hard work behind closed doors finally paying off. But that's just the beginning. I think the toughest part about it is, now everybody knows you're a first-round pick, and now you're going to have to prove that your team made the right choice by picking you. It's a lot of responsibility trying to come in every day and try to be the best player you can be."
He added: "Being with such a great organization, I know [Mike] has that help to be the best player he can be, as well."
Okogie admitted to being a Seahawks fan growing up but said he's excited to cheer for the Purple and Gold.
"The Vikings are my new team now," said Okogie. "They had a terrific playoff run last year, which gives me even more reason to [root for] them. But I'm going to like them regardless, because it's my new home city."
Six-plus months before moving to Minnesota to start his NBA career, Okogie watched the Vikings and Saints face off in the Divisional Round playoff game.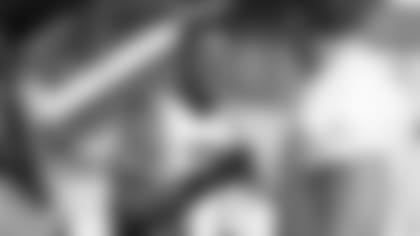 Like many others, the Minneapolis Miracle walk-off touchdown stuck with him.
"Stefon Diggs with the great catch. That was the craziest game," Okogie said. "Everybody thought that game was over, and just the way it went, I thought they were destined to win the Super Bowl. But I think that catch just gives them wonderful momentum going into this season."
Following practice, Okogie had the opportunity to meet a few Vikings, including Hughes, Nigeria native Ade Aruna and Minnesota's second-round pick Brian O'Neill, who was named the Delaware Boys Basketball Player of the Year as a senior at Salesianum High School.
Okogie, who said he was "blown away" by Twin Cities Orthopedics Performance Center, is excited to get his rookie season underway while also keeping tabs on his new favorite team.
"Minnesota's a wonderful state," Okogie said. "The fans are really supportive and really bring you in as one of their own. I don't doubt that they're one of the best fan bases in the country.
"I'm really excited for both the football team and the basketball team," Okogie added. "I know we're going to have two tremendous seasons this year."