EAGAN, Minn. – The Vikings are 16-11 all-time against the Cardinals, including two postseason wins.
Minnesota faced Arizona in the Divisional Round of the playoffs after finishing its historic 1998 season 15-1. Leroy Hoard scored three touchdowns, and Randy Moss grabbed a 2-yard score from Randall Cunningham en route to a 41-21 stomping by Minnesota.
As the Vikings prepare to face the Cardinals at U.S. Bank Stadium on Sunday, we're throwin' it back to 1998. We sat down with longtime FOX sideline reporter Pam Oliver, who covered the Vikings Divisional Round win at the Metrodome 20 years ago, to get her perspective on the 1998 team and what made it so special.
Oliver remembers clearly Minnesota's first major move of the 1998 season that occurred nearly four months before the Vikings even played a preseason game.
When Head Coach Dennis Green and the Vikings snagged lanky Randy Moss out of Marshall University with the 21st overall draft pick that April, Oliver believed it was the right move for a team that had a solid offense but was waiting for that explosive piece.
"A lot of people, they weren't sure if the Vikings knew what they were getting into," recalled Oliver, who started with FOX in 1995. "I thought it was a great move on their part that, you know, maybe they knew something that the world didn't know.
"I think they did their homework, and they were satisfied that maybe weren't getting a perfect player, but they were getting a person that wanted to put behind some of the things he'd done in the past and start anew," she added.
Moss screamed onto the scene, racking up 463 receiving yards and six touchdowns through his first five games in the pros.
"A lot of teams were kicking themselves later on, after they saw that maybe things weren't all what they seemed," Oliver said. "A lot people just went … 'Wow.' "
Oliver was struck by Moss' sheer speed and ability to make seemingly impossible catches look easy.
"Everybody else around him looked like they were moving in slow motion," Oliver said. "He definitely left an impact on me from that standpoint – this is a guy who's going to take the league by storm, and he's going to be someone they'll have to contend with for a long time."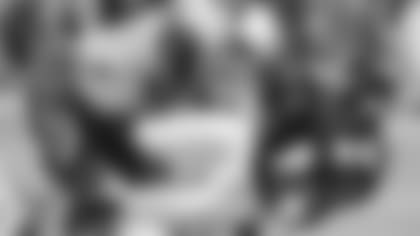 Oliver is a reporter first and foremost, but she still will tell you she's an avid fan of the game.
It's just as exhilarating for her – and maybe more so from her vantage point on the sideline – when a team executes a highlight-reel play as it is for the thousands of spectators in the stadium.
When Oliver covered the 1998 Vikings, the expectation of an explosive play kept her on her toes.
"It's exciting. When you're witnessing this unfolding right in front of you, it just, there was just a certain energy [that's] holding you on the edge of your seat with that team," Oliver said. "Especially with Cris [Carter] and Randy, any pass could be 'that' pass that you're talking about Monday at the water cooler, as they say.
"When they had the ball, I almost forgot what I was doing," Oliver added with a laugh. "I wasn't looking around, seeing if somebody was getting taped up, or [something like that]. I made sure to watch because something could pop off at any point."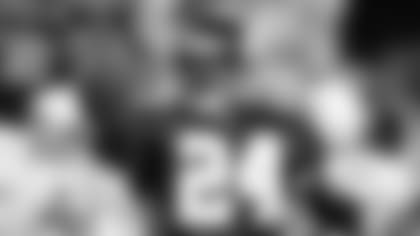 First, Randy. Next, Randall Cunningham stepped up and showed out when Brad Johnson was injured during the Vikings second game of the season.
Cunningham had previously established a successful NFL career in Philadelphia but was out of football for the entire 1996 season before signing with Minnesota in 1997.
Oliver called it "almost part of that whole 'destiny' thing" the way Cunningham was able to slide in seamlessly and succeed. In his second and third starts in Purple, the former Eagles QB threw four touchdowns each game and notched passer ratings of 140.8 and 145.8, respectively.
Cunningham received All-Pro and Pro Bowl honors after finishing the '98 campaign with 3,704 yards, 34 touchdowns and a passer rating of 106.0.
"You think, 'Is that going to be the thing that derails them?' But it wasn't," Oliver said of Johnson's injury. "[Cunningham] added to the spectrum of the whole season. [Gosh], that was a damn good unfolding of events for Minnesota. Things got really interesting, and it was showtime."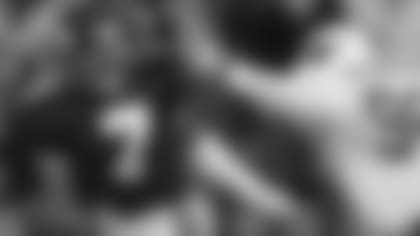 The Vikings continued to roll that season, losing just once to the Buccaneers who, ironically, were coached by former Vikings Defensive Coordinator Tony Dungy.
Minnesota won the NFC Central division by a landslide (Green Bay finished second at 11-5) and enjoyed a first-round bye before hosting the 9-7 Cardinals for the Divisional Round playoff game on Jan. 10, 1999.
The Vikings scored early on a 1-yard run by Hoard and never trailed for the remainder of the game.
Oliver called the game "definitely in the Vikings favor," and for a sideline reporter still young in her career, it felt a bit surreal to be covering the highly touted matchup.
"I just remember, I felt so lucky – 'This is what it's about right here,' " Oliver said. "This is the bomb game, you know? This is the one that everyone's going to be talking about, and here I am standing on the sideline with the best seat in the house."
Added Oliver: "I never take that stuff for granted."