Three years ago we were blessed with the beautiful U.S. Bank Stadium that we call home, and this year we have officially opened another state-of-the-art facility, Twin Cities Orthopedics Performance Center.
TCO is home for not only the players but also all Vikings employees and cheerleaders. One of the first events hosted by the new facility was Verizon Vikings Training Camp, which stretched from the end of the July through the beginning of August.
Everything about TCO embodies excellence and class. The facility has a total of five practice fields, including an indoor one, which enables the players to practice all year long, even during inclement weather. It's also home to the Training HAUS, which is a workout and recovery building for players as well as athletes of all ages.
TCO is just the start of the 200-acre Vikings Lake development, which will eventually expand to include a hotel, retail spaces and more.
This year, the MVC were fortunate enough to shoot our 2018-19 Minnesota Vikings Cheerleader Calendar at different locations throughout TCO, including the practice fields and in the locker room, and our coaches and photographers did a phenomenal job capturing all of the unique touches the Wilf Family Ownership Group added throughout the entire building. They truly put significant thought into every detail. From the intricate artwork on the walls and the Vikings-ship-inspired ceiling in the players' locker room, to an auditorium that can fit the entire team for Vikings Head Coach Mike Zimmer, it is nothing short of amazing. It makes for an incredible home for all Vikings staff!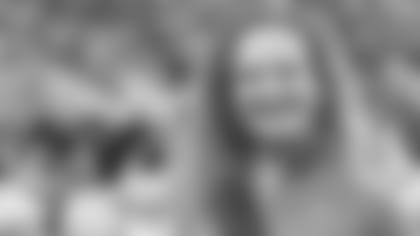 When we practice in the brand-new Indoor Practice Facility, representing Twin Cities Orthopedics is our Certified Personal Trainer, Brittany. Brittany has an extensive dance background, which is extremely helpful when it comes to our profession. We need someone who is reliable, relatable and understands what we endure, so if injuries happen when practicing and performing, we receive the correct treatment and recovery exercises – and Brittany does exactly that!
She is always prepared with anything we may need. Additionally, she has helped us evolve our stretching routine, which reduces the risk of injuries and improves our athletic performance. She attends all of our practices and games, and we are grateful to have her expertise and guidance on our team!