EAGAN, Minn. – Stephen Weatherly didn't allow his young campers to slip out of the end zone quietly.
The Vikings defensive end hosted his first Stephen Weatherly Football Camp at the Eagan YMCA Monday afternoon, during which 250 District 196 students, in kindergarten through fifth grade, rotated through a variety of skills stations.
At one of the stations, the young people were tossed passes from volunteer coaches and then cheered into the "end zone" bordered with colorful cones. After scoring, each camper was encouraged to show Weatherly his or her best TD dance.
"Good spike and into the front flip – I see you, big dog!" Weatherly exclaimed after a young boy somersaulted in celebration.
From sliding into the splits to breaking out a "T-Rex dance," most of the campers enjoyed showing off their moves. But for some of the more timid youngsters, Weatherly urged them to "feel the music" playing over speakers, pretend no one was watching and "just have fun."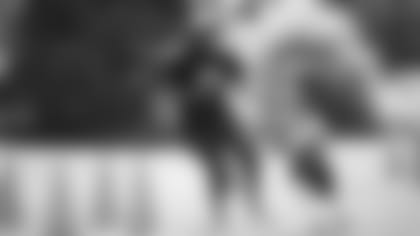 For Weatherly, those who exchanged shyness for silliness were the real success stories of the day.
He recalled growing up and rarely being required to venture out of his comfort zone, so that became a focus for his youth football camp. And he found a way to make it all fun.
"Honestly, when they talk to their parents, I want them to say, 'Oh, I danced,' and the parents know that the child is super shy. When they hear that their kid danced, or got in front of everyone and led a group during the 'capture the football' session, when they go and they tell their friends and their families about things that they tried here, and it's out of the ordinary, not in their characteristic tree, that's what I want," Weatherly said. "Hopefully when they leave here … they bring some of that leadership quality with them. Or if they go and try something new with their friends or family, they're not afraid of that."
Weatherly, who partnered with the **InSports Foundation** to put on the youth camp, explained that he didn't "feel comfortable being uncomfortable" until he was in college and therefore feels strongly about reaching youth at an early age.
"That was something I thought I was missing as a kid – something, somewhere, to push me out of my comfort zone," he said. "So that's what I'm doing with my camp – making that first introduction to feeling comfortable being uncomfortable."
In addition to the touchdown dance, youth rotated through an additional six stations: punting, kicking, passing, catching, a hand-off relay and a game of "defensive figure-8 tag."
The camp also included a message about setting goals in sports, health, academics and the community; a Q&A session with Weatherly; and a large game of Capture the Flag with a football spin.
Weatherly spent hardly any time on the sideline, either. Pairing a straw hat, sunglasses and sweatpants with his black camp T-shirt, the 25-year-old ran through drills, cheered on campers, played tag and doled out plenty of water during the steamy afternoon.
Innovative Office Solutions Director of Marketing Bridget Smith, who serves on the InSports Foundation Board, spoke highly of Weatherly's energy and enjoyed seeing his vision "come to life" after initially connecting with him a couple of months ago.
InSports has partnered with other Vikings to host similar camps and put on unique events over the years.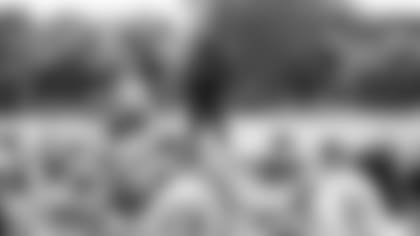 "I think our culture and our vision, who we are as organizations, just align so well together," Smith said. "It's one of those things where you say you're better together, and I think we absolutely do that day-in and day-out as partners together."
Vikings Vice President of Corporate Development and Guest Relationships JP Paul, also part of the InSports Board of Directors, volunteered as one of the camp's coaches.
"Innovative [Office Solutions] is a great partner of ours, and to do something that really fits what we do as an organization and our focus on youth football … it just makes sense," Paul said. "And the more our players get involved, it's great for the kids, it's great for the organization. It's just fun. This is what it's all about."
Since being drafted by the Vikings in 2016, Weatherly has observed his teammates' commitment to the community. And while the defensive end has consistently gotten involved with various community events himself over the past three years, he made it a goal last season to host his own camp during the 2019 offseason.
Weatherly opted to target Twin Cities youth rather than hosting the camp in his hometown near Atlanta, Georgia.
"Minnesota's done so much for me, so the least I can do is do something for the kids here," said Weatherly, who pointed out that close to half of the campers hadn't touched a football before attending Monday's event. "I think every kid here caught a ball at least once, or attempted to throw, and there were a lot of spirals from first-time ball-throwers out here."
As Weatherly proudly watched the young people board their buses with pink cheeks, sweaty smiles and waves for their new "friend" on the Minnesota Vikings, his mother, Carla, and grandmother, Dianna, looked on with pride just a few feet away.
Weatherly called their lifelong support "unbelievable" and explained that they had flown from Atlanta to Minneapolis Sunday evening simply to be a part of the camp.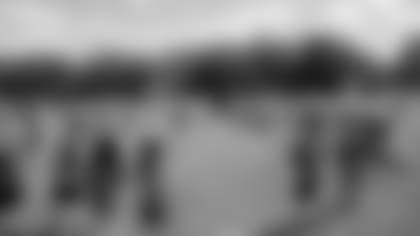 Carla and Dianna are familiar with the trip, having made it regularly during the NFL season.
"She comes to every game. She's been to every game of every sport I've ever played," Weatherly said of his mother. "I told her I was going to have this camp, and she said, 'OK, just tell me when, and I'll be there,' without hesitation.
"It just means a lot that she would be here for my first camp and see the kids and see how we all interacted," he continued. "She told me, 'You're having a great camp,' and I was like, 'Aww.' Those moments mean just as much as when I got my first sack and she said, 'Good job,' or when I got my first start. I'm just happy they were here to share the moment with me."
"I guess it makes me feel like I must have done something right, that he's still very caring and giving and always wants to do more for little kids," Carla said. "A lot of people have these huge dreams of what they're going to do after football, and he always says – jokingly but seriously – that he's going to be a coach. A [little league] coach. I guess it feels good to know that he still wants to be involved in other people's lives to help them become better football players or whatever their specific dream actually is."
And as for the energy and playfulness Weatherly demonstrated throughout the entirety of the afternoon? It was no surprise to Carla.
"Someone commented on how much fun it looked like Stephen was having, and I said, 'This is every day, all day,' " she laughed. "It hasn't changed. He loves being a kid."