Good thing Stefon Diggs didn't end up going out of bounds.
Because that's what the Vikings wide receiver was actually planning to do after leaping into the air from the U.S. Bank Stadium turf on Jan. 14, 2018.
The pigskin connected with Diggs' white gloves with five seconds remaining in regulation. What followed over the next few ticks will live forever in Vikings lore.
"I was just getting ready to get tackled and try my best to get out of bounds," Diggs said. "When I didn't get tackled, I knew something was up, and I was just trying to keep my feet."
Diggs' left foot hit the ground at the 34-yard line, leading to a small stutter step just after Saints safety Marcus Williams missed the attempt to tackle him. His right foot soon planted with the turf at the 33-yard line, his left following his momentum at the 31-yard line.
Diggs' left hand helped stabilize his balance and propel him forward just before the 30-yard line.
By the time Diggs looked up and approached full speed at the 25-yard line, there was nothing but open field, an inviting Purple end zone and thousands of awestruck Vikings fans in front of him.
The "Minneapolis Miracle" as it was dubbed in real time by "Voice of the Vikings" Paul Allen is the most memorable play in franchise history, an unbelievable sequence that gave the Vikings a thrilling 29-24 victory over New Orleans in the Divisional Round of the 2017 NFL playoffs.
And it showcased some of Diggs' best attributes as a player: balance, athleticism, strength and speed.
But it also highlighted perhaps the most hidden part of the wide receiver's repertoire on the field, a high level of smarts and awareness that puts Diggs at the top of his class in the league.
"His football awareness always comes into play," said Vikings wide receivers coach Darrell Hazell. "He's got a great football sense of where people are around him, and I think that's where the intelligence comes in.
"He knew the safety was driving on him [on the 61-yard touchdown] … and just knowing the angle the guy was taking was a critical part of the success on that play," Hazell added.
One of Diggs' teammates believes his smarts and football IQ are the most underrated part of his game.
"Absolutely," said Vikings wide receiver Adam Thielen. "He is a smart football player, and he understands zone coverages and man coverages and how to run a route and how to set up things.
"It's kind of funny when you hear people talk about certain receivers and how they put certain tags on them, but they have no idea," Thielen added. "They don't see what he does in the classroom and how he thinks about the game. Diggsy is obviously a guy who is really smart, and that's why he has had success."
Diggs has always had talent on the gridiron; it's what helped make him one of the top high school recruits in the nation as a teenager in Maryland.
He chose to stay home and attend the University of Maryland, where injuries sidetracked his college career before the Vikings selected him in the fifth round of the 2015 NFL Draft.
There were seven wide receivers taken in the first round that spring as Diggs became the 19th overall player chosen at his position when Minnesota snagged him with the 146th overall pick.
Diggs has since become one of the most productive players of his draft class, as his 2,940 career receiving yards and 18 touchdowns rank second and third, respectively, among players selected in 2015.
But in recent years, Diggs has seemingly taken his game to a new level, blending his athleticism with smarts and awareness to make him a more complete player. He has 48 catches for 468 yards and three touchdowns nearly halfway through the 2018 season (on pace for career bests in receptions and yards).
The wide receiver said he's put in just as much work in the classroom and with film study as he has on the field and in the weight room, adding that the combination of film study and experience in the NFL has opened his eyes over the past four seasons.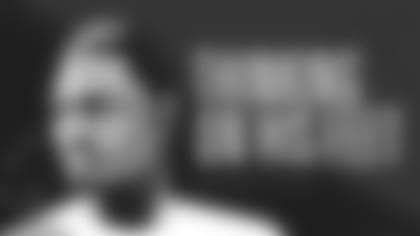 "More so over time, I would say, not just on film," Diggs said. "Being [in the league for a while,] … you can watch a ton of film but be a young guy and not really have a feel for the game. I would just say that over the years I've learned a lot."
Hazell said he is "constantly" throwing new stuff at Diggs in the classroom.
"It's all about film study and constant interaction with other players, with the quarterback, coaches," Hazell said. "That's how you learn the game. He wants all that information to try and process it and digest it, and he tries to figure it out from there.
"You keep piling on his plate and then learning why you have to be at a certain depth and why you have to be at a certain width in a route," Hazell added. "He's getting it more and more each week."
Diggs has a catalogue of routes he can run on the field, but those closest to him say he has grown in learning how to set up defenders throughout the game.
A route on the first drive might get one look. And when it appears Diggs is running that same route in the fourth quarter, he changes it up at the last second for a separate route for a big gain.
"I think his ability to line up in a lot of different spots [shows his knowledge of the game]," said Vikings Offensive Coordinator John DeFilippo. "If you saw our call sheets and the amount of personnel groupings, the amount of formations we have, shifts and motions, [we use] those things more than a lot of people.
"I'm not saying we do everything right, because we don't. We try to," DeFilippo added. "But I think his ability to line up inside, outside, run the first level, your route, the slant for example, and then Green Bay take the post over the top [for a 75-yard touchdown] and be able to track the football and catch it with his finger tips and those things. I think the variety of routes he can run and the ability for him to line up anywhere that we need him to line up at makes him who he is."
Added Vikings Head Coach Mike Zimmer: "He understands route concepts, you know, part of it is understanding the positioning of the defensive back, and I think he does a good job of setting guys up and understanding how to manipulate the route based off of him. But yeah, he does a good job. He's a smart kid."
Diggs' fellow wide receiver and best friend on the team agreed with DeFilippo and Zimmer's assessments.
"He's going to make all his routes look the same and put speed on every route," Thielen said. "Then, depending if he's going in or out or up, he's going to break that way, and it's tough for DBs to figure out where he's going because everything looks the same."
As Hazell has gotten to know Diggs over the past two seasons, he's come to appreciate the wide receiver's enthusiasm for the game along with his football IQ.
"He plays with such great energy," Hazell said. "I like to refer to him as 'The Dragster.' He's got so much fuel … rocket fuel, dragster fuel … that he plays with.
"It empties out real quick, and you'll see him come off for a play, but then he just reloads and has so much energy," Hazell added.
There is no doubt that Diggs is silky smooth in his route running and has the speed and explosiveness to turn a quick screen into a big play.
But he has elevated his game in subtle ways, as well, such as knowing what coverage is coming and finding the soft spot in the zone.
Hazell said that wide receivers in today's game must have multiple items, including smarts, in their toolbox.
"It's hard to be a good player if you don't have both," Hazell said. "You can make plays, but to consistently make plays, you have to have the athletic ability and you have to have the knowledge of the game."
Diggs displayed every one of his needed traits on the Minneapolis Miracle. Yet he is constantly searching and thinking for ways to improve as his career evolves.
"My legacy will be my legacy. I kind of want to leave more than just one play, of course," Diggs said. "But as of now, that's not a bad play to be remembered for. But I've got goals to be met, even outside of football. There's a long ways to go."