EAGAN, Minn. — The Vikings have been a group of road warriors this season, as they are the only team in the NFL to have played six games away from home entering Week 11.
Minnesota returns to the friendly confines of U.S. Bank Stadium for Sunday's game against Denver, with kickoff at noon (CT).
"It'll be great to get back home, after two tough road games, to be able to play in front of our fans at our place," said Vikings quarterback Kirk Cousins. "We're going to need them because it's going to be a really good team, a really good defense coming in that we've got to go against."
Added Vikings Head Coach Mike Zimmer: "Big game Sunday … we're going to need the crowd nice and loud … and the stadium cranked up and ready to go."
The Vikings will surely welcome playing at U.S. Bank Stadium, a place they have excelled at since the venue opened in 2016.
Since the start of the 2016 season, the Vikings are tied for the third-best win percentage at home in the regular season. Minnesota and Philadelphia have both gone 21-7 [.750 win percentage] at home in that time span.
New England tops the league with a 24-4 record at home [.857 win percentage] since the beginning of 2016, and New Orleans is second with a 22-7 record [.759 win percentage].
Minnesota last went undefeated at home in the 2009 season. The current Vikings are halfway there with a 4-0 mark.
Even more impressive? The Vikings have not trailed at home for a single second so far in 2019.
As it stands now, the Vikings will have to go on the road in the playoffs. But their path to a playoff spot could be boosted by success at home, continuing with Sunday's game against Denver.
Here are three areas to watch in Sunday's contest, plus some noteworthy stats on both teams:
There won't be a shortage of pass-rushing stars on the field Sunday afternoon.
According to the analytics website Pro Football Focus, Vikings defensive end Danielle Hunter leads the league with 64 total quarterback pressures. He also has 8.5 sacks so far in 2019.
Fellow defensive end Everson Griffen, who has 6.0 sacks, is third on the list with 56 total pressures.
And Denver's Von Miller is tied for fifth in the NFL with 48 quarterback pressures. Miller has 4.0 sacks in 2019.
"We've got to know where he is, for sure," Zimmer said.
Broncos head coach Vic Fangio was asked earlier this week on a conference call what kind of challenge Hunter and Griffen will present for Denver's offensive line.
"Unfortunately, pretty damn big," Fangio said.
Broncos left tackle Garrett Bolles has been flagged 11 total times in 2019, which is tied for the highest count in the league. Bolles, who has had a league-high six of those penalties declined, has had five holding calls stand — tied for the second-most in the NFL.
Vikings tackles Riley Reiff and Brian O'Neill will also have their hands full with Miller and defensive end Derek Wolfe, who leads Denver with 5.0 sacks.
Since 2015 when Hunter was a rookie, he and Griffen have totaled more sacks (91.5) than any other duo in the NFL. Cincinnati's Geno Atkins and Carlos Dunlap are next with 80. Miller and Wolfe rank third with 69.5.
When both teams drop back to pass, there will be plenty of firepower coming at them.
Only one more game – and a homestand, at that – stands between the Vikings and a much-needed bye week.
But similar to high schoolers approaching graduation, it's imperative that the team doesn't get a case of "Senioritis" and look too far ahead.
The Broncos have a less-than-flashy record at 3-6, but many games have come down the wire, and Minnesota's coaches and players have emphasized this week that Denver's win-loss total isn't indicative of level of talent on its roster.
"They're definitely one of the best defenses we'll see all year," Vikings receiver Stefon Diggs said. "Their record doesn't tell the story of their year and their team. They've got a lot of guys who work extremely hard, a lot of talent on every level. The secondary's extremely talented, their d-line – as we know – is extremely talented, as well. Their record doesn't really tell the story, and if you watch the tape, you know they're a good team. It's another challenge this week."
Coming off an energizing road win at Dallas in prime time, it will be important for Minnesota to use that momentum to its advantage and avoid letting its guard down. The Broncos may be an AFC foe and have fewer implications for the postseason race, but every win down the stretch matters.
The Vikings will be facing a Broncos quarterback with one start on his NFL resume.
Brandon Allen, a sixth-round pick of the Jaguars in 2016, made his long-awaited professional debut in Denver and led the Broncos to a 24-19 victory over the Browns in Week 9.
He completed 12 of 20 passes for 193 yards and two touchdowns for a passer rating of 125.6 in the win.
Allen showed chemistry with receiver Courtland Sutton, who made an impressive grab on a 21-yard touchdown, and with tight end Noah Fant, the first-round pick out of Iowa.
Fant did 65 yards worth of damage after the catch on a 75-yard touchdown in the second quarter against the Browns and recorded his first game with more than 100 receiving yards (115 on three receptions).
Allen used his legs early in the game on runs for 5 and 11 yards, the latter of which converted a third-and-8 on Denver's first scoring drive.
That game tape is about all that the Vikings have to work with on Allen at the NFL level, so they might have to make in-game adjustments to his playing style.
— The Vikings defense has given up the fewest rushing touchdowns in 2019, having allowed only two in the first 10 games. Denver has seven rushing touchdowns in 2019, which is tied for the seventh-most in the NFL.
— Since Week 5, the Vikings offense has averaged 424.5 yards per game, the third-most in the NFL in that span.
— Vikings kicker Dan Bailey is just one point away from reaching the 1,000-point mark for his career. The eighth-year pro made two field goals and kicked two extra points against his former team in Dallas on Sunday Night Football, but Minnesota opted to a 2-point conversion rather than PAT after its last touchdown of the night.
— Denver's defense has been incredibly stingy in the red zone. The Broncos have allowed opponents to score on just 37.04 percent of their trips inside the 20, which is second-best in the NFL behind the 49ers.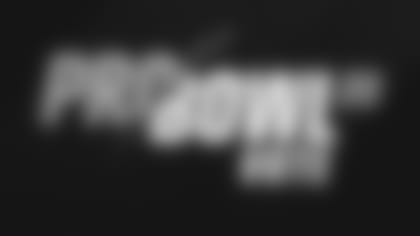 Pro Bowl Voting
Last chance! Vote to help make sure all your favorite Vikings make the 2020 Pro Bowl in Orlando. Voting ends Dec. 12, 2019.
"I like to have the ball in my hands because I think something special can happen."
— Vikings running back Dalvin Cook, who leads the NFL with 1,415 yards from scrimmage
The Vikings will have their bye week in Week 12, as Minnesota will have the weekend off. The team returns to action in Week 13 with a crucial road game at Seattle on Monday Night Football.
Minnesota is 2-3 under Zimmer after the bye since he arrived in town in 2014. The Vikings have alternated losses and wins in those years, losing in the game after the bye in 2014, 2016 and 2018, while winning after the bye in 2015 and 2017.
Coincidentally, the Vikings made the playoffs in 2015 and 2017, and missed the postseason the other three seasons.