When the Vikings and Saints face off at U.S. Bank Stadium on Sunday Night Football, one fan won't be picking sides.
Or rather, he's picking both sides.
Vikings Legend Steve Jordan said he'll be rooting for "everybody" when the NFC rivals go head-to-head for the first time since the Minneapolis Miracle lifted the Vikings over the Saints in the Divisional Round playoff game in January.
That's because Steve's son, Cameron, is in his eighth season with the Saints.
Drafted 24th overall in 2011, Cam Jordan has never missed a game with New Orleans. The defensive end has started 117 of 118 games played and has totaled 379 tackles (league stats), 64.5 sacks, 87 tackles for loss, two interceptions, nine forced fumbles and eight fumble recoveries. Cam is a three-time Pro Bowler and was named First-Team All Pro in 2017.
Steve recognized his son's potential from an early age, but ironically, Cam initially didn't want to play football.
"When Cam was 2 years old, he used to bang his head on the walls sometimes – we were all pretty rough because we used to roughhouse a lot in our house," Steve recalled with a smile. "I told him … 'Son, you're pretty rough. One of these days, you'll be able to play a sport that people will celebrate that kind of roughness.' "
But Steve and his wife required both of their sons to wait until the eighth grade to play football. And when the time arrived, Cam wasn't interested and preferred to focus only on basketball.
"So I kind of had to be 'that dad' for one time, where I said, 'Hey, I don't want to force you to do this,' but essentially, I did," Steve laughed. "I said, 'I just want you to learn the game. And if you never play again, I'm fine.' "
So Cam started football – reluctantly.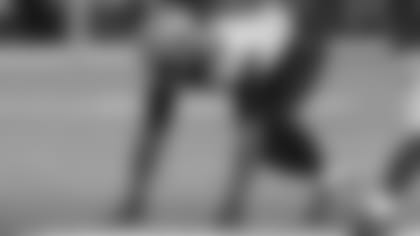 Steve recounted his preteen son showing up at football practice and loudly making sure that everyone knew he didn't want to be there and was only because "my dad is making me." But he soon caught the bug, and it wasn't long before Cam's coach made him a team captain.
Cam was all-in. He impressed in high school, was a standout at California and turned his sights on the next level.
Steve, who earned six consecutive Pro Bowl nods from 1986-91, said that his experience in the NFL helped Cam have an easier transition to the pros.
Although Steve and his wife opted to keep their children out of the main hype and spotlight that accompanied the NFL, they got to know Steve's teammates and their families and were a part of the larger Vikings family.
Steve recalled Saturday morning practices at Winter Park, when several players would bring their children along to run around on the field after walk-through.
"I remember one time when Archie Manning was there, and a lot of people forget that, and Peyton would come out and throw balls at us," Steve recalled. "That was really fun. [And] maybe during the offseason I'd come in, and they'd punch some of the bags and that sort of thing."
Steve said that Cam had "a lot of other role models" that he learned from.
"Like Darrin Nelson, 'Uncle Darrin'; 'Uncle Joey Browner,' 'Uncle Dole' – Chris Doleman – those kinds of guys that he got a chance to hang out with, and their kids," Steve said. "He got to see a lot of these guys, and it wasn't so distant to him in terms of, 'Wow, I don't know if I could ever do that,' because he got to see them and their kids on a regular basis."
"I think it was helpful from that regard. Even though it was a one-in-a-million shot, it wasn't that distant to him," Steve added.
When Cam took to the sport that his father loved, Steve often gave him postgame tips and feedback.
And while Cam is well-established in the league and now has three children of his own, Steve can't hold back from the occasional coaching.
"I still work with him in terms of, you know, giving him my feedback," Steve said. "We learned how to deal with each other [when he was in] high school. Because after the games, he's kind of emotional, I'm a little emotional about it, so we know we have to give ourselves about a 24-hour rule before I start telling him, 'Hey, here's where I think you could do this differently or this better' or something like that.
"He's at a point now where there's not a whole lot I'm going to contribute," Steve said with a smile. "But I still give him my thoughts and opinions."
No matter the score on Sunday, Steve will be filled with pride when he watches Cam take the field against his former team. As a parent, all he's ever wanted for his children is to see them be happy, healthy and successful.
"As a young person going into the league, single at the time … you're just really trying to focus on yourself, your career, trying to get your body right and learn plays, things of that nature," Steve said. "And when you become a father, it really starts to take on new meaning. There's a little bit of pressure, of course, because now you've got a family to feed, so that affects some of your decision processes. And that's a good thing.
"[But when] fatherhood comes in, it kind of gives you a more serious approach, I think, not only to your career but to your family," Steve continued. "And then the expectations that you want to set for all of the above."