The crowd didn't quite compare to a game day at the Metrodome, but Robert Smith received lots of love from fans at the Minnesota Vikings Museum.
Smith, who played for the Vikings from 1993-2000 and ranks second in career rushing yards, participated in a Q&A with fans Thursday afternoon. The Vikings Legend tackled a wide variety of topics, answering questions about teammates he remains close to – Harold Morrow, Robert Griffith, Pete Bercich and more – and his current role as a college football analyst.
Smith reminisced about his own training camp days, back when the Vikings held camp at Minnesota State University, Mankato, and stayed for weeks in the dorms.
"Some people went so far as to bring their own bed, but I never did that," he noted.
Asked about his favorite training camp memory, Smith laughed.
He reflected on the summer of 1994, during which the Shoemaker-Levy 9 comet broke up into more than 20 pieces and collided with Jupiter over the course of a month.
"It just happened to be the month we were up at training camp," Smith chucked. "So I brought my telescope to camp. I would never go out after practice to the bars and things like that. Not that you had a lot of time for it, but after the night meetings, some people would do that.
"But I had the telescope up there, I set it up, and you could actually see the black marks on Jupiter as these pieces of the comet hit," he continued. "Having the guys coming back from the bars on a Saturday night – you know, they were out having a little bit of fun – and they see me with this telescope set up. They'd come over, 'What the hell are you doing out there?' But then being able to show some of them that you could see those marks on Jupiter, that was pretty fun."
Another fan wondered what it had been like to play with Hall of Fame defensive tackle John Randle.
"First of all, the fact that he's a teammate and an opponent is probably my favorite part about Johnny," Smith quipped.
"Johnny used to read all the bios of opposing offensive linemen and figure out everything about the family," he said. "And he would go in the games and say, 'Hey, how are Karen and the kids doing?' Really try to get into the head of opposing players. Just being that personal with it."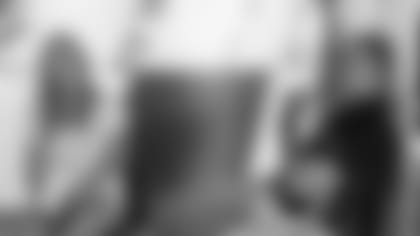 He recalled the first time he ever met Randle, during a practice leading up to Smith's rookie 1993 season. At that time, Randle already had three seasons in Minnesota under his belt.
"Hearing him the first time at practice, it was like, 'Are you serious? Is he really like this?' You think it's an act or something," Smith said. "But his nickname was 'Motor' because his motor was always running, and his mouth was probably his biggest motor. My favorite memory was just hearing it the first time and hearing people say, 'No, that's really Johnny.' 'Wow, that's incredible.' "
Following the Q&A, Smith said he most appreciated the opportunity to tell fans more about Randle.
"The question about Johnny was just really fun because [it shows the] human said of the players that, a lot of times, fans don't really know," he told Vikings.com. "And it's always fun when you're talking about teammates that you have so much respect for that you have an opportunity to brag on a little."
It's been two decades since Smith last laced up his cleats and hit the gridiron in front of 60,000 people, but the continued support from fans isn't lost on him.
"It's something that you realize more the longer you're away from the game. You see the reaction from some people and it's like, 'Wow,' you really kind of brighten their day," Smith said. "It's like that saying, 'You might forget what some people say, but you'll never forget how they make you feel.'
"Just knowing how much people feel about not just the team but you as a player and being part of a team, it's something special to kind of give that back to the fans that supported you for so many years," he added.