Barbara Fenick first spotted Rick Kolodziej at a Minnesota Kicks game in 1980.
While she watched from the stands, using her personal camera to snap shots of the soccer match, Rick shot from the sideline as a credentialed photographer.
"I met him later in the clubhouse at the Old Met Stadium," recalled Barb, who asked Rick about the possibility of being credentialed to shoot a game.
Rick was able to fulfill Barb's request. After photographing a game together, Barb invited Rick to her home for a Sidekicks fan club party and showed him previous photos she had taken.
"He came to the party, and we just started going out after that," Barb recalled.
She was writing a book, Collecting the Beatles, and Rick photographed her rock-band memorabilia that appeared on the cover upon publication. In 1981, just a year-and-a-half after meeting at the Met, Barb and Rick were married.
"It would have been 39 years this November," Barb said. "We've got two kids, Nic and Jessi, and six grandkids."
Sadly, Rick passed away on July 15 after courageously battling cancer off and on since 2010.
The same year that Rick and Barb married, he began working for the Vikings as a contracted photographer; little did he know, his career with the team would go on to span three decades.
Rick captured iconic Vikings figures – Hall of Famers from Bud Grant to Randy Moss – and moments – from Cris Carter's 1,000th catch to Border Battles at Lambeau Field – that will forever be a part of Minnesota's story.
"He loved photography and working with the images, and he loved getting the best shot he could in the peak of the moment," Barb said. "I'm finding pictures all over the place … and they're great shots. My son Nic will inherit all the Vikings stuff – Rick had thousands and thousands of images, going way back on negatives, then on slides, then on digital. They spanned all those years."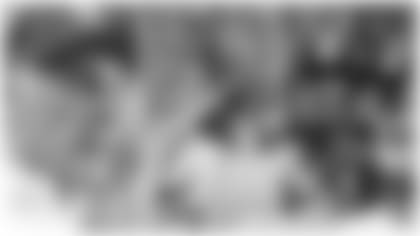 Nic has always been an avid trading card collector and remembers being most proud of the Vikings cards using his dad's images. In his office hangs a framed photo that Rick took of former Vikings linebacker Ben Leber sacking Hall of Fame quarterback Brett Favre.
"It's nothing incredibly special, but for some reason that one really resonates with me. It's such a great picture," Nic said. "Just knowing he was a part of that history, the Vikings-Packers rivalry, the Vikings-Bears rivalry, and that he was one of the key members in capturing all these moments that we're going to look back on and remember because of these photos, there's a lot of pride in that."
Growing up, Nic would ask to accompany his dad to games as an assistant but to no avail. Rick offered a stipulation, however, when Nic reached high school: Take a photography class in school, and ace it, and then we'll talk.
Nic did just that, passing a photography course with flying colors as a sophomore and then joining Rick on the sidelines, beginning in the 1997 season and working with him through the Vikings 2009 campaign.
Vikings game days, which often stretched from 7 a.m. to 7 or 8 p.m. for a noon kickoff, created father-son memories that Nic will cherish forever.
"To be able to watch him work and to be a part of that … it was an incredible bonding experience," Nic said. "We spent a lot of time before the games, you'd go out to eat after the games and talk about everything that happened, and that helped grow us closer, for sure."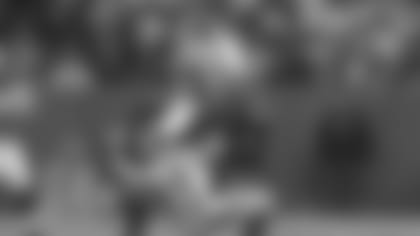 Rick always had a strong relationship with his children, Barb pointed out. Despite the demanding schedule required of a freelance photographer, Rick made family time a priority.
Family trips around the country for Nic and Jessi's dance competitions weren't uncommon, and Rick even joined a "Dancing Dads" group to stay involved.
"He always liked to be part of things," Barb said, a smile evident in her voice. "He drove the prop truck and handled the props, took care of that. And he took the pictures for the dance company, so he was a big part of that.
"The kids were really close with their dad because we always did everything together," she added.
There was other traveling, too: vacations out West or Saturday road trips Up North just to admire the changing colors during Minnesota autumns. Rick loved snapping photos of black-and-white loons floating on sleek lake surfaces, images that became part of the Kolodziejs' décor among framed photos of Nic and Jessi.
Rick was a family man, but beyond that he was simply a people person.
Ask anyone who knew him, and they'll tell you that he was much more than just a photographer, and he captured much more than just images – wherever Rick went, he seemed to capture the hearts of those he met.
"He loved everybody. He made friends so easily," said Nic. "He just got along with everybody."
Barb also emphasized her late husband's outgoing demeanor.
"He liked to talk to people. He wasn't much for talking a lot about himself, but he liked to ask people a lot of questions and find out about them," she said. "People all said that at the memorial service – they said how friendly he was and how much he cared about other people and what they were doing."
In January of 2019, Barb and Rick went on one last vacation together, a Caribbean cruise.
Rick had always been opposed to cruises, arguing that new destinations deserved to be fully explored and not just stopped at. But as cancer took its toll on his body, it's the type of trip that made the most sense.
"At the end, we talked about what a good time we had," Barb said. "And he had been feeling better then. He still had his walker, but he was getting around, and he did everything there was to do there and really enjoyed it. … He was really glad he went. It was a great time, and we had those memories to share."
The Vikings will always remember Rick's photographs, but his family hopes they'll also remember him for who he was.
"I was attracted to his sense of humor, and also that he was a good listener," Barb said. "You could tell him all kinds of stuff because he'd actually listen to you.
"He was my person," she added. "He's going to be missed."