Randy Moss will enter the Pro Football Hall of Fame on Saturday night in Canton, Ohio. And he's bringing plenty of touchdowns with him.
The wide receiver known as "The SUPERFREAK" totaled 13 dozen scores from 13 quarterbacks during his distinguished career. The 156 touchdown catches rank second all-time.
A first-round pick by Minnesota in the 1998 NFL Draft, Moss recorded double-digit touchdowns nine times during his 14 seasons with the Vikings, Raiders, Patriots, Titans and 49ers.
The list of quarterbacks who threw at least one touchdown pass to Moss includes a current Hall of Famer and a surefire future one, two No. 1 overall picks and multiple Super Bowl winners.
There are journeymen and stars alike, not to mention a quarterback who threw every single one of his professional touchdowns to Moss.
Here, in chronological order, are the 13 men who make up Randy's Quarterback Club: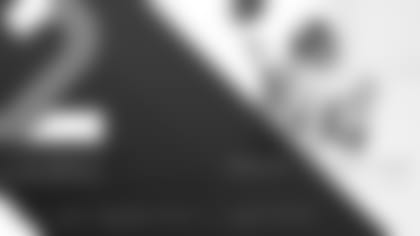 The play call was Change Right Speed Right Bomb.
It was Sept. 6, 1998, late in the first quarter of the Vikings 1998 season opener against Tampa Bay.
Vikings quarterback Brad Johnson hardly cared that wide receiver Randy Moss was streaking down the left sideline with two Buccaneers defenders nearby. He was going to loft it to Moss anyway.
"If it was 1-on-1, you gave him the shot," Johnson said. "If it was 2-on-1, it was a 50-50 ball. That's how good he was."
Johnson's pass ended up in the hands of the rookie from Marshall, the first touchdown of Moss' career. There would be plenty more.
Johnson was the quarterback for Moss' second career touchdown catch, too. That play call was Train Ride Jet Right 748 Y Shallow, and Johnson hit No. 84 in Purple on a post route for a 31-yard, second-quarter score.
But those would be the only two touchdowns Johnson and Moss would connect on because the quarterback suffered a broken ankle in Week 2 and missed the majority of the year.
Even so, Johnson said he relishes the one season he spent with Moss and added he has no regrets that he wasn't the starting quarterback during the magical 1998 season.
"People don't realize that I came back after neck surgery in 1997, so I lost every bit of [strength] … I couldn't even hold a pencil in my hand," Johnson said. "For me to get back for the first couple games [in 1998] was probably one of my greatest accomplishments ever.
"That was a blessing in disguise probably … I don't know if I'd been healthy enough to last the whole season. Would I have wanted it? Yeah," Johnson added. "But for me, my career worked out the way it should have and the way it did. But I missed a fun year, and to see him do what he did … it was special."
Johnson said he and his offensive teammates quickly recognized at training camp just how athletically gifted Moss was.
"What we realized was that when he was running at 80 percent, everyone else was running at 100 percent," Johnson said. "He was catching it wherever he wanted to catch it at, while the defender was just kind of running by and was out of control. Randy's body was always under control."
Moss finished the 1998 season with 17 touchdown catches, a rookie record that still stands today, and will be enshrined in the Pro Football Hall of Fame this weekend. Johnson went on to win Super Bowl XXXVII with, of all teams, Tampa Bay.
But they'll forever be connected by Change Right Speed Right Bomb.
"To be his first touchdown pass in league history … you don't ever forget your first," Johnson said. "But I was just the blink of an eye on his career."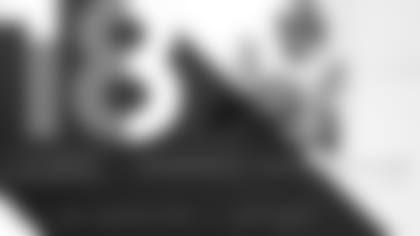 Looking back now, there's no question Randy Moss should have been one of the top picks of the 1998 NFL Draft.
Instead, the former Marshall standout fell all the way to the 21st spot, where Vikings Head Coach Dennis Green and the organization jumped at the chance to select him.
Moss only produced one of the best seasons in league history for a wide receiver, much less a rookie, as he hauled in 69 catches for 1,313 yards and 17 touchdowns.
The man who threw him most of those touchdowns?
That would be Randall Cunningham, an unlikely quarterback who wasn't the starter when the 1998 season began.
But if there was one thing Cunningham knew early on, it was that Moss was destined for greatness.
"It was inevitable," Cunningham said. "Randy was just one of the top players that's ever played with the Vikings.
"He was a great, great draft pick," Cunningham added. "People didn't want him? 'Well, thanks a lot, we'll take him.' "
Of the 18 total touchdowns that Cunningham threw to Moss over a two-season span, 15 of them came during Minnesota's magical 15-1 campaign in 1998, a season in which the quarterback was named the league's Offensive Player of the Year.
When Cunningham looked Moss' way in 1998, the results were staggering. Moss caught 57 passes for 1,094 yards and 15 scores from the 35-year-old quarterback that season.
Nine of those 15 touchdowns went for 40 yards or more. On Thanksgiving Day against Dallas in 1998, Moss had three receptions for 163 yards – with two scores of 56 yards and another of 51 – on the nationally televised win. Cunningham explained why he and Moss were so successful with the deep ball:
"If an NFL quarterback takes a five-step drop and throws it as far as he can, there's not many people who are going to run under the ball," Cunningham said. "We had a rule with Randy. The rule with everybody else is (that you throw it) 40 or 45 yards down the field and then five yards from the sideline — that's where the ball was supposed to be.
"With Randy, it was 50 or 55 yards down the field. If you took a five-step (drop) and put it out there about 50 yards, he would be able to go get it," Cunningham added. "It wasn't the farthest I could throw, but I would definitely put it out there where he could go and get it. If I put it out there, the chances were that he was going to come up with the ball."
Cunningham had a passer rating of 106.0 in 1998 and went 13-1 in the regular season as a starter.
What was perhaps the most memorable season of his career intertwined with a rookie who would eventually find himself in the Pro Football Hall of Fame.
"It was great to throw to Randy," Cunningham said. "He was a very talented athlete. Not just a receiver, but an athlete."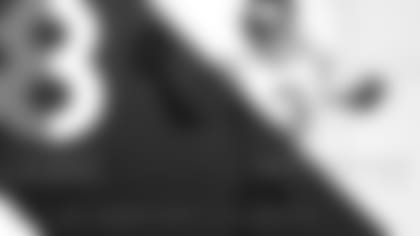 Jeff George was the No. 1 overall pick in the 1990 NFL Draft by the Indianapolis Colts.
By the time he became a free agent entering the 1999 season, he had been with three teams and was looking for a new organization.
George arrived at Winter Park for a workout and quickly established a connection with Randy Moss.
"Actually my first workout with him, when I came in and signed with Minnesota, they took us in the indoor facility and brought some receivers out there to throw with me," George recalled. "He came up and I said, 'Hey, just run a deep post.' I wanted to see what it felt like to throw a post route to him. But I said, 'Honestly, I'm going to close my eyes and I'm going to know exactly where you're at and throw this ball with my eyes closed.'
"He kind of laughed, but with great receivers like that, as the quarterback you have a feel for them and kind of sense where they're going to be at," George added. "So I drop back, five-step drop, and just kind of felt like where he was going to be and he was about 45, 50 yards downfield. I threw it with my eyes closed and it hit him right in stride and he went and got it. I kind of knew that day that there was going to be something special between us."
Cunningham started the first six games for the Vikings to open the 1999 season but was benched in favor of George when Minnesota got off to a 2-4 start.
The connection that George and Moss displayed in the quarterback's initial workout translated onto the field, as Moss caught 49 passes for 923 yards and eight scores over the final 10 regular-season games with George under center. Five of those eight touchdowns went for 30 or more yards.
"We would go into a game and just kind of knew ahead of time. We'd study the tape and knew how certain safeties were playing him," George said. "Even though they were double covering him, a lot of times he was still open just because they feared him.
"I knew if I could just put it in the right area that he would put it in second gear and go get it," George added. "I'm not saying anything that anyone else probably hasn't said, but he was just one of those special athletes who was gifted both ways. Not just physically but mentally as well."
George moved on to Washington following the 1999 season, primarily because the Vikings had spent a 1999 first-round pick on Daunte Culpepper.
Still, the quarterback said he has a sense of pride in being one of the 13 quarterbacks in league history to say he threw a touchdown pass to Moss.
"From the moment he stepped on the football field, everybody knew he was going to be a Hall of Famer," George said. "That was never a surprise. First-ballot, that's not a surprise."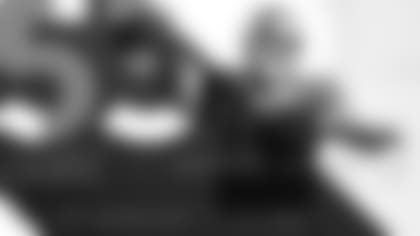 When a quarterback and wide receiver hook up for 53 touchdowns in their time together, undeniably a chemistry and connection forms.
That was certainly the case with Daunte Culpepper and Moss.
Beginning with the 2000 season, Culpepper and Moss got their roll on as one of the league's top quarterback-receiver duos.
Their 53 touchdowns over five seasons from 2000 to 2004 ranks second during that span, only trailing the 63 scores by Indianapolis tandem of Peyton Manning and Marvin Harrison.
"We got to know each other off the field as well as on the field," Culpepper said. "He was probably my best friend on the team during my years in Minnesota.
"We spent a lot of time together, talked and communicated a lot … and it helped us on the field," Culpepper added. "Sometimes it was just a [head] nod. Sometimes we had no signals because we didn't want to give them away. So he'd nod back and would know exactly what I was thinking. It was pretty sweet."
Moss had double-digit touchdowns in four of the five seasons where Culpepper was the primary starter in Purple.
And, like most other quarterbacks Moss played with, Culpepper learned early on that sometimes just chucking it up to Moss was the best option in the playbook.
"Every time we came up to the line of scrimmage and there was one safety over the top, oh yeah, we were taking a shot," said Culpepper, who found Moss for 22 touchdowns of 30-plus yards in their time together.
"Knowing he could outrun just about anyone … if he gets a step on them, then all you have to do as a quarterback is put it in the vicinity where he can catch it," Culpepper added. "What makes it easy is when the guy can stretch the field that way and make a play at any time. It definitely makes it easier for the quarterback."
When asked about the most memorable touchdown he threw to Moss, Culpepper recalled their 53rd and final score together.
It was a little over midway through the third quarter of the 2004 regular-season finale in Washington. Culpepper faked a handoff before lofting a pass to Moss, who was being covered by Pro Bowl safety Sean Taylor.
"I remember one time he jumped over Sean Taylor at Washington," Culpepper said. "That was a phenomenal, phenomenal catch.
"I don't think anybody else in the league could have made that catch," Culpepper added. "Sean Taylor had him 1-on-1 and had the best position, and Moss kind of jumped over the top of him. That is one that sticks out in my mind."
(The touchdown Culpepper mentioned can be found at the 0:45 second mark in the clip below).
No other quarterback is associated with Moss and his time with the Vikings more than Culpepper, who threw for 18,598 yards during the five seasons the duo teamed up in Minnesota.
And there's no doubt Moss was his favorite target during that time, as Culpepper completed 382 passes to Moss for 5,538 yards and those aforementioned 53 touchdowns.
Some were short passes; others were deep throws. But everyone who watched the Vikings during that time remembers the explosive tandem of Culpepper and Moss.
"Anybody who doesn't see him as one of the top receivers in the history of the league probably has a blindfold on or something," Culpepper said. "If they had seen him, they'd know."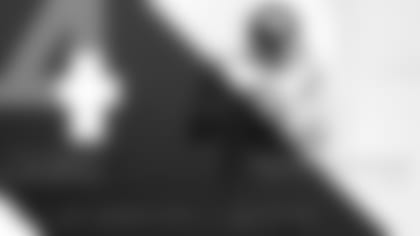 Todd Bouman started three games in his career for the Vikings.
He managed to find quite the connection with Randy Moss during that time.
Bouman, a Minnesota native, threw four touchdowns to No. 84 during their time together during the 2001 season when Daunte Culpepper was injured.
His first start was a Week 13 contest against the Tennessee Titans at the Metrodome. Bouman produced eye-popping numbers, especially for a quarterback who threw just eight total touchdowns in his entire seven-season career.
Bouman passed for 348 yards and four scores, with Moss doing a majority of the damage to Tennessee's defense.
"I remember talking with Randy before the game and saying, 'Just get ready because the ball is coming your way,' " Bouman recalled. "Anytime you could give him more opportunities to get the ball in his hand, it gave you a better chance to win."
Moss finished with seven catches for 158 yards and a touchdown, with the score being the most dazzling play of the day.
Bouman threw a quick bubble screen to Moss, who quickly evaded one defender before blowing past four more Titans who were within a five-yard radius of the wide receiver. And by the time Moss really turned on the jets, he had scampered in for a casual 73-yard touchdown.
Bouman, a former St. Cloud State standout, recalled the play to Vikings.com in May.
"The one that really stands out is, I remember I threw a swing route to him against Tennessee, and he just outran everybody," Bouman said. "It just kind of showed what type of player he was and how fast he was.
"It wasn't a play that I made, but it showed what his nickname truly was … he was a freak," Bouman added. "That play was unbelievable. If you see it on film, it shows exactly what he was all about."
Not that Bouman was surprised with what Moss was able to do on the gridiron.
"The biggest thing about him that people don't realize is that they got to see him on game day with all the plays he made, but it was nothing new to us because we got to see it every single day in practice," Bouman said.
Bouman's connection with Moss highlighted the best game of the quarterback's career. He bounced around to three other teams — New Orleans, St. Louis and Jacksonville — before his NFL career came to a close.
But with the way Moss dominated defenses and caused headaches around the league, Bouman said he was glad to have a front-row seat for a brief stretch of Moss' career.
"He absolutely changed the game in the NFL," Bouman said. "When he came in, he was a special talent.
"I've never been around a guy that made it look so effortless. It was a privilege and honor to play with a guy like that," Bouman said. "Now that he's going into the Hall of Fame, it's something to be proud of."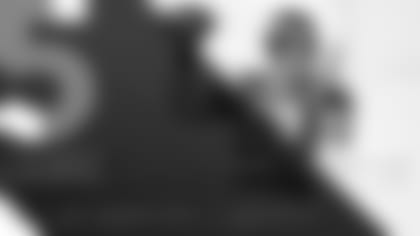 A little locker room competition might have helped Moss produce one of the best games of his NFL career.
The year was 2003, and Moss was dealing with a quarterback change. Gus Frerotte was starting in place of Culpepper because of an injury.
In Minnesota's Week 4 game against San Francisco, Frerotte and Moss lit up the Metrodome, combining for eight completions, 172 yards and three scores.
Frerotte suggested that some friendly games of dominoes may have done the trick.
"In the morning we'd come into Winter Park, and I was always an early one," Ferotte said. "Most mornings he'd come in and we'd play a game of dominoes before we'd even start the day. I really enjoyed that … little stuff like that builds relationships.
"Everything I've heard about him and done with him has been first-class," Ferotte added. "But he had to catch the ball because he was always losing at dominoes, and he knew I'd rag on him if he didn't catch the ball."
Frerotte started just two games for the Vikings during the 2003 season, but he threw five touchdowns to Moss during that span.
Besides the trio of scores against the 49ers, Frerotte found Moss for two more touchdowns in Week 5 at Atlanta.
But Frerotte's favorite memory of No. 84 wasn't a touchdown pass. It was actually during the pair's first game together, a Week 3 tilt against Detroit when Frerotte went in for an injured Culpepper.
"We were playing the Lions, and Randy had a bad back. We all knew he could run fast, but every [opposing defense] played Cover 2, right? So you knew that they were going to try and stay over the top of him," Frerotte said. "They knew he had a bad back, but … he comes in the huddle and says, 'I don't care what the play is, I'm going to run by this safety.' I said, 'Sure, OK.' I go through my reads and don't throw it to him and he is irate.
"He comes back into the huddle and he's yelling at me, 'I'm going to put my hand up and run by the safety. Throw me the ball.' What did I have to lose?" Frerotte added with a chuckle. "I drop back and sure enough, in about five steps he's past the safety, so I throw the ball up in the air. You'd never even know he had a bad back all game. Even when he was hurt, he was faster than everybody."
The play went for 72 yards before Moss was tackled at the 3-yard line. It was the first pass Frerotte ever completed to Moss.
There would be a few more connections between the two, along with a handful of memories for Frerotte.
"I really enjoyed playing with Randy. He was a great locker room guy, and he was just a lot of fun to practice with," Frerotte said. "We used to have throwing games and do a lot of fun things. But when you had to work, you worked. When you had time off, you had fun. Randy was all about that.
"There he is, one of the greatest receivers to ever play the game. I really enjoyed my time with him," Frerotte added. "But a lot of other people threw a lot more touchdowns than me to him."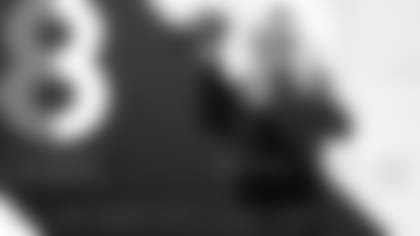 By the end of the 2004 season, Randy Moss had established himself as one of the best receivers across the NFL.
He began his career as the only receiver in NFL history with six straight 1,000-yard seasons, and he racked up 90 receiving touchdowns along the way.
But Moss was traded to Oakland in March of 2005, where he went from the Land of 10,000 Lakes to the Black Hole.
"We were very excited. Obviously the attention that Randy brought and the versatility he gave our offense, it just instantaneously gives you the best deep threat in the NFL," said former Raiders quarterback Kerry Collins. "We were all excited about what he was going to do for our offense. He brought energy, and his personality … it was a big benefit to our team."
Collins was in his second year with Oakland, having spent the previous five seasons in New York with the Giants.
Collins found Moss for eight touchdowns during the 2005 season, a lackluster year that saw the Raiders go 4-12 and finish last in the AFC West.
Moss provided a bit of excitement as he topped the 1,000-yard mark and led Oakland in touchdown catches.
Moss and Collins had previously crossed paths in the 2000 NFC Championship Game, which sent the Giants to Super Bowl XXXV.
"It gave us something to talk about because we had a little bit of history there," Collins said. "I got to get his perspective on what they were thinking going into the game, and what we were thinking.
"Obviously, in Minnesota they had it going like very few offenses ever have," Collins added. "Things happened to just go our way in that game, and it was one of those things where everything went right for us. I always admired Randy's game from afar."
And once Collins got to see Moss on an everyday basis, the quarterback said the two developed a friendship on and off the field.
"I really enjoyed Randy as a person once he got to Oakland. You heard rumors about Randy and all that kind of stuff, I found none of them to be true," Collins said. "He was a good teammate and very personable guy. He spoke his mind and I respected that. I'm happy for him."
And there was no denying the talent that Moss brought to the NFL during his incredible career.
In fact, Collins still talks about it to this day.
"Of all the questions that people ask me, one of the top five ones about my career is, 'What was it like to play with Randy?,' only because he was such an electric figure," Collins said. "Randy could go get it like nobody else I've ever seen.
"I saw it on TV and saw it beforehand," Collins added. "But when I got to see him in person, it was next-level stuff."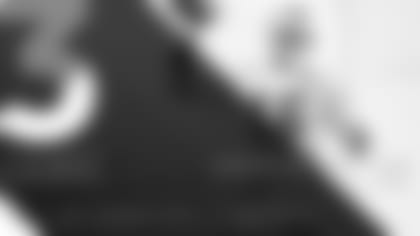 Andrew Walter is perhaps the least recognizable quarterback on this list.
And yet, nobody has a higher percentage of career touchdown throws to Randy Moss.
"I didn't have many touchdowns, but he caught them all," Walter recalled with a laugh. "There is that."
That would be three career touchdown passes for Walter, a 2005 third-round draft pick out of Arizona State. Every single one of which landed in Moss' hands.
Moss and Walter were teammates during the 2006 season in Oakland, a miserable campaign in which the Raiders went 2-14.
Walter is Arizona State's all-time leading passer with 10,617 yards and 85 touchdowns. His first career touchdown was a 5-yard pass to Moss at home in Week 4 against Cleveland.
"The first touchdown I ever threw was against the Browns in the corner of the end zone … and he gave the ball away to one of the fans in the Black Hole," Walter recalled.
The quarterback said both he and Moss signed a different ball for the fan, and Walter was able to recover the keepsake.
But Walter's favorite memory of Moss had nothing to do with a touchdown pass or play in a game or practice.
Walter recalled that he had a large group of family coming in town to watch one of his eight starts in 2006. Moss displayed an act of generosity that Walter said is rarely seen around the NFL.
"Our time in Oakland was not easy. It was a very difficult time, and we didn't win a lot of games and have a lot of success," Walter said. "But that being the stage, I had some family coming to town one week, and Randy came up to me in the locker room. He must have either known, or he just felt like offering the gesture, but he gave me his suite tickets for the game.
"He gave me all of the tickets … it must have cost 10 grand, maybe 20? I don't know. I gave it to my mom, among other people, and they were all blown away by the gesture of being in a suite and enjoying the game. Obviously, they were not going to get that with just me," Walter added. "My mom wrote a thank-you note, and I gave it to him. There wasn't a lot said, but you could tell he was thankful that someone took the time to write him a note. Frankly, that told me everything I need to know about the guy and why I hold him in very high regard. It was just a really nice gesture that did not have to be done."
Despite the frustrations and lack of on-field success in Oakland, Walter does take pride in being one of the 13 members of Moss' quarterback club.
And the trio of touchdowns he threw to Moss did have some significance, as the wide receiver eclipsed the century mark with Walter.
"It's very cool. I threw Randy's 99th, 100th and 101st touchdowns," Walter said. "We all knew he was a first-ballot Hall of Famer while we were playing with him, and those don't come around very often.
"[I'm] a small kid out of Grand Junction, Colorado, … a town nobody has ever heard of … to be playing with Randy Moss was pretty heavy stuff, for sure," Walter added.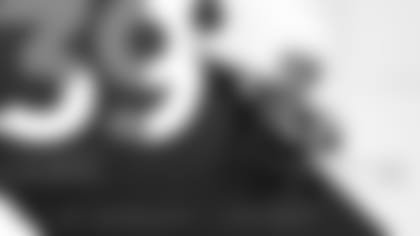 It is the most prolific season a wide receiver has ever had in the National Football League.
Over the course of 16 games in 2007, Randy Moss couldn't be kept out of the end zone. In his first year with New England, Moss hauled in an astounding 23 touchdown catches to set a new single-season NFL record.
Paired with New England quarterback Tom Brady, Moss haunted opposing defenses. He caught touchdowns in all but three games and had multiple scores in half of New England's perfect 16-0 romp through the regular season.
It was a special season-long combination of a dynamic wide receiver paired with a superstar quarterback, one who will one day find himself alongside Moss at the Pro Football Hall of Fame in Canton, Ohio.
In emailed answers to questions from Vikings.com, Brady detailed what made that 2007 season with Moss such an unforgettable one.
"He had the greatest season any receiver could ever have that year," Brady said. "So much of his hard work, his intelligence, really was able to manifest itself in our offense. He was so spectacular as a player, as a teammate, and that was one of the greatest years of my life.
"Randy was my lockermate; he sat next to me. We always had a connection. I know Randy had a great love of the game, and I think we connected and we bonded over that. We have maintained a friendship that lasts to this day," Brady added. "It was just an incredible year, and his impact on the team was immediate. I'll never forget playing with him. I certainly miss him as a player. I have great memories of him throughout his entire career."
Moss' Patriots debut came to the tune of nine catches for 183 yards and a score against the Jets. A 51-yard touchdown came on a play-action pass, with Moss the only player going out on a route. A trio of Jets defenders were nearby as Moss scampered into the end zone.
"I threw the ball about as far as I could all the way across the field and the route – it was a one-man route, it was a play-action fake to try to get people sucked up in the line of scrimmage, and Randy ran behind them," Brady said. "I threw it, and as soon as I let that ball go, I said, 'No way he's going to catch that ball.' He tracked it down. It was a touchdown, and he went on to have 23 touchdowns that season. It was a great way to start the year, and nobody in the history of football could do it like Randy did it."
Moss will likely be remembered for his time as a Viking, and the undeniable impact he had on the league from the time he was drafted in 1998.
But if you're looking for his best overall season, it might be in 2007 when he was as dominant as ever with 98 catches for 1,493 yards and those 23 touchdowns.
It was Brady to Moss, the most unstoppable duo the league has seen over a single season.
And there is no doubt they will one day be reunited in Canton.
"This is a very deserving honor. I mean, I saw the work that he put in, not only his physical ability, but how smart he was as a player and how he approached every week," Brady said. "He was a master at what he did and he took it seriously. He saw defenses that no one else ever saw because of his threat, his ability to play football and how threatening he was out on the field to opposing defenses.
"I'm just really happy for him and his family because of all the hard work that he's put in to be able to achieve it," Brady added. "It's a special weekend, and I know how deserving he is, and it's going to be a great weekend for him and his family to enjoy it."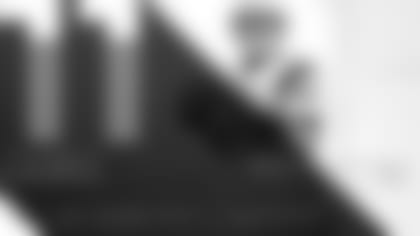 There wouldn't be another magical season for Moss and Brady in 2008.
After setting an NFL record for touchdown catches in a single season the year before, Moss was on the field for just 15 plays with the future Hall of Famer the next season.
Brady tore both his ACL and MCL midway through the first quarter of New England's Week 1 home game against Kansas City when Chiefs safety Bernard Pollard crashed into his left knee on a completed pass to Moss.
Enter Matt Cassel, who had been a seventh-round selection by the Patriots back in 2005. Cassel, who had played for Southern California, had been a backup in both college and the pros and hadn't started a game since high school.
But there he was in Week 1 in 2008, looking to fill Brady's enormous shoes and develop a rapport with Moss.
Their first score together came in the second quarter on third-and-8 from the Chiefs 10-yard line. It was Cassel's first touchdown pass of the season, and it capped off a 99-yard drive for the Patriots.
Cassel recalled the play in an email to Vikings.com.
"I mean I went in there, hadn't started a game since high school, and Tom goes down the first quarter and the first drive we go down," Cassel wrote. "And I remember it was a third [down] in the red zone. We had a play called in which Randy would run a backend line, which means he's running [at the back of the end zone].
"I threw it up, and I don't think there's anybody else that could have gone up," Cassel recalled. "He went up the ladder and went and grabbed that thing, got both feet down, tapped both feet, and I remember it like it was yesterday. It was pretty special."
That was the first of 11 touchdowns Cassel threw to Moss, which is the fourth-most for a quarterback on this list.
It was Moss' eighth season with double-digit scores. He also had 69 catches for 1,008 yards as the Patriots went 11-5 but missed out on the postseason.
Cassel parlayed his strong 2008 season (3,693 yards with 21 touchdowns) into a starting role. New England, ironically enough, traded him to Kansas City, where he spent four seasons as the starter and threw 59 touchdowns.
He later landed with Minnesota, where he started nine games over two seasons with the Vikings.
But Cassel's career was jump-started with an impressive season in 2008, which is when he had the rare chance to play with Moss.
"He's one of the best receivers to ever play the game. He's well-deserving. It was an honor to get a chance to play with him on the field. Everything about his game is athleticism, the uniqueness of his size and speed, and also his ability to go get the ball," Cassel wrote in an email. "His ball skills were the best I've ever seen. There was no doubt in my mind that one day he was going to be in the Hall of Fame.
"Anybody that's ever played with Randy Moss at the quarterback position has benefited [from] his ability and his just knack to play the game," Cassel added. "He's a special player. He's a Hall of Famer. And it was incredible to have the opportunity to [play with him]."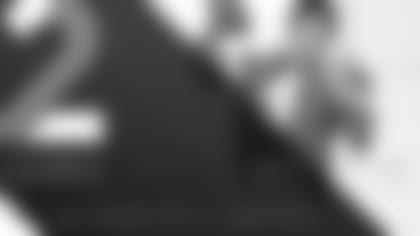 They were rivals, icons and, for a brief stint, teammates who linked up to create one of football's biggest milestones.
When Randy Moss is enshrined into the Pro Football Hall of Fame later this week, he'll join an elite club that also features Brett Favre.
The quarterback threw 508 touchdown passes in his career, only two of which went to Moss.
But one of them was Favre's 500th career touchdown pass, a feat that only two quarterbacks in NFL history have ever accomplished.
Favre and Moss were the faces of their respective teams in the late 1990s and early 2000s.
Moss was the freakish wide receiver with the ability to outrun and outleap any defender as he waltzed into the end zone.
Favre was the ol' gunslinger, a quarterback who played with an unmatched enthusiasm and currently ranks second in NFL history in both passing yards and touchdown passes.
For a four-game stretch in 2010, the two legends were teammates in Minnesota.
On the night of October 11, the Vikings traveled to New York to play the Jets on ESPN's Monday Night Football with Favre sitting on 499 career touchdowns.
Late in the third quarter of the Week 5 matchup, Minnesota faced third-and-17 from the Jets' 37-yard line.
Moss took off down the right sideline and blew past cornerback Antonio Cromartie, with Favre lofting the perfect pass into Moss' hands for the milestone moment. The quarterback celebrated in typical fashion, by sprinting down the field with his arm raised and a smile plastered on his face.
"The 500th was a Patented RANDY MOSS play," Favre wrote in an email to Vikings.com. "3rd and very long with defender playing 12 to 15 yards off saying, 'No way do I get beat deep!!' Randy told me leaving the huddle to throw it up no matter what. For years I saw it time after time, so it was an honor to do it myself."
Favre would connect with Moss for one more score. It came at Lambeau Field of all places, the site of so many signature games for each of them.
Back in the day, they were division rivals trying to stake their claim atop the league.
And by the time they became teammates, they were both well on their way to the Hall of Fame.
They will have another chance to connect in Canton this weekend.
"As for Randy ..... never had I been more excited about playing with a player as much as Randy," Favre wrote. "For many years I watched with AWE and almost disbelief at how easy he made what he was doing look so easy!! Even though we knew, as well as the other teams, what he was capable of, no team could stop him. Reggie White and Deion Sanders were the only others that I played with that were on a different level like Randy."
Randy Moss wasn't done catching touchdowns quite yet.
Although the West Virginia native had retired and did not play during the 2011 season, Moss played the final of his 14-season career in San Francisco in 2012.
Moss added three more touchdowns — and two more quarterbacks — that season to bring his career tally to 156.
Alex Smith threw two of them before he suffered a concussion and was replaced by Colin Kaepernick, who then helped lead the 49ers on a deep postseason run.
Smith, the No. 1 overall pick in the 2007 NFL Draft, had chatted earlier in his career with people who had interacted with Moss.
"I had known a few people that had played with him. Shaun Hill was a good friend of mine who I played with in San Fran. He was with [Randy] in his first stint in Minnesota," Smith said. "I've also known Scott Linehan for a long, long time, and he was the coordinator there for several years.
"I remember talking to them … and this was long before Randy came [to San Francisco] … about stories and what he was like. I did know a little," Smith added. "But when we signed him, he had been retired for a little bit. I didn't know what to expect. I grew up watching him just like everybody else. It was pretty surreal to suddenly be throwing passes to him."
Ironically enough, it was Moss who caught San Francisco's first touchdown pass of the season, a 14-yard strike from Smith in Week 1 against a familiar foe for Moss — the Green Bay Packers. He quickly burst up the left hash marks on a seam route and was all alone in the end zone.
Smith's next and final scoring throw to Moss may have been even more impressive, especially since Moss was 35 years old when he suited up in the Bay Area.
In Week 8 at Arizona, Smith threw a pass to Moss toward the left sideline on third-and-8.
In a vintage display from Moss, he sidestepped two Arizona defenders with back-to-back motions, then dusted off the burners and flew down the sideline for a 47-yard score — the 155th of his career.
"He juked everybody. Those are always nice as a quarterback. To me, it was ridiculous," Smith said. "I don't know how old he was at that point in his career. But here he is, this deep-ball guy, and I think that's what people tried to limit him to because [it was] late in his career.
"You throw a 5-yard pass to him out on the boundary, and he makes, I can't remember but in my head it was three or four guys, miss. He breaks a tackle and house calls it up the sideline," Smith said. "I think if anything, it just kind of speaks to the talent and ability that he had, certainly at his age to still be making plays like that."
He began his career in Purple and revolutionized the league. Now, Moss and contemporary Terrell Owens will join an exclusive club as the 26th and 27th modern-era wide receivers to be enshrined in Canton, Ohio.
Fans and former teammates alike will recall the highlights and amazement of watching Moss in the NFL.
And the 13 members of Randy's quarterback club will invoke their own their own memories of launching the pigskin high into the air, knowing it would eventually land in the hands of Randy Moss.
"He was just special … a unique guy to play with," Smith said. "I feel like in your career you have a chunk of those guys that you'll never forget. And in my short time with Randy, he was certainly one of those guys."