EAGAN, Minn. — T.J. put on his new kicks and sprinted for the end zone.
The young man, who is being helped by People Serving People, has fleet feet that impressed Pro Football Hall of Famers Randall McDaniel and John Randle as they watched from TCO Stadium.
T.J. was one of 150 youth, ages 5 to 18, to receive a custom back-to-school bag filled with new shoes and clothes from SCHEELS on Aug. 31. In addition to the new shoes, other items included T-shirts, sweatshirts, shorts, pants, underwear, socks and a winter coat.
The sights of the young people opening their bags brought back memories for McDaniel and Randle, who grew up with humble beginnings in Arizona and Texas, respectively.
"We didn't have a lot growing up as a kid," McDaniel said. "A lot of the stuff that we got was donated to us, so it feels good to be a part of this."
McDaniel began supporting youth in schools when he was still playing for the Vikings. He volunteered as a full-time educational assistant during offseasons from 1996-2002. When he retired from the NFL in 2002, he began substitute teaching in elementary schools. From 2006-21 he worked as a basic skills instructor.
"This is part of what we would do in schools," McDaniel added. "Anytime you get a chance to give back and make the kids feel appreciated and let them know we're thinking about them and care about them. When I was a kid, I always used to think the same thing: when you get new shoes, you can run faster."
T.J. confirmed this will multiple sprints.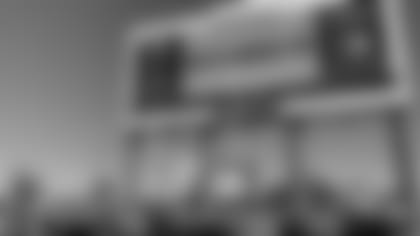 McDaniel and Randle appreciated the opportunity to deliver an encouraging message to the youth.
"It's an honor, because I went through this as a kid, growing up in Texas and going without a lot of things. For me, it's like going back in time and being able to speak to myself," Randle said. "That's one of the things I told them, that you matter and you can be almost anything you want in the world.
"It's just a pleasure to know that the Minnesota Vikings and SCHEELS are doing such good things in the community for people who don't have a lot," Randle added. "Just to be a part of it is a blessing."
SCHEELS Marketing and Events Lead Austin Link said sponsoring the event for the second consecutive year was "super rewarding, especially for the Vikings and People Serving People to want to work with us again."
"It's super good to be able to give back and to see the smiles," Link said. "Ultimately, that's our goal."
People Serving People Volunteer Coordinator Halley Norman said the organization that shelters people experiencing homelessness.
"This was one of the first big events that I got to take part in when I started at People Serving People," Norman said. "Both times it's been such a great opportunity to give the kids an exciting back-to-school event to kick off the year and recognize back-to-school as the exciting thing it should be rather than the complicated conversation it can be when you don't have a permanent address or access to some of the back-to-school supplies.
"Being able to create this celebration and give kids fresh outfits to start the school year … no matter what circumstances they're in, I think that's a really valuable opportunity," Norman added.
If others would like to help People Serving People, Norman said, the organization is "always thankful" for financial and item donations that "ensure we can provide families with the resources they need," as well as time donations by volunteers who are interested in helping.