EAGAN, Minn. — Over the summer, Oluremi Famodu-Jackson met Tim Williams at a farmers market in Hopkins.
Famodu-Jackson, the Sports Dietician for the Vikings, was looking for new restaurants to cater Friday lunches for players, coaches and staff during the season.
Williams, who owns Who's Yo' Daddy BBQ, was looking to grow his business.
A timely pairing was formed, as Who's Yo' Daddy was a hit with the organization earlier this season.
"This opportunity has helped my business by exposing me to a larger scale market," Williams explained. "I have been cooking for many years and serving my community through events like local area farmers markets, but this has given me a chance to expand my current client base.
"Being a Minnesota resident and minority small business owner is challenging within itself," Williams added. "However, knowing and having the privilege to serve our Vikings speaks volumes that they trust local area minority businesses can deliver the quality of service and a food product that is appetizing and appealing to their expectations."
Catered Friday lunches are nothing new to the organization. They started decades ago when players had outside food brought in on Fridays to celebrate the end of the work week and give cafeteria workers a break from their usual duties.
The team then took over the initiative, using a rotation of local restaurants to feed players on Friday afternoon.
But Famodu-Jackson, who is in her third season in her role, wanted her department to be able to align with the organization's equity and inclusion initiatives. The "Hunger for Equality" food program was born with a focus has been placed to include restaurants owned by minorities, women and members of marginalized groups to provide the Friday lunches.
"If the Vikings are going to promote diversity, equity and inclusion, then this is one way — at least in my department — I can help tackle that," Famodu-Jackson said. "This has been something I have been passionate about for the past two years after the death of George Floyd and with what was happening here with the players. I thought, 'What can I do?'
"In the nutrition world, I like to call it a white bread world, a lot of the guidelines made have been around Caucasian individuals," Famodu-Jackson added. "But, I don't cater to a lot of those individuals on this team. There's some, but there is a diverse group of guys, and I want to expose them in some way … sto different foods."
So far this season, Vikings players have chowed down on an array of different food, almost all of them drawing rave reviews.
Williams doesn't have a brick-and-mortar restaurant, so he rented a kitchen to prepare a spread for nearly 200 people. Trays of chicken tips, catfish, ribs, collard greens, macaroni and cheese, cornbread and banana pudding quickly emptied inside of Twin Cities Orthopedics Performance Center.
Angela and Ron from Soul Bowl pose at Twin Cities Orthopedics Performance Center.
The Vikings have also served Ono Hawaiian Plates (braised beef, garlic noodles, garlic shrimp and different types of rice) and Soul Bowl (pineapple chicken, pineapple salmon, beef, yams, rice and macaroni and cheese).
Broders' Pasta Bar (penne alfredo, shrimp scampi, lasagna, braised green beans and Caesar salad) and Yeah Yeah Taco (pork burritos, beans and rice) are a pair of women-owned restaurants that Famodu-Jackson has had serve food.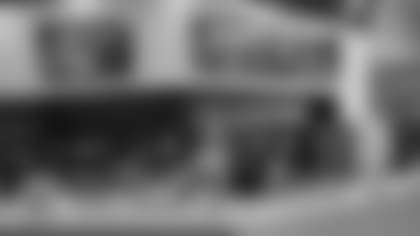 Patsy and Alex from Broders' Pasta Bar pose at Twin Cities Orthopedics Performance Center.
Today's menu of beef and broccoli, chicken lo mein, sesame chicken, shrimp and veggies and rice is being catered by David Fong's.
All of the restaurants are appreciative of the opportunity to gain exposure and new customers.
"This has helped our business by giving us exposure to a wider market," said Jess Kelley of Ono Hawaiian Plates. "As a newer business in the Twin Cities, especially as the first Hawaiian restaurant in the Twin Cities, there are still a lot of people who have not heard of us.
"We feel honored to have been given this opportunity," Kelley added. "It means so much to us that the Vikings support this diversity, equity and inclusion initiative. Ono Hawaiian Plates strives to promote these same values in our own company culture."
Brian Hoffman helps run Yeah Yeah Taco with partners Sophia Munch and Paige Alexander.
Hoffman said: "The biggest impact was giving us confidence. We are a brand-new restaurant — less than 200 square feet and a hole-in-the-wall. Most people see our building and find it hard to believe any good food could come out of it. This opportunity let us share our love of burritos with an audience that we wouldn't otherwise have been able to get."
Vikings fullback C.J. Ham said he is proud of Famodu-Jackson and the team for promoting an inclusive atmosphere while also serving delicious food. He noted the burritos from Yeah Yeah Taco were "phenomenal."
"We're mixing it up with different types of food, not just the traditional steak and potatoes. There's some cultural foods," Ham said. "I'm a big supporter of women and minority-owned businesses.
"A lot of us in here had never been to these places before, so it opened our taste buds," Ham added. "And now we know about them and go to it."
Famodu-Jackson said she is glad to have support from the organization's football and operations staffs for this initiative.
"I think it's been pretty successful. Yes, there are hits and misses, but I have to deal with that every day," Famodu-Jackson said. "You can't please everybody when it comes to food, because it's people's comfort and home, and everyone comes from a different background.
She loves when players inquire more about the food and business and plan to order from the restaurants they previously didn't know existed because of the potential lift for small business owners.
"People ask me, 'Why are you doing this? Other restaurants need help, too.' And I say that [larger restaurants] took a hit [during the pandemic], but not as big as these people who probably started a business and were small to begin with," Famodu-Jackson added. "Do I have a heart toward all restaurants that took a hit during COVID? Yes. But I also have a heart to those who took the majority of the hit and probably can't function if they don't get their name out there."
The "Hunger for Equality" program is supported by Pepsi. Click here to learn more about Dig In - Pepsi's national program to support black-owned restaurants.