EDEN PRAIRIE, Minn. – The short week was long on opportunity.
The Vikings signed rookie safety Anthony Harris to the active roster on Dec. 8 after he spent the first 12 games on the practice squad. Two days later, Harris not only made his NFL debut at Arizona but did so as a starter, filling in for injured star Harrison Smith.
Less than five minutes into the third quarter, Cardinals quarterback Carson Palmer targeted wide receiver John Brown deep for a would-be touchdown on second-and-8. While Vikings cornerback Xavier Rhodes initially looked like the sole coverage option, Harris zoomed in from the right side of the field to break up the pass.
"For a second, it felt like the game slowed down and I locked in on the ball," Harris said in an interview with the (Charlottesville, Virginia) Daily Progress. "I just kind of flashed back to being in college and some of the interceptions that I had. I was on a different level [there], but here I was in the same moment to make a play."
Although Harris didn't come away with the pick, the play definitely stood out in a Thursday night game* * in which Harris led the Vikings in total snaps (76) and recorded 10 tackles (six solo).
For Harris, patience is key. Well, patience and lots of hard work.
When Harris went undrafted in 2015, he found an opportunity with the Vikings, who signed him to the roster as a free agent in May. After spending time with the team for OTAs, minicamp and training camp, Harris fell short of the 53-man final cut.
On Sept. 6, however, the Vikings signed Harris to the practice squad.
It wasn't the active roster, but it also wasn't a closed door. As long as Harris had a place on the practice squad, he had a chance at moving up. He was determined to put in the work, study the playbook and absorb as much information as possible. Harris said he views football like a game of chess, and he finds joy in strategizing and thinking ahead.
"I felt like that really kept me focused," Harris explained. "Knowing what we're doing on defense, knowing the game plan and what the other teams are going to do."
Veteran cornerback Captain Munnerlyn emphasized Harris' dedication in the classroom just as much as on the field, saying the rookie's commitment to learning helped Harris in the transition to the NFL.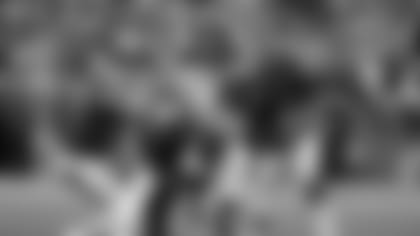 "[Anthony]'s a young guy, but at the same time, he pays attention in meetings," Munnerlyn said. "[Defensive backs] Coach [Jerry] Gray might say, 'What do you do right here?' He's not even out there. He's on practice squad. He pays attention because if anything goes wrong, he's the next man up."
A sociology major at Virginia, Harris was a student both on and off the field. Harris was selected as a Cavaliers team captain in 2014 and started all 12 games en route to being selected third-team All-ACC. In 2013, eight interceptions earned Harris a spot on first-team All-ACC and also All-American honors. But Harris also won another award, this one completely unrelated to football: the Gray-Carrington Memorial Scholarship.
One of the highest distinctions given to any student at the University of Virginia, the award honors students who excel in personal integrity, achievement, leadership and humility.
Harris continues to embody those characteristics in whatever role he's asked to play for the Vikings. During his 12 games on the practice squad, Harris said he enjoyed supporting his teammates and being a student on the sideline.
"Getting mental reps, seeing if I can get the right call down and see what position I'd be in," Harris said. "Help guys when they come off the field, communicate what I'm seeing from a different perspective. I thin doing that all season helped prepare me to go out there and make some plays myself."
Besides studying in the classroom, Harris learned a lot from older players on the team. The rookie said linebacker Chad Greenway especially made an impression on him early on, despite playing a different position.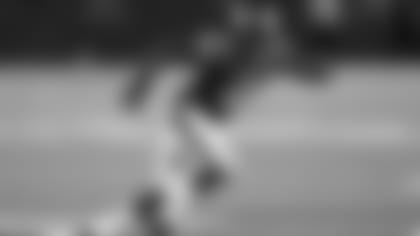 "I've been trying to keep an eye on him and watch how he handled himself because I think he does a great job of connecting with the different guys on the team," Harris said. "I just kind of wanted to listen to him, see how he felt the team did and how he carries himself. I think he said some good stuff that I'll remember for how I handle myself, and I'll implement different things like that."
Among defensive backs, Harris was able to glean from cornerbacks Terence Newman and Munnerlyn, while fellow safety Harrison Smith also influenced Harris.
"Captain and Harry, they do a good job of competing and making sure we're challenging each other mentally to get better and know our assignments in meeting rooms," Harris said. "That was a great experience to have all those guys around."
Although the postseason ended earlier than Harris and his teammates hoped for, he feels good about having his rookie year – and valuable experience – under his belt. Harris feels fortunate to be heading into an offseason healthy after recovering from a shoulder injury. While he'll certainly enjoy some time to recoup after the year, Harris doesn't plan on taking a break from developing as a player.
His two main goals for the offseason? Increasing his football knowledge and continuing to work on technique.
"I think that was probably my biggest improvement. Working on my fundamentals, backpedaling, coming out of breaks and different things like that," Harris said. "Coach Zimmer, [defensive backs] Coach Gray and [assistant defensive backs] Coach [Jonathan] Gannon did a good job of helping me improve each day."
Heading forward, Harris will remember his rookie year as a launching pad for the rest of his career. He appreciates the journey. Not all first-year players are thrown into the fire the same way Harris was at Arizona, but it's not something he regrets. After all, he views each opportunity as a learning experience.
"We're all professionals and expected to be able to perform when our number is called," Harris said. "To get that perspective and experience that a little bit is something I'll continue to carry with me."