MINNEAPOLIS – It's not often that a dentist appointment features visits from Vikings players and cheerleaders.
But that's exactly what happened last week for nearly 300 Twin Cities children who received free dental care at U.S. Bank Stadium.
The Vikings and Park Dental teamed up to host a TeamSmile event for underserved youth who do not have access to regular dental care.
"This is coolest dentist office I've ever seen," said Vikings kicker Greg Joseph, who volunteered at the unique event for the second straight year.
"I'm ecstatic to be back here," Joseph added. "I remember my experiences going to the dentist as a kid … and if we can help make that process easier, I'm all for it."
TeamSmile's mission is to provide children in need with life-changing dental experiences through the power of sports. To date, the program has served more than 50,000 children and provided more than $18 million in free dental care and oral health education.
More than 100 dentists and hygienists donated their time to the event, including Park Dental's Corine McLellan, D.D.S.
"This is a great event for kids who don't have access for dental care regularly. It's very well-organized, and they get thorough cleaning, checkup and preventative care, as well as any treatment they need," McLellan said. "It's great to give back. We have special skills that not everyone has, and we can really help out and serve the community in [unique] ways.
"It is really cool to see the Vikings players up close and see them encouraging the youth," McLellan added. "They're really great role models for the kids."
Joseph was joined by teammates Ryan Wright, Dalton Risner, Chris Reed and Brian Asamoah II. Joseph's and Wright's fiancées attended, as well as Viktor the Viking and a number of Minnesota Vikings Cheerleaders.
Additionally, Leah O'Connell, wife of Vikings Head Coach Kevin O'Connell, and other coaches' significant others volunteered throughout the afternoon.
O'Connell smiled as she watched a young girl don pink, star-shaped sunglasses and settle comfortably into a dentist's chair.
"I just love kids. It's so fun to see each one and see their personality come out in a setting like this," she said.
A mother of four herself, O'Connell said she understands the difficulty sometimes in communicating the importance of teeth-brushing and oral health to young people.
"Dental care can be easily overlooked, [so] the education portion here is especially great. The way they put it together so it's not scary for them … I hated going to the dentist as a kid, so I think it's really cool they do this," O'Connell said.
She noted the importance of making time to get out in the community whenever possible.
"It puts life in perspective," O'Connell said. "Having the wives come in and … pour into these little kids, into the community, it's really special. I feel like every interaction you have, you can learn from; you can bring joy to someone else's day and vice versa. And I think it's really important to have the spouses and partners here so they can also see the bigger picture of what the organization is doing."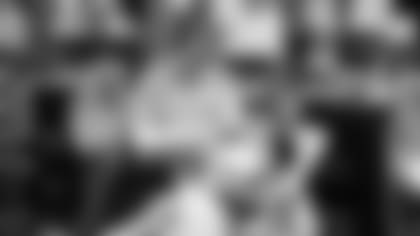 O'Connell and the other Vikings special guests played catch with youngsters on the U.S. Bank Stadium field, helped them learn about oral care through interactive activities, and encouraged them as they received cleanings and treatment at dental stations set up in the Delta Sky360˚ Club.
Joseph also recalled disliking dentist appointments as a child and hoped to give youngsters a more positive outlook on the experience.
"I understand now as an adult how important it is, so if I can pass any of those lessons on, I want to do that," Joseph said.
TeamSmile Executive Director John McCarthy expressed gratitude for a partnership with the Vikings.
"The staff is wonderful, the space for our TeamSmile program is fantastic and the atmosphere that we're able to create together is great for the children and volunteers," McCarthy said. "We are so grateful to the Minnesota Vikings and Park Dental for helping to create such an impactful day for the children of the Twin Cities."
McCarthy noted that addition to attending TeamSmile events in person and witnessing the positive impact firsthand, he and his team also create reports to illustrate just how widespread that impact is.
"It's measurable, and it's very real for the children we serve," McCarthy said.
TeamSmile board member Keith Clements echoed McCarthy's sentiments and explained the nonprofit's longer-term mission, as well.
"We'll do everything here from restorative work, extractions, endodontic treatment, you name it," Clements said. "And the best thing about it is that when they leave here, we try to find them a permanent dental home. It's not a one-and-done, and that's what is very unique about Team Smile."
"If you don't go to the dentist as a child, you won't go as an adult," he added. "If we catch them early and get them a dental home, that will usually continue into adulthood."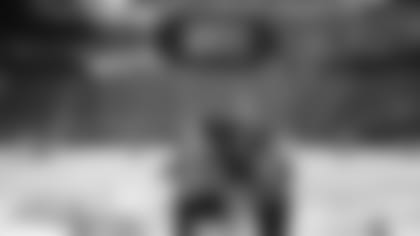 Mattison visits M Health Fairview Masonic Children's Hospital patients
Vikings running back Alexander Mattison surprised young children's hospital patients last week as part of his "Rush 2 Give" initiative.
Mattison launched "Rush 2 Give" in August. Each month through December, he and his I AM GIFTED foundation will give back to a cause close to Mattison's heart.
He especially is passionate about encouraging and giving back to families impacted by cancer, as his father Darrell is a leukemia survivor.
Mattison visited young cancer warriors at M Health Fairview Masonic Children's Hospital Oct. 17, spreading hope and joy as he was able, listening to their stories and getting to know each one.