Mike and Kelly Remmers first met at Jesuit High School in Portland, Oregon, and later attended the same college, Oregon State, where Mike earned a roster spot with the Beavers as a walk-on.
Over the past 13 years, the high school sweethearts have weathered the ups and downs of an NFL career, including multiple moves and living in six different cities across the country.
"Since the first three years of his career started out so crazy, once we were able to stick with a team even just for one full season, we were just so grateful," Kelly said. "We didn't take it for granted."
Kelly and Mike were married five years ago, and in May 2016, they welcomed their son, Wyatt. In March 2018 the Remmers added a daughter, Layla, to the family.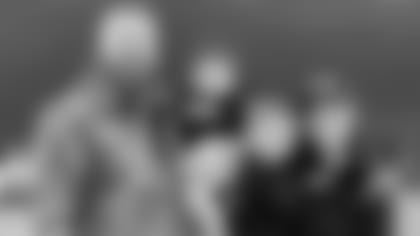 We recently caught up with Kelly for her perspective on being a parent, transitioning from one child to two and a piece of advice for new parents that she wishes she would have received.
Q: What was the biggest adjustment in going from one child to two?
A: I had heard from other families that had multiple children … that it was a big transition, something that's harder on the older kids – trying to make sure that they're getting the same amount of time and attention as they did before.
That was one thing that I knew was going to be a little bit of a struggle, and Mike and I both wanted to try to get as much 1-on-1 time with Wyatt as we could. So we kind of had planned before Layla was born, 'Let's try to do some things where just Mike will take him out and have special time,' and we also wanted to make sure we did things together with just him so he was still getting some of that special time and attention.
And then also, trying to just get into a routine. It's harder with two kids. […] As parents, your kids will go through one phase and then outgrow it, and then they'll get into something else. So with two, I feel like you just have to be really fluid, not setting the bar too high or putting too much pressure on yourself.
Q: What is one piece of advice for new moms that you wish you would have received?
A: One piece of advice I would have loved is to really not stress out too much about the decisions you're making as a parent.
It's hard as a first-time mom, you're going into motherhood and don't know what to expect, you don't know how you're going to do, what your baby's going to be like, and once you do – and this could just be my personality – but you kind of feel like there's a 'right' way to do things and a 'wrong' way to do things. [For example, when] I was trying to figure out if I sleep-train Wyatt, it was, 'Is there a right method to do this? At what age? How long?'
Now that I've had Layla, I feel like [having two children] gave me a lot of clarity as far as, there's really no right way to do anything when you're parenting. You have to just roll with the punches and be gentle with yourself, honestly. You have to cut yourself some slack. [For example, I felt that] if Wyatt didn't sleep through the night or something, then … it was a reflection on me and how I was doing as a parent. And a lot of times, it's not. It's a phase your child is going through or that child's unique personality.
Ultimately, whether you decide to sleep-train your child using one method, or you start feeding your kid solids at a certain age, or you decide to start them in outside social activities at a certain age – they're going to grow up happy as long as you're taking care of the basics of being a parent. Just try to be easy on yourself, and talk to yourself the way that you would talk to other parents.
Q: As a parent, how do you make sure you still get some 'me time'?
A: I think as moms, a lot of times we sacrifice … and give up a lot of personal time for our families. I'm sure everyone's different, but I think it's just natural as a mom – you put a lot of the things you want for yourself aside for your family and especially for your kids. [Making time for myself is] difficult. I go through phases where I struggle with that still, but just making sure that, yes, you're giving time to your husband, to your kids, but then trying to make sure that you focus on yourself – because your kids are also going to see [the importance of] self-care.
Mike has always been good at pushing me to do that. … The kids are totally fine without you for a few hours, and then you come back and feel re-energized. I feel like I'm happier when I give myself time, and when I'm happier, I'm obviously a better mom.
Q: After being together for more than 10 years, what was it like to see Mike become a father?
A: It's so fun. We were just kids when we met, and we've gone through so many different phases of life together. Fortunately, we've grown together through all those different stages. Seeing your partner become a parent is such a cool thing, and especially when you're a first-time parent, you both really have no idea what you're doing, so it's really awesome to be able to navigate that new adventure together. He's awesome because we balance each other so well. I'll be the one who's stressing out and reading all of these articles and over-researching, and he'll be like, 'Oh, it's going to be fine.' He's so laid back.
I see a lot of his parents in him. It's really fun to see what he brings to fatherhood that he's taking from his childhood. I feel like we take our favorite memories or favorite traditions from our own childhoods into parenthood, and you try to give that to your kids. He's super adventurous, and he loves to experience fun things with them.
He's an amazing dad. Football players are all different, but he's this humongous guy and just has the gentlest, sweetest soul. … Even though he has limited time with the kids [during the season], he tries to make the most of that time, which I really appreciate.
Q: What would you say is the biggest challenge of being a parent?
A: I would say prioritizing time – not just for yourself but also for your partner. It's going to be hard, a lot harder than you think, and parenthood will test your marriage a lot more than you anticipate. We've experienced that. It's not that we've gone through any major trials or anything with our marriage, but it's been hard when you're so used to spending time with your best friend and being able to spend time going out together or just having dinner and 1-on-1 conversation.
We had a friend that suggested this, and we go on a date once a week during the season. His schedule is so busy, and when I'm with the kids a lot, we're both so busy that we don't have a lot of time together, so we prioritize that and try to combat that by going out together at least once a week just the two of us. I think that has helped us a lot [because] we're the foundation of our family.
Q: If you had to narrow it down, what is your favorite thing about being a mom?
A: I think my favorite thing about being a mom is seeing my kids grow and progress in their development through different phases. I feel like as a parent, you're always looking forward to the next milestone and the next phase – it's hard to not naturally want to do that. As parents, we so enjoy seeing our kids experience [something for the first time].
I don't know how much Wyatt understood that Mike played football last season because he was only a year-and-a-half old, but this year it was like, everything clicked. He knew, 'Daddy plays football; Daddy's on the field.' … They learn so much every day, and it's so fun just to observe how they see the world and how they're taking it all in and processing it. All of that contributes to the type of person they're going to be, so it's fun to see the traits they're developing as little people, starting to see the type of people that they're becoming. I think that is just probably the coolest thing.
It's also really, really sweet, when you have multiple kids, to see them as siblings. It's seriously the best thing. It's so cute. Layla is so obsessed with Wyatt, and he's old enough now where he can interact with her – he'll give her toys or say, 'Good morning, Sissy.' It's really fun to see their relationship develop. So that's a favorite, too.