INDIANAPOLIS — There will be 337 players who cycle through the 2020 NFL Scouting Combine this week, yet only one represents a Division III school.
Ben Bartch hails from St. John's University, and he is beyond proud to help bring exposure to the school of fewer than 2,000 students in Collegeville, which is roughly 80 miles northwest of downtown Minneapolis.
Bartch, who could play both guard or tackle in the NFL, is looking to be the first player drafted from the Minnesota Intercollegiate Athletic Conference since 2003.
"It's a great honor. I'm very humbled about it," Bartch said. "I'm very grateful for the opportunity to be here, to be honest.
"If I can bring some pride and some honor back to St. John's and represent them well, I'm all for it," Bartch added.
Bartch chatted with the media for 20-plus minutes Wednesday morning, recounting his journey from an Oregon high school to St. John's to being a Senior Bowl standout in late January.
But there was one story that undoubtedly stood out among the rest.
Bartch arrived at St. John's in 2016 as a tight end and spent his first two college seasons at that position. But when he was asked to switch to offensive line in the summer of 2018, he knew he had to bulk up from his then-weight of 250 pounds.
Bulk up, he did, using perhaps the most unusual concoction to make what Bartch termed a "magic shake."
"Essentially, the summer after my sophomore year, I was asked to switch to the offensive line. I would get up at 5 a.m. and would have to go work as a strength coach at a local high school," Bartch said. "In order to get my breakfast in — I didn't have time to eat the full carbohydrates and proteins I needed — my friend had a NutriBullet, so I would scramble seven eggs, a big tub of cottage cheese, quick grits, then peanut butter and a banana and Gatorade.
"I would throw it all in and plug my nose," Bartch added as media members looked on in astonishment. "I'd gag sometimes, but that's what you have to do."
Over the course of his final two college seasons, Bartch went from 250 to 305 pounds, and also became one of the best offensive linemen in the country.
An All-American as a tackle in 2019, Bartch helped the Johnnies average 512.9 yards and 41.6 points per game as St. John's went 12-2 with an appearance in the Division III semifinals.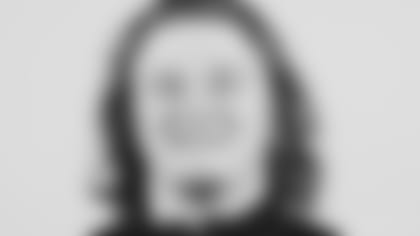 Bartch said he studied online videos and tutorials as much as he could and fully committed himself to his new position.
"Definitely a little adversity transitioning. I was asked to switch after an entire spring ball as a tight end going into my junior year. I really only had about three months to learn offensive line for camp," Bartch said. "It wasn't incredibly difficult. I had the support of teammates. I made it a mission to learn as much as I could on my own from the internet about it. Then practicing and doing reps on my own.
"At St. John's, there a certain accountability and responsibility that you have to do it on your own," Bartch added. "We don't have personal chefs or people giving you a smoothie after practice. You have to take it upon yourself to stay motivated and hold yourself accountable."
Bartch impressed enough to get an invitation to the Reese's Senior Bowl in Mobile, Alabama, in late January, where he more than held his own against a pool of players that mostly featured Division I prospects.
"I think I proved some things down in Mobile," Bartch said.
While Bartch did not play in the actual game due to a minor knee injury, he turned heads by constantly winning his reps and showcasing his skills in the valued practices.
"Michael Jordan said you have to expect things of yourself before you do them," Bartch said. "I expected of myself that I was going to perform well, whether or not other people thought I was some small-school scrub who was going to get destroyed.
"So, I think going down there, you get that first rep out of your system and you just relax a little bit," Bartch added. "Like, look we're just playing football. We're having fun. I think it was a great experience and really big for me."
Bartch's father, Jon, was born in St. Paul, and he has multiple family members who currently live in the Twin Cities. Two cousins also attend St. John's; aunts and uncles have roamed the campus in the past.
The 21-year-old Bartch will also have some ties to Minnesota in the two months leading up to the 2020 NFL Draft.
He will not participate in on-field drills in Indianapolis but will do them at the University of Minnesota's Pro Day on March 25.
Bartch also shares the same representation as Vikings right tackle Brian O'Neill, who also transitioned from tight end to tackle when he was in college.
"Yeah, Brian's a great dude. He's been around the facility (Sports Science Lab in Irvine, California) the last couple weeks," Bartch said. "We talked a little bit about Minnesota and stuff like that.
"I've watched a little bit of his film and stuff," Bartch added. "And I'll be going back there training, so I'll pick his brain and get advice."
Perhaps Bartch will stay in Minnesota and land with the Vikings, but if he continues to impress at the combine, there is no doubt he will be just the ninth player ever drafted from St. John's.
"I grew up obviously idolizing the NFL and always wanting to play in it as a young boy. But I think it kind of became surreal and actualized it, kind of my junior year, the beginning of when scouts started coming in a little more," Bartch said. "I kind of understood this is something I'm going to devote a lot of my time to, and I'm really excited about it. Before then, I took actions, sacrificing different things to focus more on football during my freshman and sophomore year.
"Stuff like that is definitely a chip on the shoulder," Bartch later added. "I controlled what I could control, which was performing well at St. John's."