EDEN PRAIRIE, Minn. –At 5-foot-9, Captain Munnerlyn's teammates like to give him a hard time about his height, but what many people don't know is that, when Munnerlyn was born, size was actually a matter of life or death.
"I weighed 3 pounds, born three months early," Munnerlyn said. "They didn't give me [much of] a chance to live."
Munnerlyn remained in the hospital for almost the first full year of his life before his mom was able to take him home. 
"It's truly a blessing to be standing here talking to you guys," Munnerlyn said, tearing up. "My mom said she didn't think I was going to make it. The doctors didn't think I was going to make it."
Because of his personal experience, Munnerlyn said premature babies have a special place in his heart, which is why he's active with March of Dimes, a leading nonprofit organization for pregnancy and baby health. 
The cornerback welcomed a family impacted by premature birth to Winter Park Tuesday. Becca Hillstead introduced Munnerlyn to her twin daughters, Olivia and Layla, now 22 months old. At the time of their birth, Layla weighed 2.2 pounds and Olivia weighed just 13 ounces, about the size of a smart phone.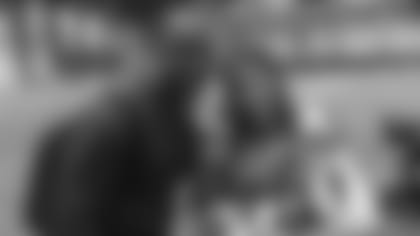 Becca and her husband, Coy, went through a scary period of time while Layla and Olivia were hospitalized for 87 days and 103 days, respectively.
"It was a roller coaster of emotions," Hillstead said. "We took it minute-by-minute some days, just to get through."
Although the twins still have weekly therapy sessions, they are happy and healthy toddlers.
"The amount of things they struggle with now are so minimal compared to the journey we have faced," Hillstead said. "Our girls are here today, and they wouldn't be without the life-saving treatments."
Munnerlyn seemed to bond with the girls almost immediately, particularly Olivia, who smiled and giggled at Munnerlyn as he held her and interacted with her.
"It was definitely a difficult situation for my family at the time," Munnerlyn said of his own experience. "But like I've said before, God has a plan for you. His plan was [for me] to be here right now, sharing my story with you, and to be in the NFL."
Munnerlyn has been quieting the naysayers since day one, whether at birth or on the football field.
Originally sneaking into the NFL as a seventh-round draft pick, Munnerlyn established a solid career and isn't slowing down. The 2015 season marked Munnerlyn's seventh in the NFL and second with the Vikings. Primarily playing at the nickel back position in 2015, Munnerlyn recorded 56 tackles, 1.0 sack and two interceptions, helping the Vikings scoring defense rank fifth in the NFL.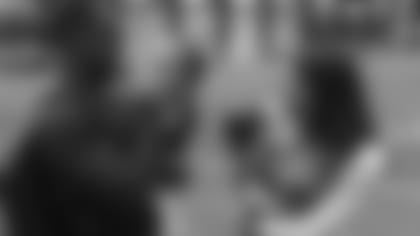 "It's a blessing I'm alive," Munnerlyn said. "I always tell people, 'Look at me now.' I'm not the biggest guy in the world, but anything is possible if you put your mind to it – that's what I did, and that's how I'm where I am now. I used my size to my advantage sometimes – it pushed me to work harder."
Hillstead said meeting Munnerlyn and hearing about his journey was inspiring.
"Seeing someone who started so small and had these amazing dreams and now all these accomplishments – it's amazing," Hillstead said.
Munnerlyn will join more than 10,000 participants Saturday in the March for Babies walk at the Mall of America. The event will raise funds that support programs and research to help mothers have healthy, full-term pregnancies and prevent birth defects, premature birth and infant mortality.
"Anything I can do to help," Munnerlyn said. "I'm a guy who's a firm believer in giving back, helping in any way I can."
In addition to representing the Vikings, participating in the walk and meeting with families, Munnerlyn will have the opportunity to share his story with thousands of others who can relate.
"I know all the struggles [I went through] by stories my mom told me," Munnerlyn said. "But it's truly a blessing. I look at it as a blessing in disguise, and now I just want to help people, help out the March of Dimes, because I know [what it's like].
"I'm happy to share my story," Munnerlyn added. "I like to talk anyway – I think everybody knows that."
---