Do you have a comment or question? Send it to the vikings.com Mailbag! Every Monday we'll post several comments and/or questions as part of the vikings.com Monday Morning Mailbag feature. Although we can't post every comment or question, we will reply to every question submitted.
To submit a comment or question to the mailbag, send an email to Mike Wobschall at wobschallm@vikings.nfl.net. Remember to include your name and town on the email.
I know the Vikings aren't the most successful team in the NFL right now, but in about three-to-five years do you think they'll be playoff contenders or maybe even title contenders? -- Cameron V. Little Falls, MN
I would say the Vikings can be contenders as soon as this upcoming season. I know that sounds unrealistic for fans of a team that just went 5-10-1, but we have to remember how quickly things change in the NFL. Just last year, the Ravens were in the middle of a run to the Super Bowl, but this year they didn't even make the playoffs. In 2009, the Vikings were 12-4 and then the next season they fell to 6-10. In 2011, the Vikings were 3-13 and the next season they jumped up to 10-6. Think about the Atlanta Falcons and Houston Texans this season – both were widely considered to be the NFL's elite entering this season, and now both are picking in the top six. The point is, things can and do change quickly in the NFL. The Vikings have a talented, young roster that is capable of turning things around quickly.
The AFC Conference Championship Game was a matchup of old-school quarterbacks and the NFC Championship Game was a matchup of new-era quarterbacks. Did the outcomes of these games help decide the future of the NFL or of the Vikings? -- Mark L. Myrtle Beach, SC
Perhaps if each game included one "old-school" and one "new-school" quarterback and the outcome of both games favored the same brand we could draw some kind of conclusion. What I took away from conference championship weekend is that New England (Tom Brady – sixth round), San Francisco (Colin Kaepernick – second round) and Seattle (Russell Wilson – third round) illustrated to the League that you don't necessarily need a quarterback who was drafted early in the first round to make a playoff run. Obviously early in the first round is the highest-percentage hit for a quarterback and for any position, but clearly it's possible to play meaningful games in January with quarterbacks not taken in the first round. This is a relevant point for the Vikings because they hold a pick high in the first round (eighth overall), many are of the opinion that quarterback is a need and many are of the opinion that the Vikings would be better-served to take a defensive player at No. 8 and wait on quarterback until a later round. Those with the latter opinion are supported by the matchups we watched this past weekend in the conference title games.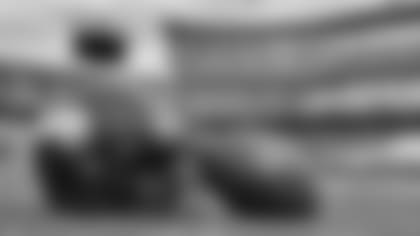 To what extent does the playing of most games outdoors in probably bad weather conditions for the next couple of years influence the upcoming draft? -- Charles L.
I won't say it's a non-factor because teams account for literally hundreds of variables as they evaluate players and assess which players are the best fits for their plans. But given that most away games are played outside anyway, I don't know that playing home games outside for two straight seasons will cause a big shift in how the Vikings evaluate a draft class or execute a draft.
Being as the Vikings have two third-round picks via the Percy Harvin trade, do you think that it is possible that we once again put together a package deal of picks to trade back into the first round to grab another great playmaker? -- Matthew J.
Is it possible? Most certainly, especially with Rick Spielman calling the shots. The Vikings GM likes to wheel and deal and has displayed a propensity to both move up and move back with success. In the same draft (2012), the Vikings moved back in the first round to get Matt Kalil and then moved up in the first round to get Harrison Smith. I'm not saying a move back into the first round this year is likely, I'm simply saying it is a possibility given Spielman's ability and willingness to cut a deal on draft day.
Do you think there is any chance the Vikings get a free agent quarterback rather than getting one through the draft? It seems we need a veteran quarterback to make the most of our current situation instead of taking a few years for a quarterback to develop. -- Kenny G. Los Angeles, CA
I would have to see a list of those free agent quarterbacks before being able to have a solid opinion on this one, but keep in mind the Vikings have a veteran quarterback on the roster in Matt Cassel who would be both a great Week 1 option as a starter in 2014 and a great mentor for a young quarterback.