It's not every day that students receive a call from Vikings Head Coach Mike Zimmer.
But that's exactly what happened recently for recent high school graduates Fametta Zubah and Dhruv Muppidi.
Fametta and Dhruv were selected as the 2021 Mike Zimmer Foundation MVP Scholarship recipients. They will each receive a $10,000 (one-time, non-renewable) scholarship toward postsecondary education, and each heard the good news from Zimmer himself.
"It means so much to hear from you. This is surreal right now," Dhruv told Zimmer over the phone. "I didn't realize you would be the one calling me. I'm just kind of in shock."
Dhruv, who had just finished up helping with a youth basketball camp for fourth-through-ninth graders, told Zimmer that he originally had planned to attend Columbia University but pivoted to Williams College when he learned he'd receive more financial support from the Massachusetts school.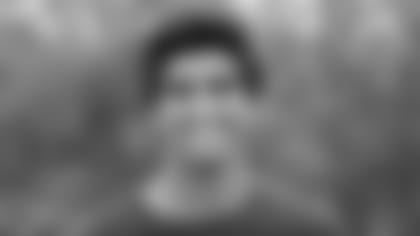 "Well, you're going to be getting $10,000 more," Zimmer told Dhruv with a smile.
"Congratulations. You're really, really, really impressive, and we're excited to give you this scholarship," Zimmer added.
Dhruv and Fametta were chosen in recognition of their dedication to academics, athletics and community.
The Mike Zimmer Foundation was established in 2016 to honor the memory and philanthropic spirit of Vikki Zimmer, who passed away unexpectedly in 2009. Over the past five years, the foundation has awarded a total of $120,000 to help students pursue postsecondary education.
"We had a lot of applications this year, but yours stood out, and we're proud to have you representing the foundation," Zimmer told Fametta, who will be attending the University of Minnesota. "We're really proud of you and all the things you've been able to accomplish."
She responded emotionally: "Oh my gosh. Thank you so much!"
Fametta and Dhruv will have an opportunity to be recognized in-person at Zimmer's preseason kickoff event, and the head coach also invited them to attend a future game at U.S. Bank Stadium.
"You better be a Vikings fan," Zimmer ribbed Dhruv.
"Oh, always! Always," Dhruv responded happily.
"Get that SKOL Chant going, OK?" Zimmer said.
Learn more about the 2021 MVP scholarship winners below:
Fametta Zubah | Richfield Senior High School
College: University of Minnesota
Field of study: Kinesiology with a minor in Spanish
Fametta was a three-sport varsity athlete at Richfield, participating in basketball, track and tennis. She maintained straight As throughout her high school career while participating in National Honor Society, Black Student Union, Safe and Supportive Schools Committee and being nominated homecoming queen.
In her free time, Fametta volunteers as a teacher's assistant and works at the Richfield pool.
She plans on continuing her education at the University of Minnesota-Twin Cities, where she will study kinesiology. Her future goals consist of being the first in her family to graduate college, getting on the dean's list and maintaining a 4.0 GPA in college, and becoming a pediatric physical therapist.
Dhruv Muppidi | Mounds Park Academy
College: Williams College
Field of study: Economics and Latin American Studies
Dhruv was a three-sport varsity athlete and captain of Mounds Park Academy's soccer, basketball and volleyball teams. In addition, he served as student body class president, was a member on the varsity debate and speech team and also an MPA peer leader and link leader.
He did all of the above activities while maintaining a 4.0 GPA and volunteering with Habitat for Humanity and as a math and science tutor and teaching fellow at Teacher's Guild, where he taught and designed curriculum for under-resourced seventh-through-ninth graders.
Dhruv raised $1,750 in registration funds and recruited 14 players to start on the first men's volleyball team in Mounds Park school history.
He was recognized as a U.S. Presidential Scholars Program finalist and plans on continuing his education at Williams College, studying economics and Latin American studies.