We have six weeks before the Vikings host the Saints on *Monday Night Football for the 2017 regular-season opener, so Vikings.com's writers are taking a look each week at a "memorable Monday" in franchise history.*
Minnesota is 27-32 all-time on *MNF, and the Vikings are scheduled to play twice this season on the series that launched in 1970.*
We'll continue the series with the only Monday night appearance by a 1998 Minnesota Vikings team that went 15-1 and averaged 34.8 points per game. Playing a Week 5 contest against the Green Bay Packers at Lambeau Field on Oct. 5, the Vikings improved to 5-0 by racking up 545 yards of total offense — their highest output of the season. More than a third of the yardage was gained by a rookie receiver named Randy Moss.
Click ****here*** for the first recap in this series.*
Click ****here*** for the second recap in this series..*
Weather:Light fog, scattered showers| Temp:58 degrees Fahrenheit| Humidity:93 percent| Wind:E 11 mph
Attendance: 59,849 | Time of game: 3:03
America, meet Randy Moss.
When the Vikings rolled into Green Bay for a prime-time game in the national spotlight, there was already plenty of buzz because both teams sported a perfect 4-0 record.
But Minnesota's rookie receiver was also drawing headlines as he had racked up 17 catches for 273 yards and four touchdowns in his first four games in the NFL.
Moss simply dazzled in his *Monday Night Football *debut, hauling in five receptions for 190 yards and two touchdowns. Moss averaged 38 yards per catch, and his pair of scores went for 44 and 52 yards.
Former Vikings Offensive Coordinator Brian Billick recalled Green Bay's defense trying single, double and even triple coverage on Moss.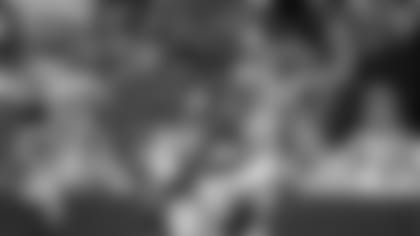 Nothing worked, as Billick remembered the look of dismay on the opposing sideline.
"I remember specifically like it was yesterday," Billick recently told Vikings.com. "(The Packers defenders) coming up and looking at their sideline like, 'What do you want us to do?' There was that lost, 'We don't know how to stop this guy (feeling).' "
In the spring after Moss announced his presence to the Vikings most heated division rival, the Packers spent their first three draft picks on defensive backs.
The rest of Minnesota offense fared quite, too, as quarterback Randall Cunningham threw for 442 yards and four touchdowns while compiling a passer rating of 145.2.
Wide receiver Cris Carter had eight catches for 119 yards, wide receiver Jake Reed had 89 receiving yards and a score, and running back Robert Smith had 116 total yards and a receiving touchdown.
Minnesota's defense also had one of its best performances of the season against an opposing quarterback.
Future Hall of Famer Brett Favre was held to his worst game of the season as he completed just 13 of 23 passes for 114 yards. Safety Robert Griffith picked off Favre twice, and fellow safety Orlando Thomas had an interception of his own.
Favre's passer rating was the third-worst of his career in games in which he attempted at least 20 passes.
The Vikings raced out to a 24-10 halftime lead and eventually led 37-10 in the fourth quarter. Current Eagles Head Coach Doug Pederson took over for Favre at quarterback and threw two late touchdown passes, but the Vikings had already done their damage.
Minnesota went on to win the NFC Central in 1998 while compiling the best regular-season record in team history.
The nation took notice on a foggy and misty Monday night.