EAGAN, Minn. – There's a tiny Christmas Village across the hallway from the Vikings offensive line room.
Sparkling, ceramic snow adorns miniature brick homes and evergreen trees painted with garland and colorful bulbs. Little townspeople in hats and scarves smile cheerfully, and a working train chugs a circle around the perimeter.
Inside the position room at Twin Cities Orthopedics Performance Center, another train – this one quite a big larger – drives around a full-sized and fully decorated Christmas tree.
That's not all. It's not even the start.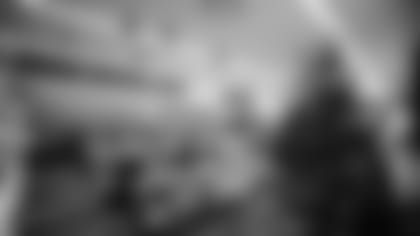 The backwalls of the classroom are layered over with holiday wrapping paper. Felt snowballs can be found on and under tables. Wooden nutcrackers stand at attention as table centerpieces, and blue-and-gold Hanukkah items also are featured.
Outside the room, there's a mammoth inflatable based on The Grinch, with an archway that reads "Welcome to Whoville." A small projector casts red and green dots of light on nearby walls, and a mailbox for Santa letters is nestled in fake snow. There are a few reindeer cut-outs, though I doubt the o-line included Blitzen.
Oh – and don't forget the turkey.
A large, taxidermy tom keeps watch over the room. He might look intimidating, if not for the Santa hat he's wearing.
The rookie linemen – Ed Ingram, Vederian Lowe and Josh Sokol – are to thank for this year's masterpiece.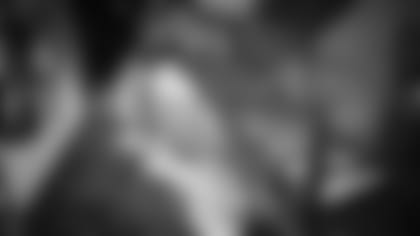 "They've taken it to a whole different level," Vikings quarterback Kirk Cousins said. "They're committed."
It's a tradition unlike any other but largely unknown outside the facility. Every season, Minnesota's veteran offensive linemen challenge the rookies to decorate the room for Halloween, Thanksgiving and Christmas. And you'd best not take the responsibility lightly.
Lowe recalled hearing early on that he and his fellow rookies would be tasked with holiday decorating. He didn't think much of it at the time, he said. But then one day in September, right tackle Brian O'Neill gave a demonstration/lecture of expectations to the rookies.
"He gave us an entire PowerPoint presentation," Lowe said. "He had photos and videos from previous years and was like, 'This is the standard that we hold ourselves to in this room.'
"I'm like, 'Dang, that's a lot of work. This is a big room,' " he added, laughing. "I knew we had our work cut out for us."
O'Neill laid out some ground rules:
- The room must be fully decorated by the first of every month – Oct. 1 for Halloween, Nov. 1 for Thanksgiving and Dec. 1 for the current holidays.
- Decorating must be done on off days or after hours, to ensure it doesn't interfere with classroom time, film study, etc.
- The more décor, the better.
"It's about having fun with it and being engaged and making the most of it. It's like, 'You have a job to do. Do it to your best ability. But let's have fun with it,' " O'Neill noted. "Be all-in, get really cool decorations, and make it something that the guys can enjoy and be a part of.
"People can walk by from all different departments and see the decorations we have going each month," O'Neill added.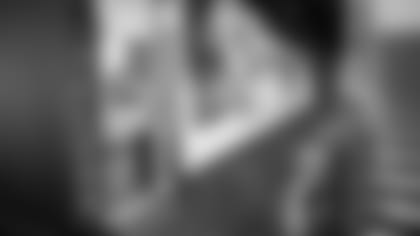 ---
---
'Tis the season for … turkeys?
Being the Vikings highest draft pick of the three rookie linemen, Ingram assumed much of the financial responsibility this year and chose to go all-out, starting with Halloween.
"Once Halloween Express opened, I was like, 'Yeah, that's the place to go.' I pretty much splurged and bought a bunch of scary stuff that would look good in the room," said Ingram.
The right guard made sure to incorporate a fog machine, massive spiderweb, Styrofoam headstones, life-sized skeletons, a "crime scene" and ample fake blood.
"The rookies came out really strong with Halloween," center Garrett Bradbury said. "It was the best Halloween that anyone had ever seen."
Added Cousins: "They went so hard on Halloween that it was hard to build off that."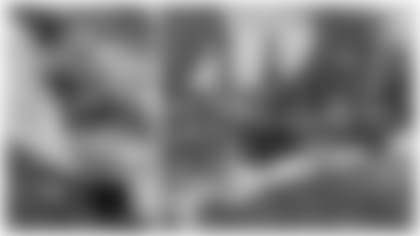 Ingram, Lowe and Sokol took it as a challenge, though, knowing they had to go big for Thanksgiving.
So they located a local taxidermist, Brad Zacho.
"He thought it was a prank. But it wasn't," Sokol laughed. "We said, 'Hey sir, we play for the Vikings, and we have to decorate our room. Do you have any turkeys?"
Zacho, who has operated out of his Newport, Minnesota, home for more than four decades, was taken aback when 6-foot-plus, 300-pound NFL linemen showed up at his door – but he was happy to help.
Zacho called the rookies "nice guys" whom he enjoyed working with.
"I thought they were a catering company … but when they showed up, of course I figured it out," he quipped. "They enjoyed being in the shop, coming into the little house and seeing the museum. They had a good time."
Zacho told the players that clients had left a turkey behind years ago. The price for renting the stuffed bird was $100, but the group worked out a win-win deal.
Sokol bartered two game tickets, plus the $100, in exchange for keeping the turkey.
"We hooked him up, and he hooked us up, and now it's our Christmas turkey," Sokol said. "Hopefully it 'lives' on – we can pass it down to the future rookie classes."
Zacho, who attended many Vikings games at Metropolitan Stadium in the early days, gifted the tickets to his daughter and son-in-law to attend their first game together.
"They had a really good time," he said. "They were nice seats, and people near/by them were really nice. The parents of one of the players were sitting by them, and it's something they'll never forget.
"They were the nicest guys I've ever met," Zacho added. "It was fun to do business like that, and the Vikings should be proud that they have these guys for players."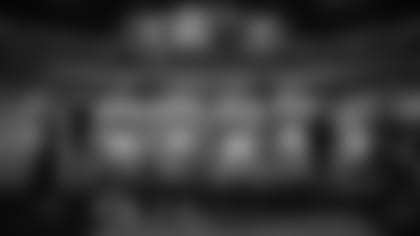 ---
---
Simply having a wonderful Christmas time
The inspiration for the Vikings offensive line room tradition started, really, with a young coach and an office Christmas tree in the 1980s.
Tony Sparano loved everything about Christmas, from the celebration of Christ's birth to presents and decorated trees and snow globes. While some become disgruntled by the holiday's commercialism, the man of deep faith thrived off every bit of gaudy, colorful, over-the-top decoration.
So when he started his coaching career at 23 years old as the University of New Haven's offensive line coach, Sparano made sure to add a dash of Christmas spirit to his office.
"He loved every holiday, but he loved Christmas," said Jeanette Sparano of her husband, who tragically passed away in July 2018. "The sooner we could get our lights on, the better."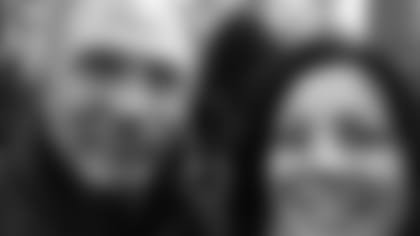 Tony coached in the collegiate ranks until 1999, when he got his first NFL gig as an offensive quality control coach in Cleveland. He went on to work with the Commanders, Jaguars, Cowboys, Dolphins (head coach), Jets, Raiders and 49ers before joining the Vikings as their offensive line coach in 2016.
"He loved the snow in Minnesota," Jeanette recalled. "It actually felt like Christmas."
The nature of an NFL schedule, of course, makes it challenging to fully celebrate the holidays.
Tony often arrived by 5:15 a.m. to his office, where he'd immediately light a candle. Many nights in December, he'd call Jeanette after leaving the facility at 10:30:
"I'm gonna pull up and beep the horn. Let's just drive around the neighborhood for 20 minutes. I want to look at some Christmas lights," he'd tell her.
"Tony would say to me, 'You know, when I come home, I kind of want it to look like the mall. You know when you're at the mall and every part of everything is decorated?' " Jeanette said. "We had to have holiday towels in the bathroom. He didn't want to look at any part of the house undecorated, and he didn't like gift bags at all. He wanted everything wrapped."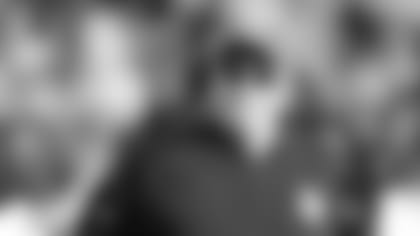 During Tony's first year in Minnesota, Jeanette sent him to work with decorated sugar cookies for the offensive linemen.
"He said, 'This group loves to be together. And I'd really love to do more. I think I'll see if they want to decorate the room,' " she recalled.
And so, the tradition was born.
In 2017, rookies Pat Elflein, Danny Isidora and Aviante Collins were challenged with decorating the offensive line room, the final year at the team's Winter Park training facility.
Former Vikings center Joe Berger had spent time with Tony in Dallas and Miami before reuniting in Minnesota, where he said the coach's affinity for decorations will ramped up.
"Especially in Minnesota, you know, you've got the cold, dark winters; you're in the building a lot," Berger said. "It's nice to have a festive room."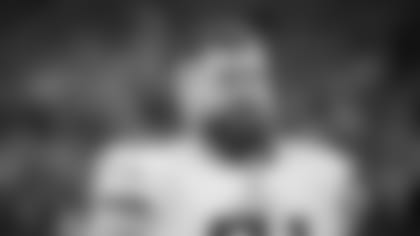 Berger mentioned the inclusion of a 3-D archery turkey target, considering it "a big step up" at the time.
"You can see what happens six years later – now they have an actual taxidermy turkey," he quipped. "We had the Halloween candy dishes that reach out and grab you when you grab the candy. I think we had a Santa Claus in the back of the room once that talked when you walked by it."
Things really took a leap in 2018, when the Vikings drafted Brian O'Neill 62nd overall, along with Colby Gossett in the sixth round. Gossett that fall was signed of Minnesota's practice squad to the Cardinals active roster.
"My 'welcome to the group' moment was being a part of decorating for those holidays," said O'Neill.
With the group's approval, O'Neill asked for assistance from backup center Brett Jones, who had spent time in the Canadian Football League and with the New York Giants before joining the Vikings.
Jones jumped at the chance.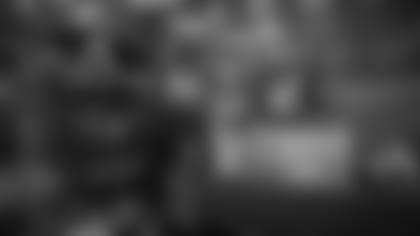 "They didn't decorate the room in New York, so I thought it was really cool; and at that time, I was just trying to make new friends and be a good teammate – and I saw the opportunity," Jones said. "Brian had just begun starting, and obviously the game matters way more than decorating the room.
"But you know Brian – he's got the kindest heart and is the nicest guy, and he also really wants to do well at everything. And this was no exception," Jones continued. "So when he approached me, I said, 'Definitely. I'd love to help."
The two shopped together, adding the running train and even a live Christmas tree. Cousins wanted a Christmas village, so Jones and O'Neill went on the hunt.
"We went to Goodwill and there was a whole set!" Jones said, excitement of the find still in his voice. "So we put that on one of the desks by the coffee maker."
He and O'Neill added Advent calendars to count down to Christmas, as well as Santa and elf hats that players could opt to don during meetings.
"Anything a child would want for Christmas, we had it in that room," Jones laughed. "And that's the other thing – football is a kids' sport at the end of the day, so this was just a way for everybody to have fun and take some of the stress out of the day."
When the Vikings drafted Garrett Bradbury, Dru Samia and Olisaemeka Udoh in 2019, the trio tackled the job wholeheartedly.
Bradbury stressed the importance of spreading out shopping trips across dollar, arts-and-crafts and department stores.
"Every single holiday, the Dollar Tree was the first place we hit up. You have to get as much as you can at the Dollar Tree," Bradbury said.
The center's special touch on the room was personalized stockings for each lineman.
"I put their numbers on them, and then I actually filled them on Christmas Day," Bradbury said. "And the candles are always huge. We always emphasize the candles. We want fall candles; we want Christmas candles; we want the aroma in the room to smell great."
Though Bradbury never had the chance to play for Tony, he's felt the late coach's impact since arriving in Minnesota.
One of the biggest ways is through the annual decorating.
"I feel like some coaches might get annoyed with it, or frustrated by the candles and all the lights," Bradbury said. "But I heard that Tony loved every big of it. The cool part is, I've now had three o-line coaches in the past couple years, and it's a tradition here, but it's also part of Coach Sparano's legacy."
Since Tony's unexpected passing shortly before the 2018 season, Vikings Executive Assistant to the Head Coach Mary Redmond has stopped by the o-line room every Halloween, Thanksgiving and Christmas. She takes a comprehensive video of that year's décor on her phone, then sends it to Jeanette.
Admittedly, Jeanette thought the tradition likely would dissipate over time; to see that it hasn't warmed her heart.
"Mary sent me the video, she said, 'OK, get ready. They haven't forgotten,' " Jeanette said. "To know that part of him is still thought of there and celebrated, and just that the tradition continues, it just means so much to me. It really, really does."
She often then forwards the video to their three grown children, including sons Anthony and Andrew, who also work as coaches.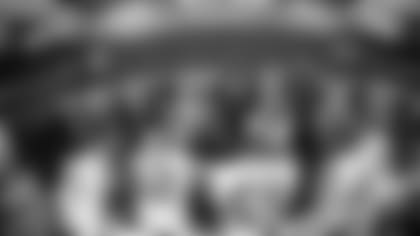 Look what Daddy's guys did this year.
She knows, of course, that O'Neill is the only remaining player from Tony's time with the Vikings. But his influence remains.
"That team, that area – they just really fit Tony. We got to Minnesota, and it was just a really special place for him, for his players," Jeanette said.
Why is this story just now being told? When told it was a "committee" decision by the group to share their tradition beyond facility walls, Jeanette's smile could be heard through the phone.
"It doesn't shock me that nobody wanted to talk because they get fined for [drawing attention to themselves]," she said. "Everything in the line is always a group decision, and I love that, too. I just love everything about that."
There's no doubt the bar has been set high, and there's no telling where things could go from here.
Similar to their work in the trenches every game day, Minnesota's offensive linemen give it their all in whatever task they're faced with – be it a Pro Bowl pass rusher or hanging paper snowflakes from the ceiling.
And you'll never hear the rookies complaining.
Honestly, if you talk to any lineman who's come through the Vikings locker room in the past six years, it's likely he'll only have good things to say about one of his first assignments.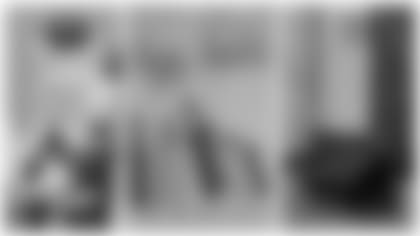 "I talked to Vederian and Josh about this; I was like, 'Shoot, when we're decorating the rooms late at night, we're gonna remember this," Ingram said. "This is the only time we're rookies, the only time we'll 'have' to do this. And we're kind of building memories doing this. It's a good time."
Lowe echoed Ingram's thoughts, also noting that his rookie teammates sometimes went above and beyond when Lowe had to be at home with his wife and children.
"Ed and Josh spent some long hours," Lowe said. "But the most fun part is being able to all hang out together. It's easy to say, 'Man, we've been here all day,' but we're playing music, we're vibing, we're talking. That's the best part."
It's been five years now since Berger retired from the game of football. The friendships and connections he built in Minnesota, though - and particularly in his position group – are lifelong.
"An o-line room is a special room. It's a little different. A little off, at times," Berger said. "I think if you're not part of the group, it's hard to understand all that goes on in there. But it's a special place – and doing fun little things like this is just a way to kind of lighten the mood and a different way to enjoy what you're doing.
"There's so much work and expectations that go into [playing offensive line] that sometimes go unnoticed, and sometimes you just need to enjoy those moments within the group," Berger added. "This is just one way to do it … It doesn't always need to be straight business."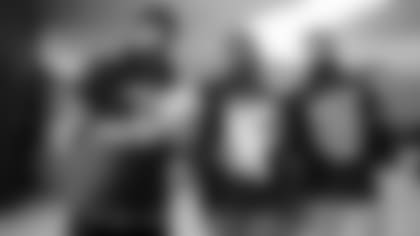 On behalf of Tony, Jeanette continues to be delighted by the Vikings offensive linemen and their commitment to holiday cheer.
She said Tony would "be laughing so hard he'd be crying" from seeing the taxidermy turkey, and he'd be so proud to see how his idea has grown.
"Those guys have far outdone themselves," she laughed. "Tony would be so thrilled with the fact that you walk up the stairs and it starts before you even get in."
As for next year's rookies? They'll certainly have their work cut out for them.
"We have high expectations," Lowe said. "I'm excited for what they can do. I don't think anybody can beat us, though."