It's difficult to miss Britton Colquitt's locker.
Those of most players' are fairly non-descript, and – with the exception of Josh Kline's cowboy boots – the majority use the top shelf simply to hold their helmets and shoulder pads.
Then there's Britton. The top section of his locker houses a small community of characters: a plush pirate, a Freddie Mercury figurine, a blue Gonzo Muppet and a large sloth that hangs out past the edge. A toy hawk perches on the right-hand wall.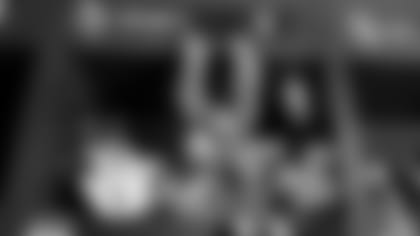 And that's only a handful of the friends who call the punter's locker home.
"This is my office, and I like my office to be fun and just to have good, warm feelings, so these are kind of my little buddies that [have gotten] added to," Britton said.
His teammates, current and former, say that Britton's collection fits his quirky personality.
"It's definitely unique, that's for sure," Vikings kicker Dan Bailey said of the locker room menagerie.
Cardinals long snapper Aaron Brewer, who spent his first four NFL seasons in Denver with Britton, laughs over the phone.
"You talk to him for one second, and you know he's a very lively personality," Brewer said. "He can bring guys together."
Interestingly, the childlike collection in Britton's locker is a microcosm of the way he does just that, staying connected with teammates throughout his NFL career.
Each figurine or stuffed animal represents a different teammate of Britton's over his 10 pro seasons. In some cases, there are two characters for one player. Rookie long snapper Austin Cutting is repped by a little stuffed bear that wears a military jacket and plays the Air Force fight song.
But Britton explains an additional connection.
"Austin informed me that, really, his spirit animal is the sloth," he said with a laugh. "He loves sloths, and we've watched a few videos of them. So, I think that sloth is pretty fitting, the way that he's kind of just hanging in there, overlooking [things].
"And he's kind of looking over at Austin a little bit, too, just kind of saying, 'I'm right here. Don't worry,' " Britton added.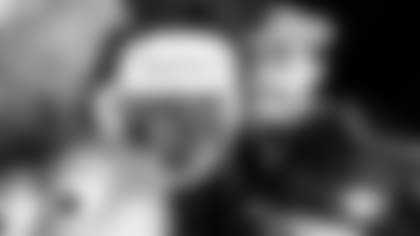 It doesn't take too much imagination to find the match for the Rudolph-the-Red-Nosed-Reindeer plush, which Britton explains he added soon after meeting the Vikings veteran tight end.
"But it seems that Kyle Rudolph really wants to be present in my locker," he quipped. "I actually got the Rudolph [plush], and I feel like he wanted to be in there even more, so he gave me the Hamburger Helper hand, which I didn't even know about, but those were given to him [in 2013 because he used to wear white gloves]."
For Vikings kicker Dan Bailey, who attended Oklahoma State University, there's a Pistol Pete nutcracker with an intimidating mug. The fact that the mascot is a cowboy is all too perfect, being that Bailey spent seven seasons in Dallas before signing with Minnesota.
"Some of them make total sense, and then other ones, I'm like, 'I don't know where he comes up with this stuff or why,' " Bailey joked. "But it's good. I think his locker is literally the only one that has anything in it, really.
"It's kind of good to break it up," he added. "Especially where his locker is – everybody sees it, so it's hard to miss. I think it's pretty funny."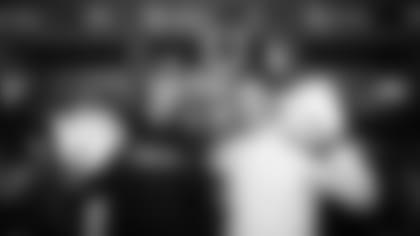 Pioneered with the pirate
So, how did all of this get started, anyway?
Britton explains that the tradition began in 2016 when, after six seasons in Denver, he was released. Let go by the Broncos that same offseason was Brewer, who had just finished his rookie contract.
When the teammates went their separate ways, equipment staff packed up their lockers and shipped the contents to them. Except someone made a packing mistake, and the plush pirate that previously had been in Brewer's locker ended up sent to Britton, who had joined the Browns.
"I was away from my buddy, I was on a new team in Cleveland, and I missed my friend," Britton recalled. "And I said, 'You know what? He's going to be here with me in my locker.' So that's how it started, with the pirate. That's the original character because I just felt like it was sent to me for a reason."
From there, items slowly were added to the group.
Zane Gonzalez kicked with Britton in Cleveland, and his "Gonzo" nickname translated easily to the blue Gonzo Muppet. But Britton couldn't represent Gonzalez without including his long snapper at the time, Charley Hughlett, so he added a Cookie Monster doll because of Hughlett's favorite snack.
"Cookie Monster and Gonzo, they go together," Britton said. "For a while, I just had those three. Then the next year, Zane got released, and Greg Joseph comes to the team. Greg happens to be Jewish, so during Christmastime, he brought what's called 'The Mensch on a Bench' and put it all around our locker room. Eventually he just gave it to my locker."
And then there were four. But the collection really picked up steam when Britton came to Minnesota just before the start of the 2019 season.
In addition to Vikings teammates Bailey, Cutting and Rudolph, Britton has since added the miniature Freddie Mercury for Broncos kicker Brandon McManus – "if you look at pictures of him right now, he's got quite the Freddie Mercury 'stache" – and the hawk for Matt Prater.
"His spirit animal – or 'totem,' as he says – is a hawk," Britton explained of the kicker now in Detroit. "He's got hawk feathers tattooed on his arm. … Really, that should have been the first stuffed animal I had."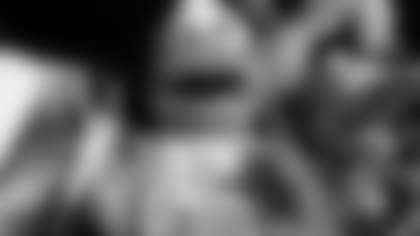 In the two months since Britton has joined the team, he's developed connections across the locker room and built a rapport with Bailey and Cutting that has helped the trio operate smoothly together on the field.
Brewer wasn't surprised to hear in Arizona how well Britton has meshed with the other Vikings specialists.
"Especially with what we do, he keeps things very light. Like with the [characters], everything's kind of funny," Brewer said. "You need that in our position, a way to not be so serious all the time, just joking around a little bit. That definitely helps."
Vikings Special Teams Coordinator Marwan Maalouf said that Britton's demeanor has been a positive addition to the room, complementing those of Bailey and Cutting.
"If anything, Britton's personality brings out some liveliness in everybody. I think it's a good thing," Maalouf said. "The guys have a good time. He adds a little bit of a relaxed nature, [and] I think that's a plus. It kind of keeps everybody even-keeled.
"We have fun. We're with these guys more than we are with our own families," Maalouf added. "When you can laugh and enjoy being around each other, that's a huge positive."
Britton completed just one practice with the Vikings before joking with Twin Cities media members in September about the difference in temperament between him and fellow veteran Bailey.
"Dan is laid-back, he's quiet. I'm not quiet," Britton said. "We're like Yin and Yang, but it works pretty good. I talk a lot. The chemistry is good."
Bailey concurred with the contrast.
"I don't know if you were trying to get three personalities to sync up, if you would pick us three, but I don't know – it just works," he said.
Bailey has twice earned NFC Special Teams Player of the Week (both in October) in two months of working with Britton, despite the two of them never crossing paths previously in their careers. He said that Britton's experience in the league "has been huge" in catching up and finding a rhythm with each other quickly.
"He's made it super easy," Bailey said. "He's kind of a happy-go-lucky, goofy guy, but at the same time, you know he's going to do his job, and he's going to have the confidence to do what he needs to do.
Added Bailey: "It just makes it a super relaxed but also focused environment. It's been good."
Britton keeps life interesting, to be sure.
"It's a common thing for us to have, like, three or four minutes left before a walk-through or a lift or something, and it's like, 'Where's Britton? I thought he was [right here].' Like, we'd be walking along and he just goes in a room somewhere – you never know [what he's up to]," Bailey laughed. "He's scatterbrained, and it's hard to keep track of him. But he's always there. He's an interesting dude, for sure."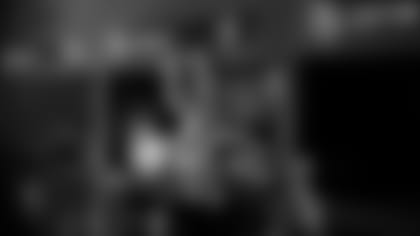 Cut from same cloth, but one of a kind
It's probably fair to say that "interesting" is a common trait of the Britton family, who has built its own legacy in the NFL fraternity of specialists.
Britton's father, Craig (Steelers and Colts), and uncle, Jimmy (Seahawks) punted in the 1970s and 80s. And his older brother, Dustin, is in his 15th season with none other than the Chiefs, whom the Vikings will face on Sunday.
So, does Dustin have a similar collection in his locker?
"I think he's got a few little things in his locker, but it's nothing like this," Britton said with a laugh. "I mean, I might be the only one in the NFL that does this."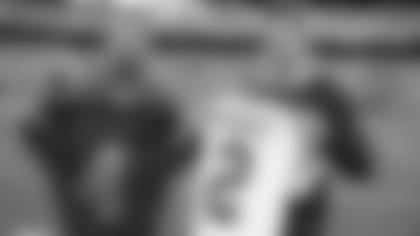 Britton said he and Dustin share similar personalities and that his brother has quite the unique reputation in Kansas City, where he's the longest-tenured player on the Chiefs roster.
"He shows it probably more [than me] in his goofiness around the locker room. It's been from the beginning, but now especially since he's the 15-year guy and been in the locker room so much longer than everybody," Britton said. "He keeps it interesting over there … he's a crazy old man."
He pokes plenty of fun at the 37-year-old Dustin, but at 34, Britton hopes his own NFL career will continue to grow in Minnesota – along with his cast of characters.
"I think it will keep evolving," said Britton, who explained that left guard Pat Elflein is vying for an 'Elf on the Shelf' this December. "I'm pretty happy with it right now. As it is, the [equipment staff has] a tough time getting my helmet in there.
"But I think it will keep [growing]. I hope so. I feel like, who knows? Maybe by the end of my career … hopefully I'm here with the Vikings, and it's just all [filled in] back there," Britton added, gesturing to the main locker space. "I mean, there's a lot of places here we could put stuff in the back."