T.J. Hockenson's eyes widened just a bit.
The incoming freshman was experiencing the realization of a dream held by tight ends growing up in Iowa.
He was becoming a Hawkeye, joining a collegiate program with a positional pedigree that has earned frequent references as "Tight End U." Hockenson hadn't been offered a scholarship by Iowa until his senior year of high school.
He sat patiently on an offer from in-state rival Iowa State, where his parents Tod and Teri had attended, but really wanted to join the fraternity of Iowa tight ends. Andy, one of T.J.'s two older brothers, made sure to snag some Hawkeyes gear from his own time on campus and float it toward T.J.
The patience was rewarded as T.J. stepped on campus as a freshman and met senior George Kittle for the first time.
"My first interaction, he was a fun, goofy guy," Hockenson recalled. "I was a freshman, so my eyes were kind of wide open at the time. I didn't really know. I was super nervous coming in and having the spotlight on tight ends with it being 'The University,' so to come in and have a guy like that, just super fun-loving and didn't really care about much, just loved the game of football and wanted to get better every day. That was kind of a guy you could look up to, so that's what I did.
"In meetings, he would sit in the back of the room, and Coach would ask me some questions, and he would just start chuckling, laughing at me, especially if I got it wrong," Hockenson continued. "It was incredible to be there with him. He's one of the best people I've been around and obviously a great player, too, so I was able to learn from a guy like that. It was incredible."
Hockenson redshirted that year but benefited from a master's class of sorts.
It was a helpful transition from his days at Chariton High School, where his collaborations with his quarterback were rudimentary.
"If they were double-teaming me and had an outside guy, it would be run a slant," Hockenson said. "If it was press and [the defender] had inside leverage and a guy over the top of me, it was run a fade, so it was pretty simple at the time."
But it worked to the tune of 238 receptions for 3,560 yards and 49 touchdowns for the Chariton Chargers.
Each snag reinforced his love for the position that is deeply connected to a 2010 Week 3 game between the 49ers and Chiefs in Kansas City. Rookie Tony Moeaki, another Hawkeyes tight end who had been drafted by the Chiefs in the third round, reached out his right arm and speared an 18-yard touchdown pass by Matt Cassel with one hand.
"I was at the game where he had that one-handed catch in the back of the end zone. It was sick, so it was kind of just one of those things I gravitated toward and ended up making it fun," Hockenson said. "We had a good quarterback when I moved [to Chariton], so it was kind of a no-brainer to be able to do everything, just a big body, and I kind of got drawn toward it from Tony."
Run blocking during his prep days involved executing inside or outside zone plays, but the demands for the position increased in Iowa City.
"Once you get to college, the playbook expands, but you've got to be able to do a lot," Hockenson said. "At Iowa, they asked us to block a lot, so that was a thing I prided myself in, just being able to block and control guys and do what I could, because I was a true Y at Iowa. Then, to come to the league, everything is just a lot faster."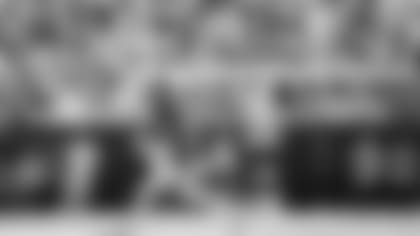 Hockenson played at 255 pounds at Iowa but then was asked to slim down to 245 after his selection in the first round by Detroit in 2019. The goal is to run routes against nickel defensive backs, safeties or linebackers while being able to have enough strength to block on run plays.
"The playbook got crazy big, obviously. I mean you can do everything, and the tight end needs to know, not as much as a quarterback, but pretty close because we have to know protections, run scheme, the pass scheme," Hockenson said. "We have to know when we're out and when we're in checks and all that stuff, so we get moved a lot, especially with me playing the Y and the F. In 12 personnel (one running back and two tight ends), I'll be the F and you kind of have to flip your brain, and then playing 13 (one running back and three tight ends) X or 13 Z, I've got to be the Z or the X, so there's just a lot more you have to learn and a lot more that you have to do. It's definitely expanded, and your knowledge of the game goes up because it has to at that point."
Vikings Tight Ends Coach/Passing Game Coordinator Brian Angelichio coached defensive backs, linebackers, receivers and offensive linemen before he first began coaching tight ends at the University of Pittsburgh in 2006. He's been with the position group ever since and first joined the NFL ranks in 2012 at Tampa Bay.
Angelichio loves coaching the position because of the numerous tasks.
"They're obviously involved in the run game, pass game, protection," Angelichio said. "So really, other than the quarterback, they have so many jobs and responsibilities that they have to execute. So it's a fun position because it's obviously changing each week."
While there were definitely Hall of Fame tight ends before recent years, the group has really been targeted as a way to create mismatches and featured plans of attack.
"Those guys were weapons for you, and a lot of times, it's due to the types of matchups you get with those guys, whether it be safeties or linebackers, just the nature of their size, most of them are 6-4 or more, they're long, and then if you add route-running ability onto that, a guy may be a really good cover guy but if the ball placement is where it needs to be, even when someone is on you and I'm 6-4 or 6-5 and I'm 240-plus pounds, they're just tough covers," Vikings Offensive Coordinator Wes Phillips said. "They've got that twitch in them, that ability to separate and stick their foot in the ground, so it's no surprise to me why they have been featured."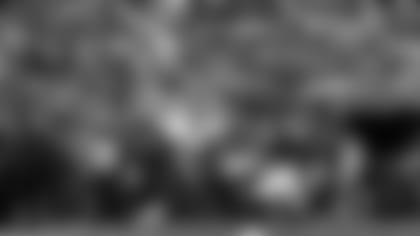 ---
---
The Dawn of a New Holiday
One day just isn't enough.
But a notion that started somewhat in jest in Week 2 of the 2018 season has picked up some impressive steam.
Kittle was early in his second pro season, in which he'd total 88 receptions for 1,377 yards and five scores, while Hockenson was early into what became his final campaign with the Hawkeyes in which he posted 49 catches for 760 yards and six touchdowns.
Kittle was mic'd up as the 49ers hosted the Lions squad that drafted Hockenson with the eighth overall pick a few months later.
The timing for that kickoff and location on the West Coast allowed players to observe a bevy of scoring by tight ends in that day's earlier games. Former Niners quarterback Jimmy Garoppolo approached Kittle and Cole Wick, saying, "National Tight End Day."
"It's a holiday," Kittle replied. Garoppolo echoed.
The notion grew along San Francisco's sideline, particularly after Garrett Celek powered through two defenders for a touchdown.
Detroit's Michael Roberts also caught a touchdown in that game. The six-pointers by Celek and Roberts were part of 15 touchdowns scored in Week 2 by NFL tight ends (there were 65 receiving touchdowns that weekend). That number was up from five total touchdown catches by tight ends in Week 1. 
The following fall, Kittle propagated the celebration across the NFL. Although technically "observed" on the fourth Sunday in October, it has spilled over into Monday's matchup between the Vikings and 49ers.
Hockenson opened his media session Thursday asking if the group was ready for National Tight Ends Day and divulged he helped design special T-shirts this year.
"A couple of us designed them and got them for the room," Hockenson said. "They're definitely a surprise, but we got them for the coaches, too."
Hockenson, Kittle, Angelichio, Phillips and former Vikings tight end Kyle Rudolph are pleased that the position is becoming more appreciated with every task.
"The tight end position, if you go historically and look back, kind of one that was always underappreciated," Rudolph said. "Greg Olsen … said it in an interview one time – 'We're expected to do the exact same thing that the best player on the offensive line, the left tackle, is expected to do, and we're also expected to do the same thing that your best skill player, your wide receiver, is expected to do. But yet for some reason, there's no value assigned to that.'
"Certainly, he was referring to it as the contractual value of our position, which now has changed and you see these guys getting paid relatively close to what they deserve," Rudolph continued. "But you see these tight ends across the league, obviously the guys that jump out to you are the guys like T.J. and Travis Kelce and George Kittle, and the value that's assigned to them for their team – if you remove them, that team is not the same.
"It's really exciting that the whole world is starting to see the value of the tight end position – and how unique it is. Because for so long, it was kind of just an afterthought," he added. "You put your guy that's not big enough to be an offensive lineman or not fast enough to be a receiver, that was your tight end. And now it's kind of the opposite. You're finding that elite-type player to be your tight end."
Angelichio said the observance of National Tight Ends Day is "great."
"I mean, those guys deserve – for what they're asked to do – we expect them to block like a tackle in the protection and go win a route on a safety or a nickel in the pass game," Angelichio said. "I think it's good for the position and, even more important, I think that position deserves to get recognized."
The requisite knowledge base is having a bit of carryover to television broadcasts, as well, with Olsen enjoying success and Rudolph launching his foray into work as an analyst.
"You're involved in everything. You have to know everything," Rudolph said. "You can't, 'Oh, I'll just know the pass routes,' or 'I'll just know the run game,' or 'I'll just know the protections.' You literally have to know every aspect of the offense. And then on the flip side when you're studying, what position, aside from the quarterback, studies the front, the linebackers and the DBs? You're going to go against all of them at some point throughout the course of the game."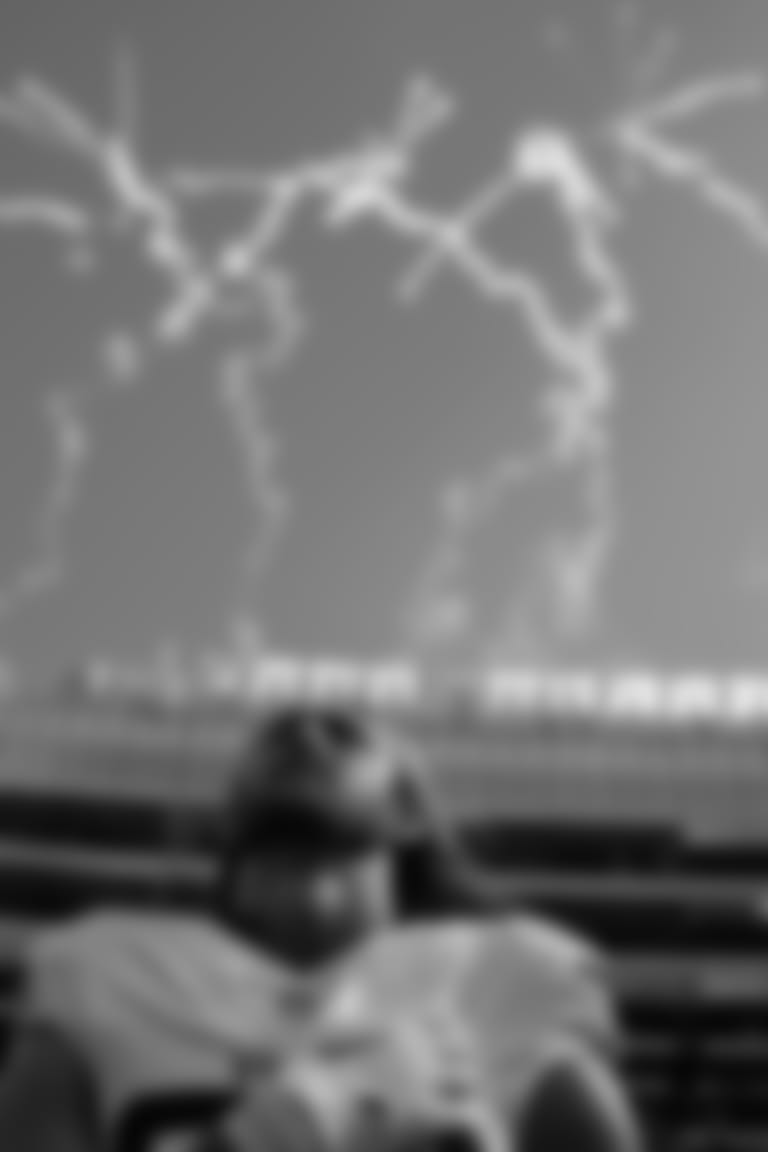 Monday's game will be the second time Kittle's team has faced Hockenson's in the NFL.
In Week 1 of the 2021 season, Kittle caught four passes for 78 yards on five targets for San Francisco, and Hockenson posted eight catches for 97 yards and a touchdown on 11 targets for Detroit.
While both are ultracompetitive and want to win, they'll also appreciate their individual successes.
The matchup will expand a relationship that has developed over the years and grows stronger each offseason.
Hockenson spends most of his offseason in Bell Meade, Tennessee, nestled about 15 minutes from the neon that lights Lower Broadway in Nashville. Even more alluring, however, is that it's also 15 minutes from Kittle's place in Bellevue, which features a 50-yard field, a weight room "and stuff like that," as well as an open invitation to train together. 
They also conveniently have formed their own offseason, semiformal yet prestigious, "Tight End U" conference at Vanderbilt, along with Kelce, Olsen and others.
"We're all kind of the same personality types, I guess, fun-loving people, so it was kind of one of those things that was a no-brainer," Hockenson said. "There's so many good, talented players, and everybody's, 'On this, why would you do that?' Everybody watches each other's tape throughout the year, scouting defenses, so you see the tight ends. You watch everyone's tape, and it's fun to get together and know the person behind the helmet and get to know everybody in the league. It's kind of a blast."