Don't tell Josh Oliver he can't do something.
When the California native entered the draft out of San Jose State, scouts complimented his performances in the pass game but knocked his blocking ability.
NFL Draft analyst Lance Zierlein included the following critiques in his assessment of Oliver:
Run blocking will need work before he can handle NFL in-line duties.
Inconsistent footwork into and after engagement impacts ability to finish.
Plays with narrow base and inconsistent hand usage as drive-blocker.
Doesn't gather and come to balance as move-blocker.
Too many complete whiffs on blocks across formation.
"I took that as a chip on my shoulder," Oliver said in a recent interview. "I went out, and I really learned."
He credits his time in Baltimore, where he played the past two seasons after two in Jacksonville, for his biggest improvement, having spent time with veteran tight ends Nick Boyle and Mark Andrews, as well as the Ravens offensive coaching staff.
"Nick was a great blocking tight end," Oliver said. "Just to see [him and Mark] – and they develop tight ends pretty well over there – so it was a good experience for me going through that.
"I wouldn't say it necessarily came naturally for me," he added. "It took a lot of time for me to get here — to develop as a player and learn different things fundamentally and the game overall [from] a blocking perspective."
Oliver is now considered one of the NFL's top blocking tight ends.
Vikings evaluators knew as much when they signed Oliver as a free agent this spring. But the 26-year-old has been as advertised and then some.
Offensive Coordinator Wes Phillips said Oliver has "exceeded expectations" since arriving in Minnesota.
"You saw him last year with Baltimore, and you saw a lot of really good things, and you knew he was big and strong," Phillips said. "But he's really had some very impressive blocks, and not all of the blocks he's had were the easiest angles, per se."
Phillips noted a particular block at Carolina in which Oliver manhandled Panthers defensive end Yatur Gross-Matos on an inside play.
"They were bringing the corner, so he was spiking inside, they kind of got him and dug him out from the inside out, which not very many men are able to do," Phillips explained.
On another play that afternoon, from which the Vikings started at their own 4-yard line, Oliver got past defensive lineman DeShawn Williams to toss linebacker Chandler Wooten out of the way, helping Alexander Mattison move the ball 17 yards.
"He had combinations where he just knocked the defensive end, a big man, just across the ball," Phillips said. "Or in 4-minute when they know you're running the ball, and he takes a guy and he puts him on his back, just on a single-drive block. Really impressed by him."
Oliver puts his blocking skills on tape time and time again, from offensive snaps to special teams – including on a successful fake punt against the Chiefs in Week 5.
"I think it's just a combination of everything. Technique, strength and, honestly, just will. That's something I pride myself on, is stepping on the field and giving it my all," Oliver said. "I think I try to show that every time I'm in a combo block or a block, I'm trying to give it my all on that play."
Through the season's first six weeks, analytics site Pro Football Focus has Oliver ranked second overall in blocking among tight ends with a PFF grade of 85.3. His grade of 88.8 in the run game ranks No. 1 overall; San Francisco's George Kittle is next with an 80.1.
"He is a competitor on the field," said Vikings tight ends coach Brian Angelichio. "He is gonna battle, and he is gonna play through the whistle, and he is gonna bring a toughness to your team and a play style that you like.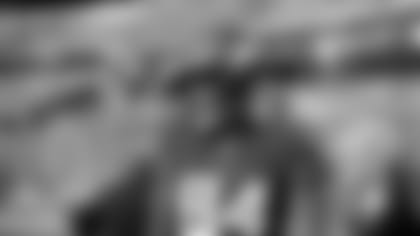 Oliver went from a tight end who hardly blocked to one who sees it as his primary responsibility.
But he still is able to be effective in the passing game, as well.
Against the Chargers Week 3, Kirk Cousins found Oliver across the middle for a game-tying touchdown midway through the second quarter. Oliver nearly was kept outside of the paint by Chargers OLB Tuli Tuipulotu but willed the tip of the football across the goal line for his third career score and first with Minnesota.
"It was awesome just to do it in front of the home crowd. It was an electric feeling," Oliver said. "We didn't get the outcome we wanted [that day], but just to get that first touchdown was a huge relief and an awesome feeling.
"I try to be as versatile as I can. I feel like I'm an athletic player who's able to do some things in the passing game," Oliver said. "First and foremost, I was brought here to block, and I feel like I take that role on with passion. I go out there and try to give it my all every single time I touch the field. Being able to … show you can do both is a huge part of being a tight end."
Listed at 6-foot-5 and 259 pounds, Oliver's presence is huge.
"He helps us a lot with the run game. He helps us a lot with pass protection. He helps us a lot down the field with his speed catching the football. He's a big target," Cousins said this spring. "It gives us versatility in what we can call."
Oliver's size and length earned him an interesting nickname from the Vikings QB during training camp.
"I started calling him the 'Sears Tower,' because I feel like when I throw to him, I'm throwing to the Sears Tower running across the field," Cousins said recently.
"It's not even the Sears Tower anymore, it's the Willis Tower, but the nickname still works," Cousins laughed. "It hasn't truly caught on. I don't think there's many guys in the locker room calling him that. Our quarterbacks coach (Chris O'Hara) does a little bit, so I've got some work to do from a marketing standpoint on a nickname, but I feel like that sums it up. He's a big target, a friendly target, great athleticism and obviously a great blocker."
Asked later about the moniker, a soft-spoken Oliver just smiled and offered a slight shrug of his shoulders.
"He called me that early on in training camp, and I guess it just stuck for him," Oliver said. "Kirk's a great dude. Awesome leader. Great person on and off the field. Couldn't ask for a better quarterback to lead you out there. He's a guy you really want to play for, to give it your all for."
Oliver has expressed similar sentiments about T.J. Hockenson, Minnesota's primary receiving threat at tight end, and he receives plenty of love from the Pro Bowler.
"Josh is one of those big guys, when he's running down the middle, he's straight up, he's massive, so it's a big, easy target for [Kirk], which is awesome," Hockenson said. "Just a guy you don't see often, kind of a Greek god. Just his physique and everything he can do is truly impressive. I love playing around that guy."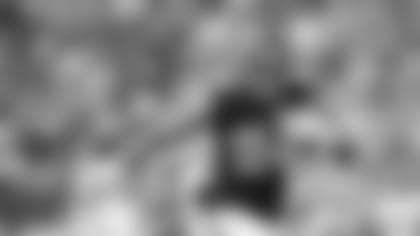 Blocking may not have come naturally for Oliver, but athleticism, competitiveness and work ethic certainly does.
All the above run in his blood.
One of Oliver's uncles, Clancy, was a defensive back for the Steelers in 1969 and 1970 and played for the St. Louis Cardinals football team in 1973. Josh's cousin Darren Oliver is a former MLB pitcher who won 118 games over 20 seasons, and Darren's father Bob also played eight seasons in the major leagues. Keary Colbert, a second cousin, was drafted by the Panthers in 2004 and spent seven-plus seasons in the NFL.
"I always watched Darren Oliver growing up, and it was cool to see the last name on his jersey and watch him on TV," Oliver said.
"It was kind of 'regular' in my family," he added.
For Oliver, family means everything.
He's never been too shaken by outside critics because he's been able to lean on the support of his parents, Rene and Barbara, and two older brothers Jono and Ben.
Scroll Oliver's Instagram, and you'll notice almost every off-field photo includes his mom, dad, brothers or 4-year-old Bernedoodle, Snoop – his first major purchase after receiving an NFL paycheck.
"I'm blessed to have the role models I do in my life. I couldn't ask for better people to be in my life than [my parents]," Oliver said. "They really helped me growing up. They were always there. My dad was always that person I'd lean on for support or advice, at any stage in my life – whether that was football or just what I was dealing with. He's always been there for me."
The youngest of three, Oliver also looks up to Jono and Ben, who are six and three years his elder, respectively.
Oliver was 16 when his brothers got matching first tattoos, the Bible verse Jeremiah 29:11, on their chests. A couple of years later, he followed in their footsteps with identical ink across his left pectoral.
"My dad hates tattoos, so he was pretty mad. And then I got it, too, and he got even more mad," Oliver admitted. "But he kind of came around to it."
The brothers lived together in Jacksonville when Josh was drafted in 2019. When Oliver broke his back that season and his foot in 2020, Ben drove him nearly every day to the treatment facility for rehab.
"I had a bunch of injuries those first two years and was going through some dark phases, and my family always there to help me whenever I needed it," Oliver said. "They've always done different things for me, and it's huge to have their support along this journey."
While Jono broke up the roommate trio to get married – "It's OK, she's great," I'm assured with a laugh – Ben relocated to Minnesota with Oliver.
As for Rene and Barbara? They continue to see Oliver weekly, having never missed an NFL game of his.
In fact, the last time they missed a game was when Rene's father passed away during Oliver's freshman season at San Jose State.
"I've told them, 'You spent all your hard-earned money to go see my games when I was in college,' so I've wanted to give it back by flying them out to every [NFL] game," said Oliver, who added he and his parents pray together before each game. "It's been an absolute blessing that I'm able to do that, and it's huge to have their support and have them there."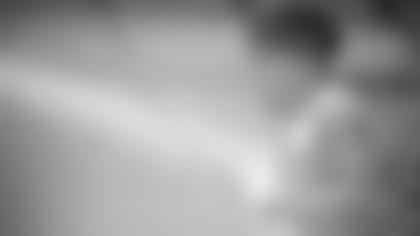 The Vikings 2023 season hasn't gotten off to the desired start, as they enter Monday night's game 2-4 following a win at Chicago last week.
But just like when Oliver was told he wouldn't succeed as a blocking tight end, he and his teammates are looking past the outside noise.
Oliver will continue giving his all, week-in and week-out. It's just the way he's built.
"Josh is all business. [He works] hard. It's important to him to perfect his craft," Angelichio said. "He's a guy that, he's the same guy every day. He just goes to work and does his job. Which, as a coach, that's all you could ask for.
"I love his play style. He's looking to finish every play – whether it's a pass play, he's gonna run down the field and look to get a block, or whether it's the run game, he's gonna finish through the whistle," Angelichio continued. "You're looking for those guys who are tough and competitive and really just want to grind it out every snap, and that's him."