Elegant glass globes seemed to float mid-air, holding warm light against the backdrop of the velvety black sky.
The lights hung just above the bride, who laughed while lying across outstretched hands lifting her above the crowd. Ally wore a flowing white dress and equally snowy sneakers Air Force 1s with laces untied; speakers carried "I Write Sins" – a song ironically set at a wedding – by Panic! at the Disco through the air.
It's not often you see someone crowd surfing at her own wedding, but that's exactly what Ally Kendricks did shortly after marrying the love of her life.
She recently cracked up again at the memory, as did her husband, Vikings linebacker Eric Kendricks – though he's bummed he missed the moment live and had to rely on replay.
"I was on the stage with our D.J., who's amazing, and two of our friends – who I feel like are the biggest instigators on the planet, are like, 'You have to crowd surf,' " recalled Ally. "I don't know if they had already told everybody about it, but I just went to the front of the stage, and all of a sudden everybody was there with their hands up, ready for me to crowd surf. And I'm like, 'Oh. OK. I guess this is happening.'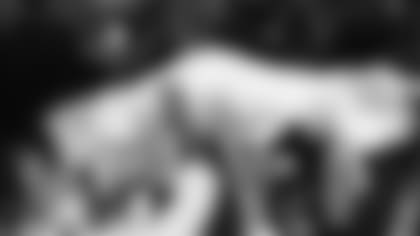 "The funniest part is that Eric had no idea it happened because he was inside," Ally added. "He saw the videos and goes, 'When did this happen? How did this happen?' That was really fun."
"It didn't really surprise me," Eric laughed. "That's how we party."
Crowd surfing seemed like the right nightcap to an even more perfect day.
July 2, 2022, had been set in motion on Jan. 30, when Eric proposed to Ally.
The two have been a couple for eight-plus years and known each other for 12, having initially met while student athletes at UCLA, and both were ready for the next step.
Though Ally tackled some of the large planning pieces – flowers and food, after two tastings – she and Eric teamed up for many of the decisions, and Eric grabbed a couple ideas and ran with them.
"He always spoke up if there was something he obviously was passionate about," Ally said. "It was cool because I definitely think the day had touches of Eric throughout all of it."
When asked to choose music for the ceremony, for instance, he took his assignment seriously.
"Ally was trying to get me to pick a song, and I was like, 'No, I'm not going to rush this. I think this is important.' I made an entire Spotify playlist," Eric explained. "Everywhere I went, I was just playing that playlist. I was going through it, going through it, and then I would add a song, and add another song.
"Then one day I was like, 'Wait, hold on.' I searched T-Pain and was playing ['I'm Sprung'], and I'm like, 'OK, it's not a traditional love song, but this could really work,' " he continued. "I could go two ways when I was walking out. I could go super emotional and kind of get myself in that mood, or I could keep it light and fun and set myself up right. So that's what I decided to walk out to."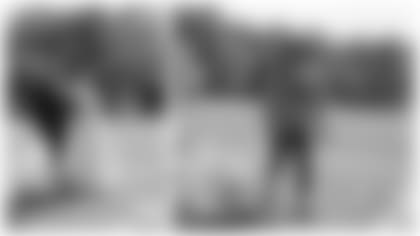 "It was cute because he put a lot of thought and effort into it," Ally said with a smile. "But one night – because I'm more like 'let's get it done' – I was like, 'We have to pick three songs. Here we go.' "
Together, they decided on "Differences" by Ginuwine for an in-ceremony song, and Ally walked down the aisle to an acoustic guitar playing "Can't Help Falling in Love." For their procession as husband and wife, they chose Mary J. Blige's "Real Love."
Ally and Eric were married in Napa, California, at a beautiful property owned by a family friend, and Eric added a unique spark to the day by parking two cars – his 1993 Mustang 5.0 and a borrowed 2014 SLS-AMG Black Series – near the venue's entrance.
"I wanted to have some cool cars," said Eric. "That was big for me. People know I love cars, so it added a little of my flavor."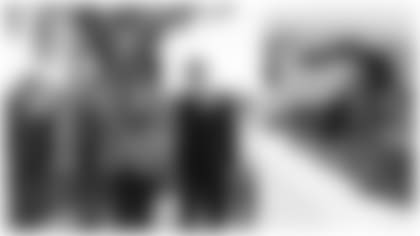 Perhaps most popular of Eric's ideas, though, was opting for ink over party favors.
While brainstorming about mementos to leave with their guests, Eric suggested hiring a tattoo artist to have on-site at the reception.
"I didn't really know how people were going to take to it, just because tattoos are permanent, so you just don't know," Ally said. "But it actually ended up being the biggest hit of the whole wedding.
"The poor guy, he started as soon as the ceremony ended, after dinner, through the after party," she added with a laugh. "He was doing nonstop tattoos until he ran out of ink."
The morning of the wedding, Ally and Eric woke up well-rested and relaxed.
"As an athlete, there's so many moments in my life where I was preparing for a really big game or different things, so I know that feeling of nervousness and excitement for something, and it can kind of take you over," Ally said. "But I woke up just really, really calm."
The couple ventured to their "happy places" – she to the gym and he for a morning drive – and then enjoyed quiet time to get ready for the ceremony.
"My mom was like, 'Are you sure you're OK? Are you sure?' And I'm like, 'Yeah, I'm great.' I think my calmness kind of freaked everybody out because they were thinking I was going to be frantic," Ally quipped. "But I really just felt at peace the whole day."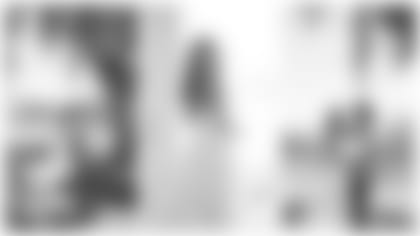 A highlight of the day occurred just between the two of them, when they shared a "first look" before the ceremony.
Video of the moment shared to Ally's Instagram shows Eric facing toward a sunny field while Ally approaches and taps him on the shoulder. Emotion overtakes Eric at the sight of Ally in her wedding gown, and he pinches tears from the corners of his eyes before embracing her with a kiss.
"It was just me and her, and we got to have that moment before the chaos," Eric said. "I got to see her in her dress, and it was every bit as emotional for me as I expected."
Though some encouraged the couple to save a first look for when Ally walked down the aisle, she's forever grateful that they opted for the approach they did.
"I feel like it was the best thing we did that day because it was such an intimate moment between the two of us," Ally said. "We just couldn't stop smiling – and also crying, because we're just both emotional people. But it was nice sharing that moment just us."
"I think, honestly, it helped because it allowed me to get most of my emotions out, so I was able to kind of hold it together for the ceremony," Eric added. "I still cried, but I wasn't a total mess."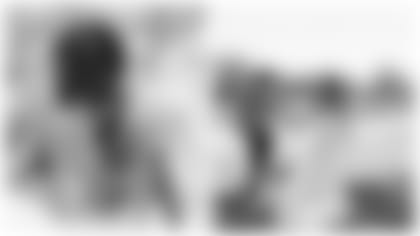 Ally and Eric prioritized being present throughout the day.
They soaked in the moments between just the two of them, and they also enjoyed time with family before the ceremony.
The wedding party was small – Eric's brother Mychal and Ally's sister Brooklyn – but the couple felt love and celebration from every member of their 100-person guest list. Among the crowd were friends, family and current and former teammates, including Vikings outside linebacker Danielle Hunter and safety Harrison Smith.
Former Vikings Ameer Abdullah, Anthony Barr, Anthony Harris, Ifeadi Odenigbo and Eric Wilson also attended. Ironically, Xavier Rhodes and his wife Brittney were married the same day, adding a unique challenge for some guests.
"It's a good date to get married if you play football," joked Eric of the tight offseason window.
"I've had so many teammates over the years who I've been super close to, and I wish I could have them all there," he said. "But I've gotten especially close with a few in particular, and it was really good to have them at the party. … It's a lot of love in that group."
Added Ally: "They're some of our best friends ever, so it's always a good feeling when you have all of your favorite people in one place, and it feels like you're picking up where you left off. And I know it meant a lot to Eric to see how many people showed up for him."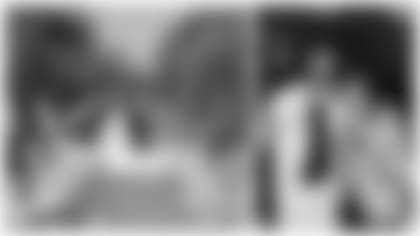 A mutual friend, Logan Sweet, officiated the ceremony – an easy choice for both Ally and Eric, who have been close with Logan since attending UCLA together.
And the newlyweds mirrored each other in separate interviews: "Logan loves to talk, so it was perfect!"
Ally and Eric wrote their own vows, an undertaking they respectively agreed was challenging and yet deeply meaningful.
"How do you put 12 years of knowing someone into a short speech? It's really, really hard," Ally said.
Their game plans aptly fit their personalities: organized, written out and well-rehearsed for her, and a bit less linear for him. Although, Eric did attempt – and then abandon – the prior method.
"Every single time I went to write it, I would just be bawling," he explained. "I could never get through it; I'd stop because I was so emotional and then have to restart it completely. So I went with the approach of, I had a bunch of things I wanted to hit and kind of memorized those. And then I practiced it the three days before a couple times, and I nailed it at the time.
"It was emotional, but I made sure I started out with a little joke to break the ice a little bit," he added. "That kind of helped me throughout the whole thing."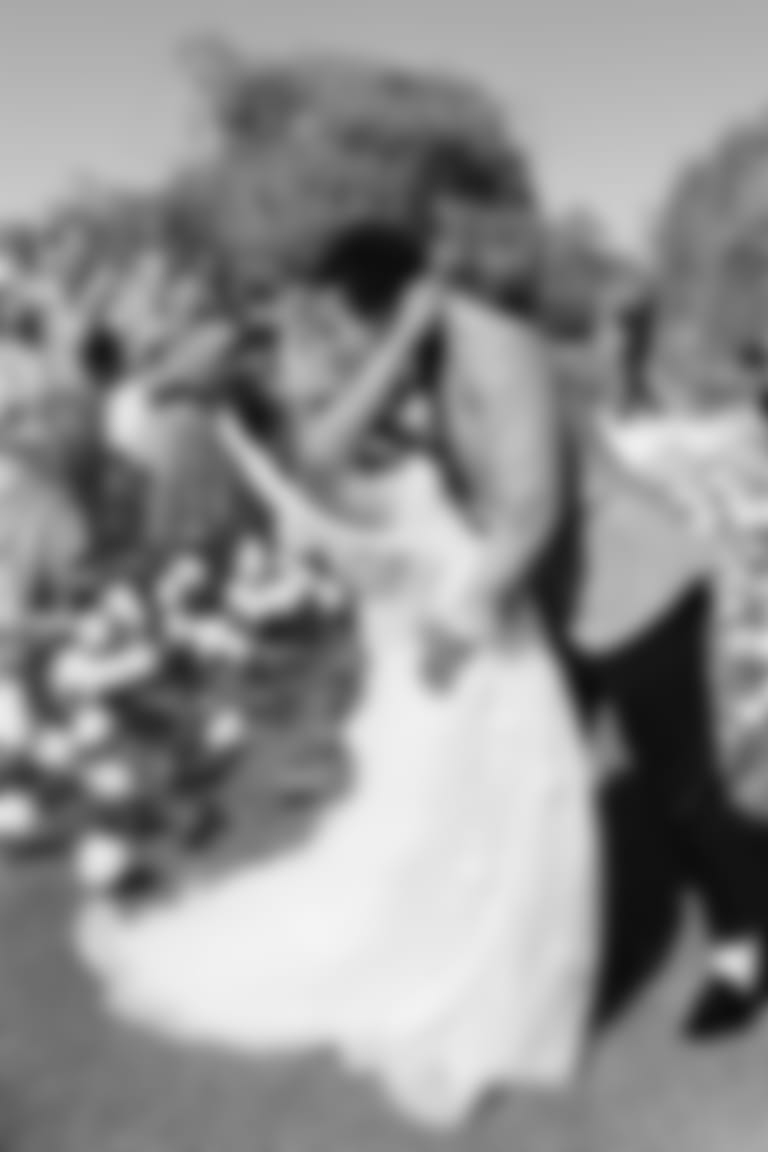 Though they agreed the first look helped lessen tears at game time, Ally and Eric assured the ceremony was still "plenty emotional" for them both.
---
---
Celebrating Mr. & Mrs. Kendricks
Following the ceremony, Mr. and Mrs. Kendricks were the first to get new single-line tattoos: Ally had a dainty EK inked to her ring finger, while Eric got an A on his.
They then welcomed their guests to a copious dinner spread featuring Mexican, Italian and BBQ options, plus individual charcuterie boards at every table.
"We wanted the day to be elegant, but we also wanted every aspect of the day to be very approachable and inviting," Ally said of the food choices.
And then, the after party.
From Pop-A-Shot and Skee Ball to a light wall, arcade games and flip cup, the Kendricks' spin on a reception was a roaring success.
Oh – and pajamas were allowed.
You heard right. Ally encouraged guests to bring a change of clothes: sweats, P.J.s or whatever else they'd be most comfortable in.
"Everyone was actually kind of shocked when I told them they were allowed to bring sweatpants to the wedding; they were like, 'Wait, what?' " laughed Ally. "People were shook. No one believed me, honestly. They're like, 'Are. You. Sure.' And I'm like, 'Yes!' "
So after dinner, stilettos were exchanged for sneakers and suit jackets for crewnecks.
D.J. NOODLES, a close friend of Mychal Kendricks and a Bay Area-based artist, kept the dance floor active all night long.
"There is nothing more fun to me than dancing and not caring what people think when you are with your friends," said Eric, who claims he and Ally's mom Paris were the first ones on the floor.
Though Ally and Eric bypassed traditional dances such as father-daughter and mother-son, her dad – former NHL wing Russ Courtnall – stole the show at one point during the after party.
"It was like a song with D-Lo, which is something, you know, you heard in high school at parties you went to. Nothing my dad has probably every listened to," Ally laughed. "But he just comes out full-throttle, full-confidence. We were all just dancing in a circle, and suddenly my dad just pops out of nowhere and starts going so hard in the middle of the dance floor.
"I didn't even know he could move like that. It was so fun," she added. "My mom and I joked … 'This just seems so on-brand for father-daughter dance for you guys.' "
Courtnall wasn't the only one impressing, either.
"Ameer was absolutely tearing up the dance floor," Kendricks said of his former teammate. "He was number one, for sure. He was killin' it."
While Abdullah showed off his moves there, Wilson strutted his stuff in the game area.
"E-Wil absolutely shattered any record on every single machine he went on. No one was even coming close to what he was doing," Ally said. "I'm still shocked. I don't even know how he hit the scores that he hit."
"We know what kind of football player Eric Wilson is, but the guy is just good at everything. It didn't surprise me that he was just blowing everybody out of the water," Eric added. "When we're with our friends, we love playing Catch Phrase and all different kinds of games. We're really competitive people at the heart of it, and so are most of our friends, so it's natural that we're going to have some kind of competitive environment. … It was just a really fun night."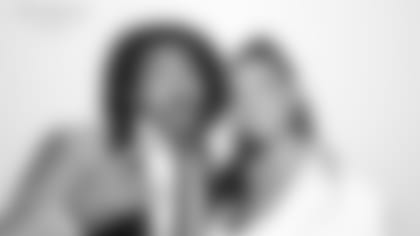 Ally and Eric are beyond grateful to have had the opportunity to celebrate with so many of their loved ones.
Because while crowd surfing will surface in conversations for years, it's truly the people – and most importantly, each other – who made Ally and Eric's day one to be forever cherished.
"Looking back, I was just thinking about it the other day, like, 'Man, we should have another wedding in like 10 or 15 years just to have everyone back, just because,' " Eric joked.
When Eric was asked about making Ally his partner for life, his eyes glistened.
"It's just so special to me. Ally's obviously a tremendous part of my life – and my career, to be honest. We've been doing this for a while," he said. "I'm still correcting myself when I call her my girlfriend – and then my fiancée – and now my wife. I've messed up every single phase of it.
"It definitely feels different," he added, smiling. "It feels right, though. It just feels right."