This Sunday is the Vikings Crucial Catch home game.
The NFL initiative, which takes place in stadiums across the league from Weeks 4-6, addresses early detection and risk-reduction efforts to battle multiple types of cancers.
It isn't uncommon for David Blough to get recognized out in public.
Maybe not for the reason you'd think, though.
Blough is a former Purdue standout, a quarterback on the Vikings practice squad and had his moments of stardom on the 2022 season of Hard Knocks while still with the Lions.
But most often if Blough is spotted in an airport or at a restaurant, it's for being the friend of Tyler Trent.
"They'll have no idea what my name is … but they'll say, 'Hey, weren't you with Tyler Trent?' It's pretty cool," Blough said with a smile.
He doesn't mind when people identify him by association; rather, he's proud for any opportunity to carry on Trent's legacy.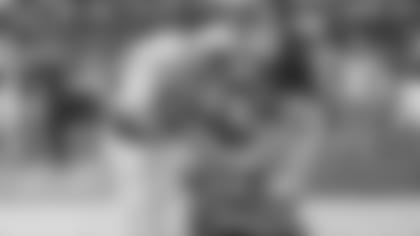 Blough first heard about Trent as a junior at Purdue. The former was the Boilermakers starting quarterback. The latter, a freshman Purdue football superfan.
On Sept. 22, 2017, the eve of Purdue's homecoming game against Michigan, Trent actually camped overnight outside the stadium gates, determined to be the first one through the entrance.
Spoiler alert: He was the only one sleeping outside the gates.
"It was a big game. It wasn't that big of a game," Blough recalled with a chuckle.
But through that demonstration of dedication, Trent – dressed in black-and-gold striped overalls with no shirt – was approached by Boilermakers first-year Head Coach Jeff Brohm.
"He had a smile on his face. He was just an outgoing, personable, fun-loving person," Brohm recently told Vikings.com. "He was somebody that, you talked to him for 30 seconds and, 'Hey, this is a guy I'd kind of like to hang out with.' "
Brohm and his team soon began learning Trent's story: He'd been diagnosed with osteosarcoma at age 16 after his arm broke while playing ultimate frisbee. Since then, he'd battled the bone cancer multiple times.
Less than two weeks before his first year at Purdue, Trent had his pelvis removed and hip replaced – and yet managed to start his classes in-person and on-time. He had undergone six hours of chemotherapy treatments shortly before camping outside Ross-Ade Stadium.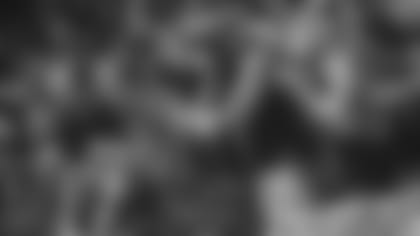 Trent was a special person.
"This was a young man who had way more going on than anyone else, knew his life wasn't going to last much longer, and had the best spirit and best personality, and the best humor, that anyone could have," Brohm said. "And there was nothing fake about it. It was 100-percent real. He got joy out of not only being at Purdue but also the sports program, football in particular."
The Boilermakers invited Trent to take the field as their honorary captain at that fall's "Hammer Down Cancer" game, at which point he and Blough met for the first time before the coin toss.
The annual game always hits close to home for Blough, whose mother LuAnn is a 25-year cancer survivor.
The quarterback and Trent shared a brief conversation that day, and in Spring 2018 they crossed paths on multiple occasions during efforts to raise cancer awareness. Trent and LuAnn both were avid fundraisers for Purdue's annual The Challenge 5K Run/Walk. Trent additionally served on the Purdue Center for Cancer Research's student board and ran the Purdue University Dance Marathon.
"I got to interact with Tyler more and also talk to his family, his grandparents, and we started to build a friendship," Blough recalled.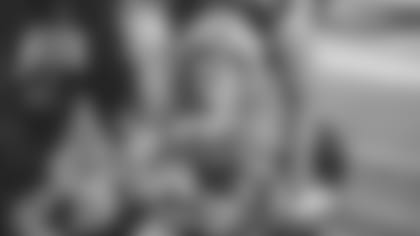 That football season, Blough and the Boilermakers were having success on the field; Trent, however, faced more and more hurdles as his health declined. His worsening cancer and pain didn't prohibit Trent from connecting with the football team he loved, though.
"We made him a part of the team, and it brought hope," Blough said. "That's the cool thing about sports. It brings so many different people together from so many different places, and he felt this connection to me, to our coach, to our other captains.
"When we won, he won. We'd go out for the coin toss, and we're on the road, and I'd say, 'Hey, Tyler, heads or tails?' And whether it was what happened or not, I'd make him believe it's what we wanted," Blough continued. "We were a team. We were a family. He loved that. And we loved having him."
Blough and his teammates gifted Trent a game ball after Purdue defeated Nebraska. Another evening, a group gathered at Trent's home, where he was confined to bedrest at the time, to pray with him.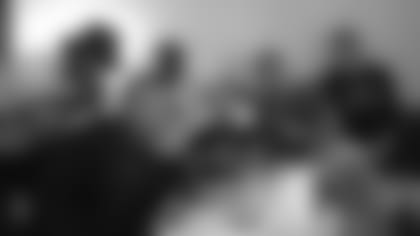 Trent's Christian faith was foundational in the young man's life – and, later, in his death.
"Never once was he concerned with how he was doing. He was the most selfless person that I have ever been around," said Blough, who referenced a common sentiment of Trent's:
"I win either way. I'm either in Heaven with Jesus or here on earth with those I love."
"For a 20-year-old kid who's dying of bone cancer – painful bone cancer – it's taken his hip, it's taken his shoulder, it hurts to go to the bathroom. All these things his parents have to do for him. And he's able to have that perspective of faith," Blough said. "Faith and selflessness. Those were his two best characteristics."
Brohm wasn't surprised to see Blough and Trent form a deep and meaningful bond through their shared faith. Brohm noted that each year, Blough would serve on a missions trip outside of the U.S. and sometimes would take members of the team "that were probably close to getting kicked off" on the trip to mentor them and take them under his wing.
"That's just how he lived," Brohm said. "David and Tyler both became leaders and great friends. Tyler became our honorary team captain, and of course David was one our captains. And I just think the relationship [was] something that you don't normally get a chance to experience in life. That they were able to grow that bond."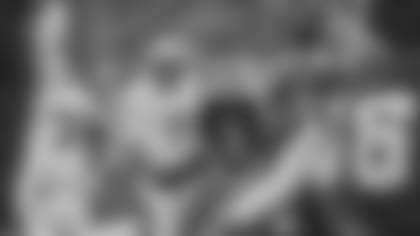 Just over a year after Blough and Trent first met, ESPN's College Gameday ran a segment on Trent ahead of the Boilermakers Big Ten matchup with Ohio State.
During the segment, ESPN reporter Tom Rinaldi asked Trent, "How do you see the future?"
His answer? "Well, the immediate future in my mind … Purdue beats Ohio State Saturday."
Ohio State was largely favored. Trent – the gangly, smiling young man who believed in Purdue's football team with everything he had – didn't care.
An incredibly ill Trent made it to the stadium that day, where he watched the game in a suite from his wheelchair. He wore a black jacket patterned with the gold Purdue P. He also had the initial painted onto the side of his head, which was nearly bald.
Trent did another interview, in which he said the previous night he'd have given it "pretty much zero percent chance" he'd be able to make it to the game.
The Boilermakers were unstoppable that day.
Blough threw three touchdown passes, while running back D.J. Knox added another three on the ground. With just 2 minutes left in the game, linebacker Markus Bailey returned an interception for a final touchdown. Purdue's 49-20 blowout win snapped Ohio State's 12-game win streak that dated to the previous season. It was the lone loss by the Buckeyes in 2018.
"His ability to speak out that … Purdue was going to beat Ohio State, when really no one – including myself – thought that could really happen, was remarkable, because we did do it," Brohm said with a laugh. "I can honestly say he was the only one who was strong enough to go on record and say it was going to happen.
"I think it inspired the whole team that, 'Holy cow, this is a guy who – I mean, he doesn't even know if he's going to live to tomorrow, and he believes not only in positivity, but he believes in this team. He believes in this university. Why can't we believe? And why can't we do it?' " Brohm continued. "It just resonated with all of us. And as all of us got to know him more later on his path, the inspiration was just remarkable. There were some days where he did not look in great shape, but the words that came out of his mouth were never negative … it was the opposite. That was remarkably inspirational."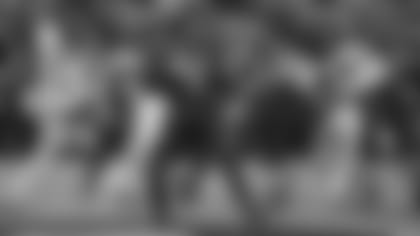 Following Purdue's defeat of Ohio State, Trent spoke to the team and thanked the group for "showing the nation what being a Boilermaker means."
"Tyler says on College GameDay, 'All I want to do is see my guys beat Ohio State,' and we crushed them," Blough said. "I'm 100-percent sure that was God's way of just magnifying his story. I could have walked out there and played terrible, and we were going to beat those guys. Like, I knew it.
"Everything went our way, and we beat them handily, and Tyler's story just blew up," Blough added. "It was God-ordained, for sure."
During even his sickest days, Trent lived out the motto he'd adopted for his life, taken from the Bible verses 1 Thessalonians 5:16-18:
Rejoice always. Pray continually. Give thanks in all circumstances.
"When he was diagnosed for the third time with bone cancer, that's what he was reading in his Bible," Blough said. "He used to say, 'It doesn't say rejoice sometimes. It doesn't say pray when you feel like it. It doesn't say give thanks when everything's going your way.' It says, 'Rejoice always, pray continually and give thanks in all circumstances.' "
A fellow Christian, Blough has been deeply impacted by Trent's perspective.
"I think about that in every encounter that I get to have with a new teammate, with an old teammate, when I have a good day, when I have a bad day – and I know that I'm not defined by my performance in a very performance-driven business," Blough said. "It's like, 'OK, I can give thanks today.' It's just that reminder that someone who's going through something far worse than I have ever experienced was able to live by and has encouraged me."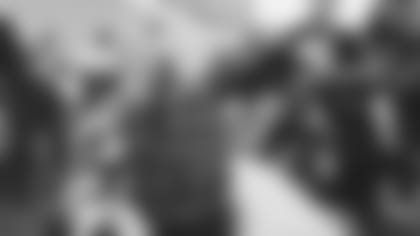 As Trent's health rapidly declined, his story and testimony grew. He learned he'd be honored in December 2018 with the Disney Spirit Award for Courage, presented annually at the College Football Awards Show in Atlanta.
Trent's parents asked Blough if he would join the Trent family on the two-day trip to Georgia.
Blough remembers arriving at the airport to take the private jet ESPN had chartered for the occasion. A conversation with Tony Trent, Tyler's father, hit Blough hard.
"His dad looks at me and says, 'Hey, will you help me carry Tyler onto the plane?' " Blough recalled. "I'm thinking, 'This is everyday life for them.' … It shifted my mindset.
"I saw Tyler after we won games; I saw him when we're praying in his house," Blough continued. "In that moment, I got a glimpse into what his family's going through every day … to serve their boy who was hurting. That put me in servant mode."
One of Blough's most treasured memories is watching Trent be treated as the celebrity that weekend. How many people – who'd come to recognize the top quarterbacks and running backs in college football – knew Trent's story and wanted to say hello.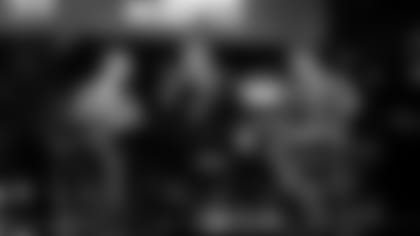 Trent even was invited by Ernie Johnson, Charles Barkley and Shaquille O'Neal to the set of Inside the NBA.
"They wanted Tyler on the set because Ernie wanted to encourage him, and to meet Shaq. It's like, 'Are you kidding me?' " Blough said, smiling. "That was his weekend. He just was not in good shape, but he gave everything he had for others."
Giving everything for others. That accurately summarizes Trent's 20 years of life.
Less than a month after receiving the Disney Spirit Award, Trent passed away on New Year's Day 2019. Blough spoke at his funeral.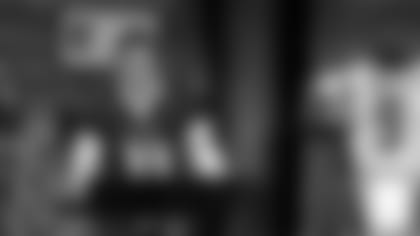 Over the past three years, Blough has been honored to carry on his friend's legacy in whatever ways he can.
Blough signed with Cleveland as an undrafted free agent in May 2019, five months after Trent's passing. That spring he was traded to the Lions, where he spent three seasons before joining the Vikings practice squad on Sept. 1.
Blough hasn't started many games in the NFL. Five, to be exact.
But when he made his first NFL start, he couldn't believe the timing.
Blough was called up as Detroit's starting QB on Thanksgiving Day 2019, following injuries to Matthew Stafford and Jeff Driskel. He'd previously had cleats custom-painted for the Tyler Trent Foundation, and he laced them up for that weekend's game against the Bears.
The following week, Blough again wore the cleats in a start against the Vikings at U.S. Bank Stadium.
"It just felt right to honor his legacy," Blough said of repping Trent's foundation. "I got to play in them in a real game, as a backup's backup. We could have never expected that."
Having grown up hearing his mom's cancer survival story, and after forming a deep and meaningful friendship with Trent, Blough is passionate about giving back to those impacted by cancer. The NFL's Crucial Catch initiative provides him an opportunity to do that.
"It hits everybody one way or another. You can't be human and not know somebody who's been affected by cancer," Blough said. "And my parents taught us, Jesus said, 'Love one another, just as I have loved you.' That's a command for us. It's not, 'Hey, you should do this.' It's, 'It doesn't matter what people are struggling with, what people are going through – be present. Love and serve.' I think I have been raised to have a servant's heart. I just saw it in my parents."
Not many people have demonstrated servanthood the way Trent did.
And Blough will forever be thankful to be recognized as "Tyler Trent's friend."
"He took very seriously the platform that God had given him with his story and everything that had happened," Blough said. "He didn't want any of the recognition. But when it came, he made sure where to point it back to."