When Calisha and her six children step from the frosty winter air into the Omni Vikings Hotel, they're met warmly by Stephanie Ham, wife of Vikings fullback C.J. Ham.
Though heightened COVID-19 protocols prohibited C.J. from joining the group in-person, his giving spirit was tangibly displayed through the pile of different-sized boxes, all wrapped in shiny gold paper, spilling out from beneath a sparkling evergreen tree.
The Hams said it "wasn't a question" whether or not to provide the local family a Christmas they won't forget amidst the ongoing pandemic.
"When you put it into perspective, it's a tough time for everybody. We're all dealing with different challenges," C.J. said. "To be able to help in this time, it's special. Especially for a family of six children with a mother, whom I assume probably works very hard to make sure her kids are fed, clothed and have everything that they need."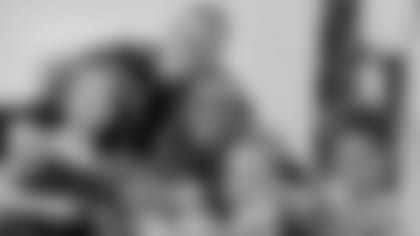 Parents themselves to Skylar (5), Stella (3) and Trip (10 months), C.J. and Steph have been "adopting" a Twin Cities family since 2018. Steph always finds herself drawn to the parent or guardian of the youngsters.
This time around is no different, as she keeps her eyes on Calisha, who is watching her children unwrap individually labeled gifts.
"I'm excited to connect because she's around our age," Steph said. "I mean, we know how hard it is for three kids, and then to have double that responsibility, as a single mother, she's Superwoman.
"Every year, they've teared up. That's what gets me every time, is to see their reactions," Steph added. "Half the time, the mom or grandma will sit there and leave their gifts and just watch their kiddos open theirs, and that's pretty special."
The Hams enjoy the intimate experience with one family, ensuring the adults and children alike have an opportunity to connect with one another.
C.J. and Steph's oldest daughter, Skylar, turned 5 this summer and has started to better understand the importance of giving and the heart behind the family tradition.
"She is kind of realizing, 'Oh, these aren't my toys' and she'll ask, 'Oh, where are they going?' She was helping wrap the gifts, too," Steph said. "It's fun in that aspect to include her in things and explain what we're doing and why we're doing it."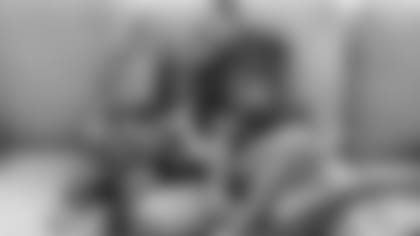 Chat with any of the families from the past three holiday seasons, and they'll likely all tell you the same thing: This act of generosity comes so naturally for the Hams. There's no seeking of the spotlight, no expectation of anything in return.
C.J. and Steph simply hope to make a difference.
Growing up in Duluth, Minnesota, C.J. and his sister were thankful each year for gifts and holiday celebrations with their parents. But amid the receiving, they also were taught by Tina and Cortez, Sr., the importance of giving.
"My mom and dad would take people in and make sure they had clothes on their back, food to eat if they needed help," C.J. recalled. "That mindset is something I've kept with me.
"I think as a family now, we've learned that we are blessed to be a blessing," C.J. added.
"And if we have the opportunity to bless somebody, we should do that. We're blessed to be a blessing, and hopefully that blessing continues to multiply."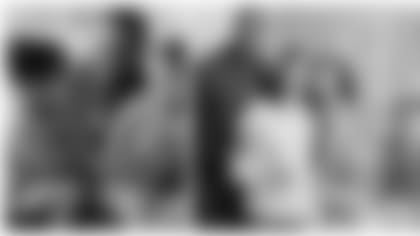 The "blessed" mindset is one C.J. consistently maintains, from family movie nights at their Farmington home to electrifying game days.
Now as routine as slipping into his shoulder pads and tightly tying his cleats, C.J. smears eye black onto his cheeks in the shape of a cross. His Christian faith fuels the fullback on and off the field, and the symbol serves as a reminder – to himself and to fans – of the perspective he plays with.
C.J. was mic'd up for the Vikings-Packers game in Week 11; a video of the day's highlights later revealed the fullback shouting as he raced out of the tunnel at U.S. Bank Stadium:
"I'm blessed! I'm blessed! I'm blessed!"
Had it not been for the microphone threaded beneath his purple jersey that day, no one would hear C.J.'s message over the roar of 66,000 fans. The two-word phrase, though, acts as a personal fight song for the 28-year-old.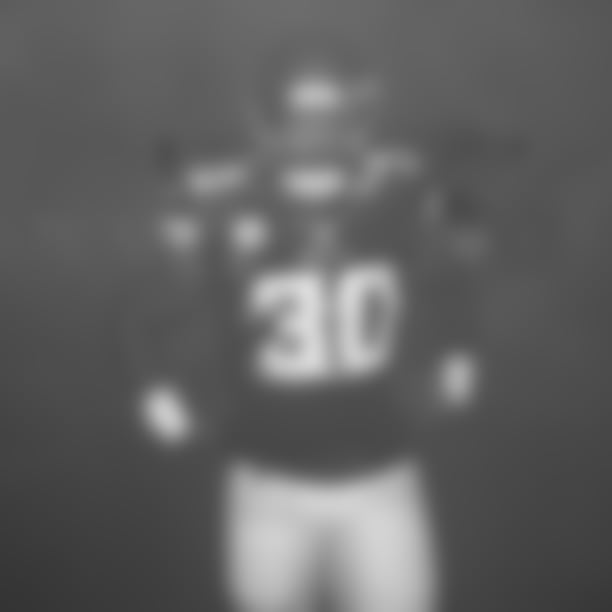 C.J. never could have imagined when he first started playing football in elementary school that he'd be where he is now.
From high school ball to playing running back at a Division II school, to earning a spot on the Vikings practice squad in 2016 after attending rookie minicamp on a tryout basis, to switching to fullback, to now playing a significant role in Minnesota's offense.
"We have more than I can ever imagine," C.J. said. "Especially on game day, to have all the fans out there, to be playing a sport for my job, a game that I started playing as an 11-year-old … You can never take anything for granted.
"This game doesn't last forever, so when I'm out there, I'm blessed, and I'm gonna go out there and give it my all," he added.
A fullback's job isn't flashy, and that suits C.J. just fine.
To be sure, transitioning from running back, a role in which he scored 29 rushing touchdowns at Augustana University, proved to be an adjustment. But he's come to love the unique – and sometimes overlooked – position that is an NFL fullback.
"Playing running back my whole life, scoring a bunch of touchdowns, I used to think that was the greatest," C.J. said. "But now switching roles and being a blocker for some of these touchdowns, it's honestly almost even more rewarding. To lay a big block and see Dalvin [Cook] go right past you into the end zone, it feels amazing.
"I definitely enjoy assisting touchdowns just as much – or even more – than scoring touchdowns," he added.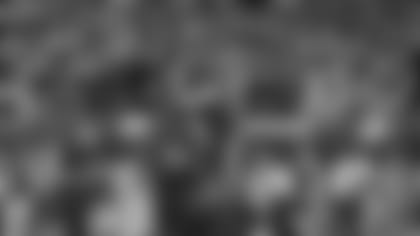 C.J. is a man of many talents, though, and Vikings fans have seen that on full display.
Throughout the 2021 campaign, he's been utilized in multiple ways. In addition to fullback, Vikings Offensive Coordinator Klint Kubiak has lined him up at fullback, running back and tight end. He's rushed, blocked and caught passes out of the backfield.
Take, for instance, the Vikings Week 9 contest at Baltimore. With just over two minutes remaining in the game and Minnesota trailing by a touchdown, Kirk Cousins threw downfield to C.J., who made a leaping catch along the sideline that gained 27 yards on third-and-3.
The Vikings ultimately came up short against the Ravens, but C.J.'s grab nonetheless garnered plenty of attention from fans and teammates alike.
"I was like, 'You might as well come to the receivers now!' You make a big catch on somebody's head, you gotta come to the receivers," Justin Jefferson said of the play.
Coaches and teammates are confident C.J. knows the full offense and could chip in practically anywhere.
"He comes to work every day on time, knows what he needs to do, his assignments," Cook said. "If you want to know something at running back, you can ask him. He knows both positions."
Cousins pointed out that C.J. has added depth as a fill-in tight end in the absence of Irv Smith, Jr., who landed on Injured Reserve early in the season.
"He's tremendous. When Irv went down, we said, 'Now you're going to play Y,' " Cousins said. "He can do it all. If we lined him up at X or Z (receiver), I bet he could run a route and win. As a quarterback, it's such a comfort to have a player like that.
"There are times when I'm asking him what responsibilities, 'Did I call that play right?' Or, 'What's the motion here?' And he'll get me right," Cousins continued. "That just says the world about C.J. and what he's capable of athletically and also mentally. He's a great teammate."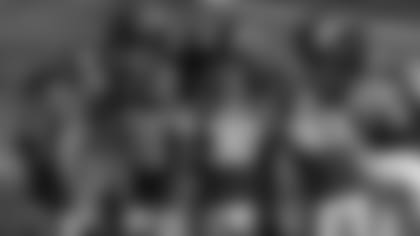 According to center Garrett Bradbury, some in the locker room refer to C.J. as "The Eraser" because of his ability to make good on another player's misstep.
"He's a weapon. He cleans things up for us," Bradbury said. "Anything that's not right, he'll come in, just kind of blow it up, and Dalvin will find a crease and go."
Bradbury added that C.J. does a lot of dirty work not necessarily evident to fans watching a game on TV.
"He's so important to what we do," Bradbury said. "He's an awesome player."
C.J.'s impact on the field is felt far beyond the walls of Twin Cities Orthopedics Performance Center. The way he plays the game has earned respect from peers and pundits alike across the league.
Another highlight of C.J.'s mic'd up segment showed him sitting on the bench talking to Cook about a recent interaction.
"Aaron Rodgers knows my name. He said, 'What up, Hammer?' " C.J. tells Cook, smiling. "I said, 'Oh Lord, I done made it.' "
Asked later about the candid moment caught for fans, C.J. laughed. He called the exchange with the Packers Pro Bowler "very subtle" but memorable.
"I think it was special teams, a kickoff play, and we kicked it through the end zone, so I'm kind of trottin' past, and Green Bay's offense is running out to the field, and he just gave me a little nod and said, 'What's up, Hammer?' I was like, 'Oh! That's pretty sweet.' That was pretty cool," C.J. said.
He's had similar moments against various defenders whom he respected long before he made it to the NFL himself.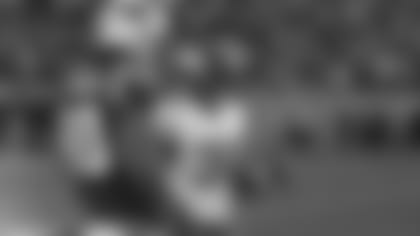 C.J. recalled playing against fellow Minnesota native Terrell Suggs, linebacker Luke Kuechly and All-Pro defensive end Julius Peppers during the 2017 season.
"That was one that was huge for me," C.J. said. "I remember lining up against [Peppers] on punts, and he was about to rush my side, and I was thinking in my head, 'All right, this dude is massive. I'm gonna need some help.' "
He's received mutual admiration from fellow Pro Bowl fullbacks Kyle Juszczyk (49ers) and Patrick Ricard (Ravens), the latter of whom connected with C.J. in January 2020 at the all-star game in Orlando.
There may not be an official Fullbacks Club, but there's certainly an unspoken connection among those playing the position across the league.
"I think every fullback knows every other fullback in the league, just because, you know, there is only one on each team, and some teams don't use them at all. So we watch each other," Ricard told Vikings.com. "And at the end of the day, we know how physical of a position it is, how demanding it is and how underutilized or undervalued it is.
"I think guys like myself, C.J., Kyle and there's a number of other fullbacks in the league, have been really showing how much you can utilize a fullback and how you can use them in modern-day offenses," Ricard continued. "It's not just being in the backfield and lead-blocking. There's so much more we can do. I think us three, especially, have shown that. And we've made our offenses more versatile – we're able to do more with the offenses because of guys like us."
Ricard has a unique backstory himself, having played as a defensive lineman in college before signing with the Ravens as an undrafted free agent in 2017 and making the transition to fullback.
The converts instantly connected at the 2020 Pro Bowl.
"He was just a great guy. An awesome guy," Ricard said. "To learn about his story of how he played at – St. Augustine? No, Augustana – it's a school you've never heard of. And … myself playing at Maine, an FCS school, and here we are together in the Pro Bowl. I think it was just such a credit to C.J.
"And his last name is perfect – Ham, a.k.a. 'Hammer.' He lays the hammer when he plays," Ricard added. "I have a lot of respect for his game. He can do a lot. I mean, when he played us this year, he had that phenomenal catch against us at a crucial part of the game, and I was just so happy for him."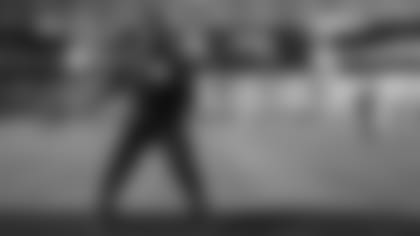 C.J. also secured high – and repeated – praise from FOX Sports' Mark Sanchez during his call of the Vikings-Seahawks game in Week 3 and against the Chargers in Week 10.
Sanchez appreciates C.J.'s home-state story as much as anyone from Minnesota, and he added some flair to his call of the Seattle game by saying the fullback "hails from the shore of Lake Superior."
"I don't know, I said it to be funny, but I just respect his game so much," Sanchez told Vikings.com. "Because you don't get a lot of love as a fullback, and you've gotta do all the dirty work – and there's a reason why Dalvin Cook's running the ball so well. I happen to appreciate it."
Sanchez, who started his football career at fullback himself at age 8, noted that it's an interesting position — especially now because so few teams heavily implement it.
"It's hard to be a starting quarterback in the NFL; it's really hard to be a starting fullback. … There are only 32 starting NFL quarterbacks in the world, but there are fewer fullbacks," Sanchez said. "I just know it's such an underappreciated position, and that's why I wanted to highlight him a little bit."
The former NFL QB called C.J. a "Swiss Army knife" and compared him to Vikings Legend Tony Richardson, with whom Sanchez played with the Jets in 2009 and 2010.
"When you're in a jam, C.J. Ham gets you out of it. He's like a fixer. He's Ray Donovan or something," Sanchez said, referencing the Showtime drama starring Liev Schreiber. "That's huge, to have somebody with that ability. And then somebody who has the mental capacity to take on all that stuff, right?
"We had a really good fullback with the Jets, Tony Richardson. He was one of my favorite teammates of all time," Sanchez added. "He was just, like, the all-time consummate professional, energy guy. He was so fun. He just gets you jacked up to go play. He's always in a good mood. He never has a bad day. And C.J. gives me that vibe. Those people are really special, and when you find a good one, you try to hang onto him."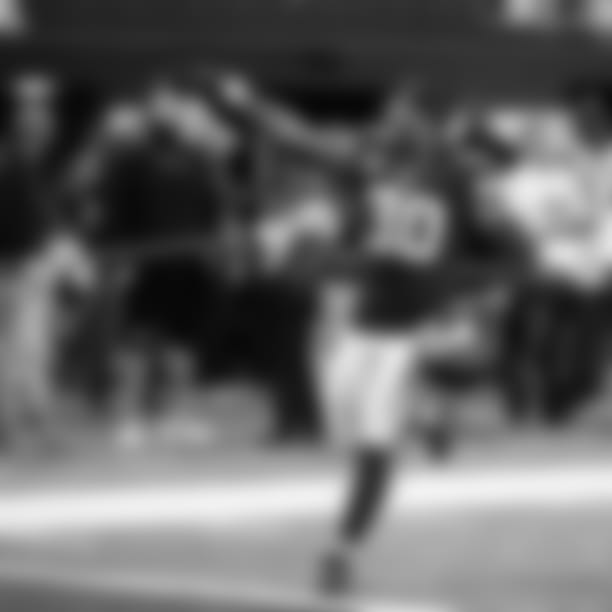 Be honest: How many NFL fans across the league do you think own a fullback's jersey? If we're being honest, the position likely isn't producing the top sellers.
And yet, it's always possible to spot some C.J. Ham jerseys at U.S. Bank Stadium or around the state of Minnesota on Vikings game day.
"It really does mean a lot," C.J. said. "Whenever they scan the fans [on the video board] I look up there, and just about every single time, I can spot a 30 jersey. And a handful of years ago, there were no 30 jerseys out there.
"It helps me realize how much of a blessing it is to play the game of football and have people who follow you – not just for your ability to play football but just for the person you are," C.J. added. "That means a lot to me, and I just want to keep making all my fans and all the people who care about me proud."
As he noted, even more fulfilling than the NFL fame is being recognized for the impact he and his family make on others.
"He's the kind of person you want in this organization because he sets the standard for so many guys," Cousins said. "If you say, 'How do we do things around here?' Go look at C.J. Ham. That's how we do things."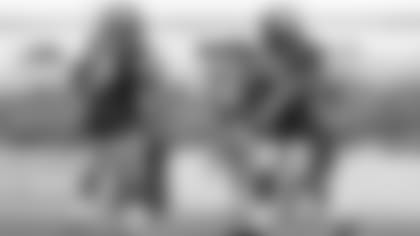 Just say C.J.'s name around Cook, and it'll prompt an immediate grin from the running back.
"C.J. is one of those guys that is just him. You love that about him. He's just C.J. Ham," Cook said. "Off the field, the things he does in the community are outstanding. He's a dad, and the things he does with his kids are amazing.
"I look up to him as a big brother, so that's my guy right there," Cook added, his eyes glistening. "You're about to make me cry talking about my guy."
Like Cook said, C.J. is just C.J.
While ramped-up COVID-19 protocols affected his ability to personally spend time with Calisha and her children, C.J.'s influence over the entire evening certainly was felt.
Nearing the end of his sixth season with the Vikings, C.J. wants to keep improving as a player but also to maintain his off-field contributions.
"Whether we're winning, we're losing, this is something that we try to do, and it's outside of football. It's bigger than football," C.J. said. "To be able to bring somebody joy, to be able to help somebody out, is bigger than football. I'm just happy that we have the opportunity to be able to do it."