Winter is here, and so is Sir Po.
Back in early October, prior to the ice and snow returning, Vikings Special Teams Coordinator Matt Daniels knighted Andrew DePaola as Sir Po before Minnesota hosted Chicago in Week 5.
Daniels worked with Football Video Coordinator Mia Stephens to create an illustration with DePaola's face on the body of Jon Snow, the popular Game of Thrones character, to coincide with DePaola being selected as the Vikings Special Teams Captain of the Week.
"We kinda knighted him and named him Sir Po," Daniels, 33, explained of his 35-year-old long snapper. "We did this Game of Thrones theme, so it kind of started off as 'House of Po.' You know, kind of like the Houses? Then it turned into Sir Po. So, he's Sir Po now."
And because the Vikings won that week, the Photoshop has been framed and hung on the wall of Daniels' office in Twin Cities Orthopedics Performance Center.
"People really liked it. They thought it was a hard pick," Sir Po explained. "They were all about it, because then you could see the dragons in the background, breathing the blue fire. I know a couple of weeks after that guys were saying, 'Man, I wish mine were as hard as DePo's. That was tough.' It was well received.
"After my graphic went up, [kicker] Greg Joseph was like, 'That one makes sense,' " he added. " 'Thank you. I appreciate that validity there.' "
Outside linebacker Pat Jones II, who has logged 232 plays on special teams this season, has watched the entire Game of Thrones series, including prequel House of the Dragon's recent first season.  
"Oh yeah, that graphic was super cool with the Iron Throne and everything. That was dope, for sure," said Jones, whose locker at TCO Performance Center is next to Sir Po's.
Daniels is nicknamed Hat for the aggressiveness with which he played safety and special teams before transitioning to the sidelines. He creates nicknames for most players and makes sure to have each week's captain relay his personal journey to the NFL during a meeting.
"Hat kind of has a theme as to who he picks and why, and I think at this point in the season guys have kind of picked up on it a little bit, but Captain of the Week is more like you share your story about who you are, why you are here, how you got here, something unique, things like that, kind of get to know people on more of a personal basis," Sir Po said. "I think it just helps guys become a little bit more of a tight-knit group. It's helped me get to know the guys on a deeper level. There's some things I just found out about guys who have been here for three years with me that I hadn't known before they got up and spoke to us. I think it's definitely helped us play more together as a team."
Daniels was well-versed on Sir Po's nonlinear path from walking on at Rutgers after playing quarterback at an all-state level in high school to filling in as the Scarlet Knights long snapper as an injury replacement. Between wrapping up on campus in 2010 and making an NFL roster for the first time in 2014, Sir Po worked multiple roles at DePaola's Pub (owned by his father in Maryland) and in loss prevention at a Best Buy until the Buccaneers brought him in for training camp in 2012.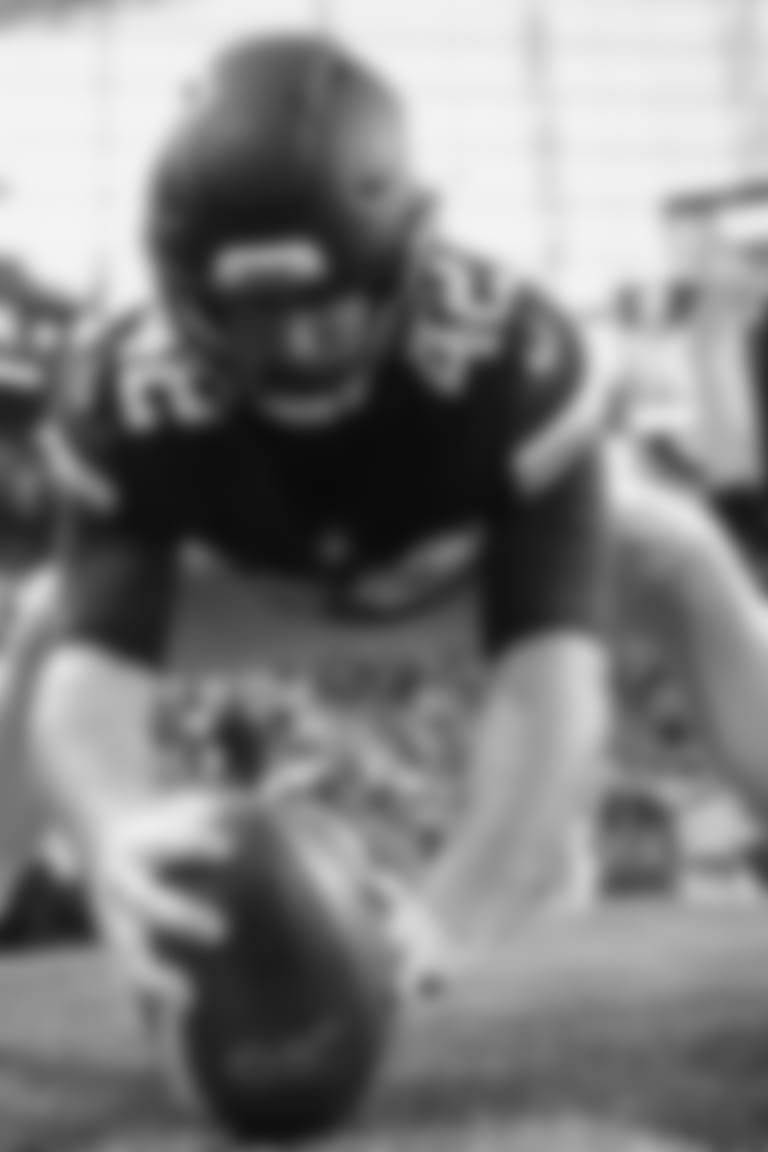 He didn't make the 53 that year, or the next, but persistence prevailed with a three-season run with Tampa Bay (2014-16) that ended with Sir Po tearing his ACL in the final game of 2016. He rehabbed and was able to play all 16 games for the Bears in 2017 before joining the Raiders in 2018. Sir Po tore his ACL in his first game with Oakland, and he was out of football for all of 2019.
"It was funny during my speech, because I think Hat pretty much knows my story, and I was talking and I'd get stuck, 'Man, where do I go from here?' Because for me, it's just my life," Sir Po said. "I don't really know what's interesting and what's not, so he was in the back, 'Tell 'em about this, tell them about that. Tell them what happened here.' I think there are certain things in my life that I hadn't shared with anybody and a lot of guys found out for the first time.
"I think a lot of guys didn't know I played quarterback and receiver in college," he continued. "They were like, 'Oh, wait a minute, were you 30 pounds lighter?'
" 'Yeah, I was actually 30 pounds lighter. Thank you.' As you tell your own story, because you went through it and lived it, you're not really sure what is interesting to other people, so Hat … was kind of like guiding me through my own speech," Sir Po added. "Some guys and even some coaches came up to me that were like, 'Dude, we heard about your talk and how you got here. That's really interesting.' It's my life, me. I got here. I don't think it's different than what a lot of guys did."
Sir Po journeyed to the North in 2020 when Minnesota needed to make an in-season change at long snapper. He worked the final seven games of that season, all 17 last year and today is playing his 15th of this season and 104th of his career.
When congratulated for recently playing in his 100th NFL game, Sir Po exclaimed with surprise, "Meeeee!? Really?"
"That's weird," he said, still processing.
"Wow, I think you might be the first person to tell me that. It's weird to hear," he followed before recovering and quipping, "I wish there was like a banner and some balloons or something, but wow, cool."
His fantastical and episodic journey is sincerely appreciated by teammates.
They already heeded his advice and welcomed his leadership — Sage of the North! — but further credence followed because of the way Daniels facilitated Sir Po's story to enhance connectivity between teammates.
"I always had utmost respect for DePo, but once I heard his story, my respect for him went through the roof from knowing everything he went through to get here," said Jones, a third-round pick in 2021. "I feel like since we do that as a team it makes us closer and closer. That's my locker mate, and since I know that, I respect him 10 times more."
Undrafted rookie punter Ryan Wright has made sure to absorb so many lessons from Sir Po.
"He's taught me what it means to be a pro and has taken me under his wing," Wright said. "I'm proud to be on his team.
"I think [his story] just shows how resilient the man is," Wright added. "Great team player. He's a fighter and takes care of his body. He's obviously one of the great long snappers in the league."
Joseph's own winding NFL path began as an undrafted free agent with Miami in May 2018, followed by time with Cleveland that season, Tennessee in 2019 and Tampa Bay's practice squad in 2020 before joining Minnesota in 2021.
"I think the biggest realization is that everyone has his own journey," Joseph said. "Some of the young guys just get in and they're in the league, and they're in Year 3 or 4 and are like, 'Oh, this isn't as straightforward as it seems for some other guys, some other positions,' so I think it opened guys' eyes to how hard this league can be and how resilient some of us are in this locker room."
Sir Po's contributions go well beyond his highly specialized job function through the entire locker room.
"We've got a few guys like that on our roster that, whether you're talking about Adam Thielen or C.J. Ham, DePo, they are so critical to what we've been able to build here from a culture standpoint," Head Coach Kevin O'Connell said. "We've got some pros that have earned everything they've ever gotten in this league. They've earned it and they've done it on hard work and dedication to this organization, and really the best part about it, is they've done it to be leaders and have an impact on our whole team.
"I'm fired up you asked me about him. He's been a real joy to just have on your team as a first-year head coach," O'Connell added. "You look to those guys. As we talked about with Adam Thielen and being our Walter Payton NFL Man of the Year nominee, there's a reason behind that. Just like there's a reason behind, if you polled our special teams players, just how impactful [Sir Po] is not only on the grass for us, but as a teammate in the locker room for sure."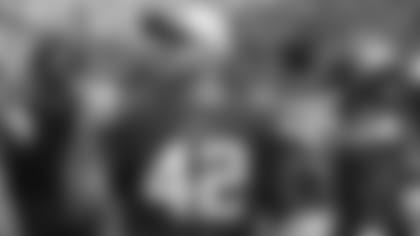 Sir Po's father Andy has always been a man of the people. No strangers — just friends or people to befriend. The trait runs through Sir Po's blood.
"My thing about this league, it's all about the relationships you make with people, and that's everyone from teammates to coaches to staff in the building," he said. "I think long after people remember what I do on the field, they're going to remember how I treated them and how I made them feel as people. I try to keep that in mind every single day.
"The minute I got here I just tried to get to know as many people as possible," he continued. "It was kind of difficult because it was the COVID year and not many people were here, but whoever was around, I tried to get to know them as much as I could, and I still do. I still go around the building, trying to meet as many people as I can. For me, that's a very big thing. People will remember for how I made them feel."
While the Sir Po nickname is inspired by a fictional hero, there's an authentic overlay that makes it fit so well.
"I'm about it. When I watched that show, I thought I related to him more, not because of him being an orphan or anything, but because he was very stoic and a good leader, handled his business, humble," Sir Po said. "A very good character. I like it."