K.J. Osborn has two passports.
The first is rare and required multiple stamps of approval to grant him access to higher and higher levels of football — and NFL end zones.
The second is more attainable but enabled him to venture across the Atlantic for a goodwill tour in the United Kingdom. Osborn and Danielle Hunter made the trip this summer ahead of the Vikings and Saints facing each other this weekend in the first 2022 London Game of the NFL's International Series.
Osborn's journey began in Ypsilanti, Michigan. His youth football team was the Wolverines in homage to the nearby University of Michigan, his mother's alma mater. The college allegiances of Osborn's father, however, rest with Michigan State.
Rather than pick a side — he didn't mind when Michigan won because it ensured "everybody is happy" in his hometown but later appreciated being recruited by Michigan State — Osborn closely watched the steady stable of Alabama running backs Mark Ingram, Trent Richardson and Eddie Lacy during his youth.
"I wanted to be a running back. ... I loved those guys, so I would always do my extra push-ups and sit-ups and try to be big and stocky like a running back. I wanted to go to Alabama," Osborn said. "I watched Reggie Bush before that, so I was always a running back. My sophomore year [of high school], I made the transition to receiver and then I started to look at Amari Cooper and some of the other guys growing up, Jarvis Landry, who I have a great relationship with now, and guys we see making plays today."
Landry, the five-time Pro Bowler, is now with the Saints, who also brought Ingram back last season.
Osborn played three seasons at Lincoln High School back home before transferring to IMG Academy in Florida, along with his best friend Tyler Mabry, now a tight end with the Seahawks. Osborn transitioned from running back to receiver as a high school sophomore.
The friends since fifth grade enrolled at the University of Buffalo and redshirted in 2015 before each played three seasons for the Bulls. Osborn then transferred to Miami, and Mabry headed to Maryland. Both sought to prove themselves in the ACC and Big Ten, respectively, in 2019 with hopes of making it to the NFL.
Osborn said that dream started to seem more likely after garnering All-MAC honors and totaling 53 catches for 892 yards and seven touchdowns as a redshirt junior. He earned another passport stamp the following year by recording 50 catches for 547 yards and five scores for Miami.
The football passport was stamped again when Minnesota drafted him in the fifth round of the 2020 NFL Draft. After he and draft classmates went through an unprecedented offseason, Osborn didn't play a snap on offense as a rookie.
He came back in 2021 and caught 50 passes for 655 yards and seven touchdowns for the greatest Year 1 to Year 2 jump by a receiver in Vikings history.
New Vikings Head Coach Kevin O'Connell evaluated the entire roster, and Osborn cemented his place alongside Justin Jefferson and Adam Thielen when Minnesota uses three receivers, which likely will be more often under O'Connell.
The successful trajectory hasn't decreased Osborn's gratitude for making it to the NFL and earning a significant role.
"I'm just extremely blessed," Osborn said. "You hear all the percentages growing up about the chances of being in the NFL and who doesn't make it and things like that.
"To be there, and people don't know [how hard it is] to make the 53, and then to be active and actually make plays, I'm so blessed. I don't take a day for granted at all, ever," Osborn said. "It's been a really fun ride. I'm enjoying it while I'm in it. I can't stress enough, I'm just extremely blessed and feel like it's my job to maximize the abilities that God gave me to play this game and show off the skills He gave me to bring kids along, to be able to give back to my family, my high school, to be a leader. Using football to bring people back to good things, to God and things like that, so that's what is probably the most meaningful."
Osborn explained his genuine gratitude days before catching the 28-yard game-winning touchdown pass from Kirk Cousins Sunday in Minnesota's 28-24 comeback victory. He also set up the score with a 28-yard reception on the previous play, accounting for 56 of his 73 receiving yards on the day.
"I read a book called Chop Wood, Carry Water. Each play, keep chopping, keep chopping, play by play, play the next play," he said after the game. "You know, the ups and downs, you have to keep fighting, and we came out on top."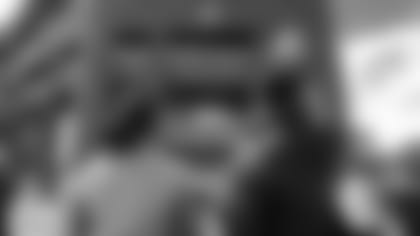 Osborn and Hunter spent multiple days in the United Kingdom after Minnesota's minicamp. They connected with longstanding fans of American football, encouraged youth who are becoming interested in the sport and received a private tour of Tottenham Hotspur Stadium, the home of the Premier League team. The venue, which opened in 2019, was also designed to accommodate NFL teams.
"I thought it was dope. It was a really sweet stadium," Osborn said.
At a much earlier age, soccer had been his first sport, so it was a particular treat for Osborn to visit locker rooms and have his Vikings jersey displayed with the Tottenham Hotspur jerseys for a photo shoot.
"I guess from what my parents told me, I don't remember much, but I was pretty good at it. I started transferring to baseball, but I'm a soccer fan," Osborn said. "I'm more of a bandwagon fan when the World Cup comes on and everyone is watching.
"When I was at IMG, there were a lot of international students and soccer was a big thing. It offered a chance to interact with all of the cultures and nationalities and learn a little bit," he added. "I'm excited [to play in London]. I heard everybody over there in London gets excited when we kick the ball."
That was true as recently as 2017, when Minnesota last participated in a London Game and defeated the Cleveland Browns 33-16 at Twickenham Stadium. But in the years since, football's popularity and appreciation of the non-kicking elements has continued to increase.
As for Osborn, he enjoyed the conspicuous double-decker red buses, trademark phone booths and learning about landmarks like London Bridge and Tower Bridge.
There also was the unique opportunity to attend the Goodwood Festival of Speed hosted at the estate of Charles Gordon-Lennox, the 11th Duke of Richmond, 11th Duke of Lennox, 11th Duke of Aubigny, 6th Duke of Gordon DL (Deputy Lieutenant).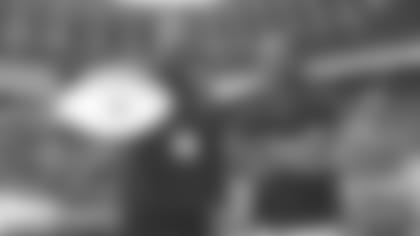 Osborn and Hunter presented Gordon-Lennox with a football in appreciation for his hospitality.
The event was particularly in Hunter's wheelhouse. The sports car enthusiast helped Osborn go along for the ride in more ways than one.
"Danielle was just coaching me up, telling me about all the different cars and seeing the electric cars and how fast they go," Osborn said. "Just being at the Duke's house and seeing how huge it was and all the events he has there and getting a chance to meet him and go on the balcony and see the big view of everything and the cars, that was really, really sweet."
Osborn was ready to ride — but not quite prepared for the acceleration of a Hennessey 1500 Ram. He was holding a Go Pro camera in the back seat, preparing to capture the experience when, ZOOOOOM!
"I was looking to the side, seeing the fans and I'm waving," Osborn said. "The driver just took off unexpectedly, and my stomach dropped, so that was fun, a really good experience going up the hill and learning what all that was about."
But Osborn's favorite experience was being able to attend tennis matches at Wimbledon that featured Rafael Nadal and Serena Williams.
"I've always been a tennis fan," Osborn said. "Once I start watching, I always get involved in it."
Before returning to America, Osborn attended the Flag National Championship at Loughborough University. The flag football tournament featured 12 finalist teams competing for a national title and trip to Las Vegas to represent the United Kingdom at the Flag Pro Bowl. More than 20,000 children in the United Kingdom now play flag football.
Osborn said it was "huge and humbling" to receive such an enthusiastic welcome and enjoy seeing the youth play flag football.
"Once you get in the NFL and you're playing, as with anything else, you kind of get used to it, and that's your life, but this is something we've all been wanting to do since we were kids," Osborn said. "We were walking up, seeing all the kids and were just so amazed, just seeing us NFL players and getting a chance to talk with them and interact with them, dance, have fun and get that energy.
"It's really sweet to see the game growing," Osborn said.