EAGAN, Minn. – Ice Ice Baby.
The hip hop song debuted nine years before Christian Darrisaw was born.
But the Vikings left tackle does know a thing or two about ice, though, as evidenced by his diamond-studded chain and coordinating "C.D." pendant. Darrisaw had the piece of jewelry custom-designed just before the start of the 2022 season, his second in the NFL.
Darrisaw only wears the chain on game days, he said, which means he had it on for Minnesota's trip to London last week. But on the way home, he let a couple of teammates try it on.
Darrisaw first gave the chain to cornerback Kris Boyd, who in turn put it on the neck of quarterback Kirk Cousins.
There was, of course, video evidence of the exchange.
"I had never actually put a chain on, so that was my first experience of what that feels like," said Cousins, who had just turned 2 when Vanilla Ice released his most famous song in August 1990. "Honestly, it was very empowering. It felt pretty good to have that chain on."
Cousins noted that the front piece of the pendant spins, so we had to ask Darrisaw about the custom design.
"My jeweler, we were just thinking about a few things we could do. I wanted my logo, and making it spin, that's kind of a dope thing," Darrisaw explained. "I said, 'You can go ahead and do it.' "
Darrisaw's C.D. initials don't only adorn the necklace but also have earned him a nickname from Cousins: Crime Dog.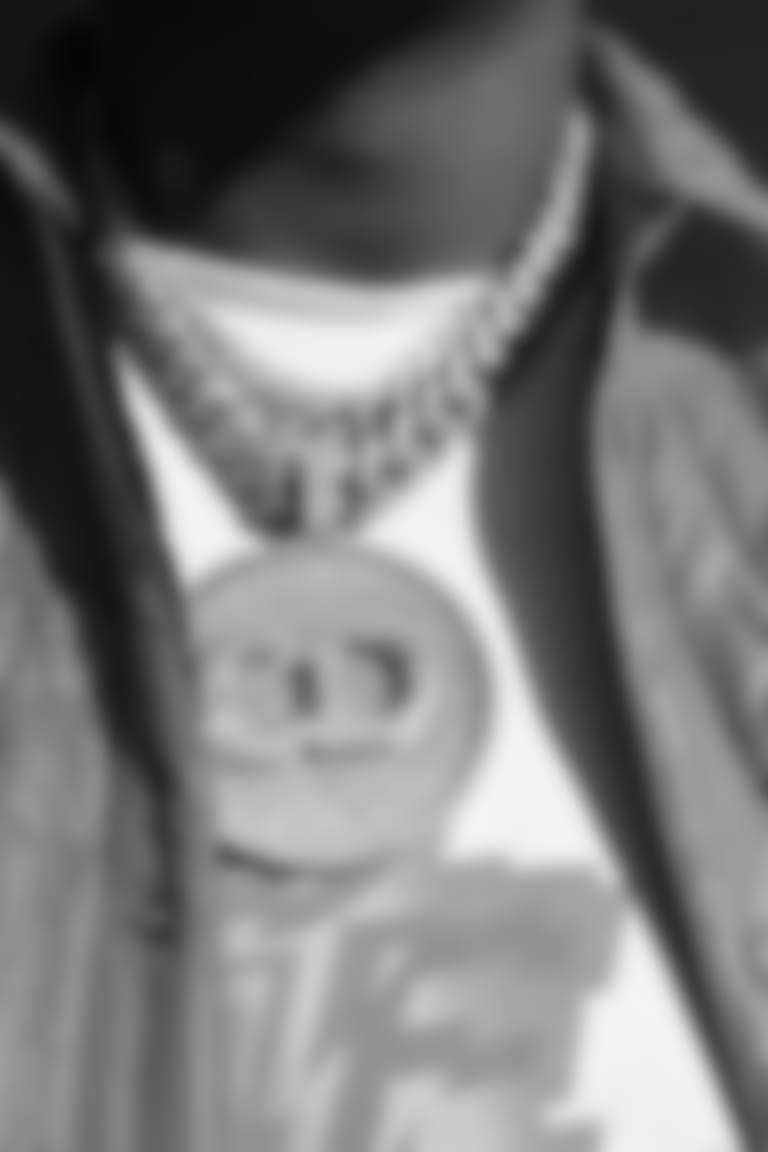 The moniker is in homage to former first baseman and World Series Champion Fred McGriff. The five-time MLB All-Star earned the nickname "Crime Dog" in a wag to McGruff the Crime Dog, an animated bloodhound used in the '80s and '90s to increase crime awareness and personal safety.
Cousins got the idea from a "fun fact" shown on the U.S. Bank Stadium videoboard last season that noted Darrisaw's early baseball career as a first baseman.
"I was thinking when you put up a stat about a player you say, like, first-round pick, did this in college or has done this in his pro career, but it just said when he was 10 years old, he played first base for his little league baseball team," Cousins laughed. "And I was like 'That's the best stat we can get on Christian Darrisaw?'
"I've actually asked if they could just leave that up every year for warmups. If he goes to Pro Bowl after Pro Bowl, just focus on the fact that at 10 years old, he played first base," Cousins continued. "So the Crime Dog, Fred McGriff, was a first baseman. Crime Dog, C.D., same initials."
Darrisaw had never heard of McGriff who, for the record, is four years older than Vanilla Ice.
Cousins took his younger teammate through a miniature MLB history lesson, pulling up his phone to show Darrisaw photos of the baseball player.
Darrisaw has embraced the nickname and also says he didn't mind the chosen videoboard note.
"I kind of liked it," he said with a smile. "I'm a guy where I really don't need too much attention drawn toward me … It's kind of fun."
Darrisaw played baseball up until 10th grade, which is when he pivoted his focus solely to a football career.
It's worked out pretty well for him, one could say.
After a solid rookie campaign that got off to a late start due to injury, Darrisaw this season has impressed through Minnesota's first four games.
The 23-year-old thus far has played all of the Vikings 266 offensive snaps and hasn't allowed a single sack, according to analytics site Pro Football Focus. Darrisaw has allowed just two quarterback hits and five hurries and hasn't been flagged for a penalty.
He's been a part of impactful plays, including a screen pass on third-and-15 last week against the Saints that resulted in an Alexander Mattison touchdown.
"Especially our tackles, we like being in space, so when we've got play calls like that, screens or a tackle option, running outside, [Brian O'Neill and I are] both athletic. Really, all five of us on the line," Darrisaw said. "But when we get out there in space, we know we're going out there against the little defenders, so we know we're gonna wipe those guys out, and whoever has the ball in their hands, they're going to make a play."
Having grown up near Washington, D.C., Darrisaw was just 13 when Cousins was a rookie quarterback. Now building their connection as teammates almost left Darrisaw speechless.
"It means a lot … a great quarterback for the city, and now to have him as a teammate, being his left tackle, it's really – I really don't have a lot of words to say," Darrisaw said. "Kirk's my guy. We all love him."
Big man, big plays, big jewelry and, as it turns out … big snores.
Darrisaw took some ribbing from Cousins and others, who said the lineman got better sleep than his teammates on the eight-hour flight to London.
"He was sawing logs," said Cousins, who sat directly behind Darrisaw. "We landed in London and Za'Darius [Smith] goes, 'C.D., I thought that was the plane! That was you?' And I said 'Yeah, Z, I'm one seat away from him. I barely slept.' On the way back, he somehow did a lot better and Dalvin [Cook] was congratulating him when we landed."
Cook corroborated the story.
"I thought it was a prank, to be honest," the running back quipped. "But everybody was like, 'That was C.D.!' I was like, 'No way possible.'
"I think he changed the way he laid down [on the way home]," Cook added. "I think he slept on his side instead of sleeping on his back, so that made everything better for us as a whole. He got good sleep. That was good for him. We got our sleep. That was good for us."
Cook and Cousins both agreed, of course, that getting a win and improving to 3-1 was the most important part of the Vikings London trip.
But some good-natured razzing and an unlikely chain swap? That just made the whole experience better.
After trying on the jewelry, would Cousins ever consider such a statement piece himself?
"It's tempting," he laughed. "They were talking about, 'What would you do,' and I have no idea. Certainly an offseason project, potentially."