Kirk Cousins is forever grateful that he tapped Bart Starr on the shoulder at Lambeau Field in 2013.
The Vikings quarterback recalled being a backup QB for Washington and visiting Green Bay for a Week 2 matchup nearly 10 years ago. Before leaving the locker room for warmups, he'd noticed in the Packers game-day program that Starr would be honored prior to kickoff.
"I thought, 'You know what? I may never get another chance to meet Bart Starr.' So I ran down the field toward the Packers tunnel, and I tapped him on the shoulder, introduced myself, and I just said, 'Thanks for your example. Thanks for all you represent, for what you've done for this league and who you are as a man,' " Cousins said. "It was an honor to meet him. I'll always remember that."
Cousins shared the above anecdote with Cherry Starr, the wife of the late Bart Starr. The two were married 65 years before Bart passed away in 2019 at the age of 85. Cherry spoke with Cousins via videoconference in December, and she told him he'd been selected as the 2022 Bart Starr Award.
"You're so much like Bart," Cherry said. "I'm one of your biggest fans, believe me."
Presented annually by Christian nonprofit Athletes in Action in partnership with the NFL, the honor "awards active NFL players who demonstrate outstanding character, integrity and leadership in their football careers and personal lives."
Cousins called it "an absolute honor" to be recognized by the award named after Starr.
"Obviously team awards are what we play this game for, but of the individual awards I've ever been able to win, this is far and away the most special to me," he told Cherry.
Julie Cousins, Kirk's wife, shared similar sentiments.
"In my opinion, the Bart Starr Award is one of the greatest awards Kirk could ever receive. I am so proud of him. For his football accomplishments, but really, what matters more to me is how he carries himself on and off the field — and the man that he is day in and day out, through ups and downs," Julie said. "What an honor for him to be recognized and applauded for his character and leadership.
"I see it every day — in the way he leads our family and others," she continued. "He strives to shine the light of Jesus. If you know him, you know he is incredibly humble. That is actually what I admire most about him, so getting a chance to celebrate him as he accepted the Bart Starr award was special."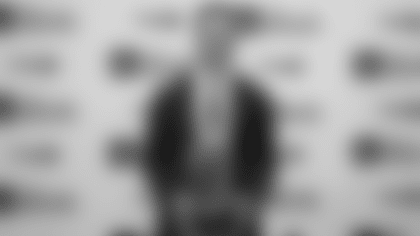 Cousins received the award Saturday during the annual breakfast event that's taken place annually before the Super Bowl since 1988. This year's program was emceed by former NFL edge rusher Akbar Gbaja-Biamila. The breakfast was attended by Vikings Head Coach Kevin O'Connell and Chief Operating Officer Andrew Miller, who also supported Cousins, along with Justin Jefferson, at NFL Honors two days prior.
"It was so special to have them there," said Julie.
In accepting the honor, Cousins gave a brief speech during which he shared the story of introducing himself to Starr.
"That's the only player I've ever done that with," Cousins said. "Looking back, I don't believe I did it because he was a great player. Many great players come back to our games to be honored. I really did it because of who I understood Bart to be."
Cousins noted Starr's NFL accolades, which include being a three-time All-Pro and two-time Super Bowl champion (and Super Bowl MVP) as a player, as well as serving as Green Bay's head coach from 1975-83 and later being inducted into the Pro Football Hall of Fame.
"But as impressive as all of this is, it's Bart's life off the field that's arguably more impressive," Cousins added.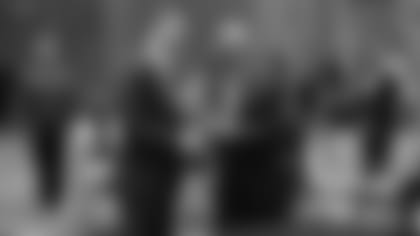 He recounted a number of adversities Starr faced, including losing his younger brother "Bubba" at just 11 years old.
"I have a brother myself, and I shudder at that thought," Cousins said.
"To the degree of how one responds to the tragedies of life and what one does to make a positive difference in the lives of others serves as a true measure of character and achievement," he said. "Bart and Cherry are people of the highest character and the highest achievement."
Cousins emphasized the couple's Christian faith, as well, and the impact their lives have made on his own faith journey.
"If you want to sum up the life of Bart Starr in a few words, you could say things like 'Leader. Respected. Humble. Coachable. Hard-working. Persevering. Faithful. Loving husband and devoted father.' Who doesn't want these words said about them and their life?" Cousins said. "However, you'd miss something very significant about Bart Starr if you also left out the word 'Christian.' Bart Starr was a follower of Jesus.
"He understood this as I do today: Football will one day end. Life is based on much more than football. But one thing that can't be taken from me is my personal relationship with Jesus," Cousins added, his voice swelling with emotion.
"[Starr's] was quite a life. It's an honor to receive an award in his name, and I can only hope at the end of my life to have someone speak of me as I have spoken of him today," he continued. "Thank you."