If it involves competition, chances are Justin Jefferson is good at it.
That proved true once again during the 2022 NFL Pro Bowl Skills Showdown, when it all came down to one final challenge.
After competing in various drills, the evening's representatives from the AFC and NFC squads faced off in Epic Pro Bowl Dodgeball. The game was captained by NFL Legends Rod Woodson and Reggie Wayne (AFC) and Luke Kuechly and Jason Witten (NFC).
You would think the athletes were back at recess the way they took the field, and all bets were off as usual-opponents teamed up against the opposing conference.
The AFC lost two players – Patriots QB Mac Jones and Chargers S Derwin James – early on, but the competition quickly evened out. Things got serious when Trevon Diggs tagged out his older brother, Stefon, but then was eliminated by Browns RB Nick Chubb.
And then, there were two.
Jefferson and Chubb eyed one another up as if grizzled gunslingers prepping for an old-fashioned standoff. Each took a few steps toward the midline, then backed off. Jefferson wound up and launched the bright yellow ball, which Chubb aptly dodged. Chubb then took his opportunity and fired toward the Vikings receiver.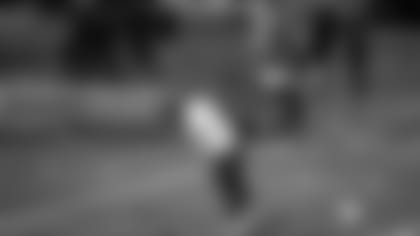 Everyone knows Jefferson's got good hands, though.
Like he's done time and time again on Vikings game day, Jefferson caught the ball – effectively eliminating Chubb and earning the NFC a victory not only in dodgeball but in the overall event.
Jefferson was swarmed by his teammates, who hooted and hollered over the walk-off win.
"It feels great, it feels good. Had to clutch out in dodgeball to win the whole thing," Jefferson grinned afterward, his diamond grill sparkling in the stadium lights. "I'm just grateful we got the 'ship."
Jefferson held up the trophy and laughed with his teammates.
One fan yelled from the stands, "Justin, hit the Griddy!"
The Vikings receiver of course obliged, breaking into a brief rendition of his signature celebration dance.
Jefferson was joined in the dodgeball game by Vikings teammate Kirk Cousins, along with five other members of the NFC team: Cowboys CB Trevon Diggs, Cowboys LB Micah Parsons, Saints RB Alvin Kamara, Eagles CB Darius Slay and Seahawks QB Russell Wilson.
The AFC team consisted of Chubb, Ravens TE Mark Andrews, Bills WR Stefon Diggs, Chiefs WR Tyreek Hill, James, Jones, Raiders WR Hunter Renfrow and Browns CB Denzel Ward.
Cousins is an avid dodgeball player; in addition to participating in the event during the 2019 Pro Bowl in Orlando, the quarterback also regularly incorporates dodgeball into his summer football camps in Michigan and Minnesota.
"I've never done great in it [here, though] – I've always kind of gotten knocked out," Cousins quipped beforehand. So hopefully this year, I can be the last man standing."
Though Cousins didn't last until the end, he hung in until mid-game.
Cousins also competed in the Thread the Needle event, in which one QB from each team threw balls at various targets against DBs from the other squad. Cousins totaled 11 points against James and Ward but was outscored by Jones, who recorded 12 points against Diggs and Slay.
A new event this year included Best Catch, which challenged players to come up with their most creative catches, similar to an NBA dunk contest. Four players – two AFC and two NFC – did two rounds each.
Jefferson and Trevon Diggs received passes from Cousins and wowed the fans, with Jefferson incorporating two footballs, a between-the-legs basketball move, Viktor the Viking and – of course – the Griddy – on his grabs.
The NFC athletes won Best Catch with a final score of 394.4, defeating the AFC's 378.7 logged by Stefon Diggs and Hill.
"There was a lot going on, but once he took off, it was pretty impressive," celebrity judge and actor Anthony Mackie said of Jefferson's second catch.
Other events in the Showdown included Fastest Man, in which Parsons surprised everyone by defeating Hill for an NFC win, and Precision Passing, a throwing drill where players aim to hit targets worth different point totals. Each team enters a non-QB player and a QB, and Jefferson competed for the NFC as a non-QB. Unfortunately, he finished with a score of 0. Russell Wilson stepped in and racked up 29 points, though, which easily gave the NFC squad an advantage over the AFC's 8.
"That was hard," Jefferson said. "I mean, the wind is blowing, it's cold out here, I didn't really warm up. But it's all good; I knew Russell was going to hold it down for us."
He made up for the donut in passing, though, in the grand finale dodgeball event.
"The Skills [Showdown] was an amazing experience for me," Jefferson said. "Playing with top guys, competing with different activities, different skills [and] drills. Being able to go against the AFC with the Best Catch challenge, and then finishing the day off with dodgeball and getting a win for the NFC and taking the trophy home.
"It definitely was a highlight night," Jefferson added. "We came home with the 'Dub.' "