EDEN PRAIRIE, Minn. – Just your everyday post-practice team photo.
Or at least, that's what Olof Indridadottir thought as she posed with her son and his fourth-grade teammates following their youth football practice.
She suddenly noticed a hooded figure walk up beside her; turning to look, Olof's mouth dropped at the sight of Vikings star receiver – and her favorite player – Justin Jefferson.
The 22-year-old unzipped his jacket to unveil a Purple No. 18 jersey and smiled warmly at Olof.
"Congratulations – you've been selected as the Minnesota Vikings Fan of the Year!" Justin exclaimed.
He hugged Olof, who alternated between laughter and expressions of disbelief.
"Oh, wait. We have one more thing for you," said Justin, before reaching in his pocket and presenting Olof with two tickets to Super Bowl LVI, which will be played at SoFi Stadium on Feb. 13, 2022.
After recovering from the initial shock (again), Olof gave Justin another hug.
"This is awesome. You're such a great person," she told him. "When I watch football, talent is great, but the way you play the game and how you act outside of the game … you just care. And I like seeing you play.
"I play defense, but you're my favorite player. Don't tell [Danielle] Hunter," she quipped.
Olof later reflected on her reaction.
"It was too much of a surprise," she said. "I was too shocked to say anything."
The Vikings are proud to draw fans from all over the world, and it's tough to find someone more deserving of the annual award given to one person from every NFL fanbase.
Olof is a mother of 4 and native of Iceland, having immigrated to the United States in 2016.
"You're a real Viking!" Justin exclaimed.
Not only does Icelandic Viking blood run through Olof's veins, but she also fell in love with the NFL – and specifically the Vikings – and plays tackle football herself as a defensive end for the Women's Football Alliance's Minnesota Vixen, though she currently is rehabbing a torn ACL.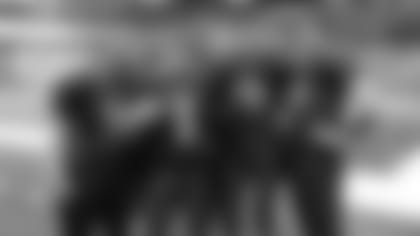 Olof and her now-husband, Kyle, met in 2006 when Kyle took a year-long sabbatical to move to Iceland, where his own family immigrated from in the late 1800s, and learn the language and culture. While in Iceland, Kyle stayed with a host family who turned out to be Olof's Aunt and Uncle Sigrun and Bjossi. He met most of the family over the first four months of his visit, though Olof was away at nursing school.
"One weekend, the boys asked if I could drive them to the movies with their cousin, and I agreed," Kyle recalled. "That evening I answered the door when their cousin arrived and was face-to-face with my future wife, Olof."
The two were married in under a year.
Olof at the time played handball and soccer for the Icelandic National Team and was introduced to American football and the NFL by Kyle. The rest is history.
"We started [watching the Vikings together] in 2010," Olof said. "There was a six-hour difference, but it didn't matter. We were still watching the games. We were a little tired the next day, but it was OK."
The dedicated pair of fans even made a few international trips to Minneapolis from Iceland to watch the Vikings play before relocating permanently to the States.
Olof is not only dedicated to her Vikings but also to making a difference in the lives of others.
In addition to working in the Twin Cities community with young women on football training and development, she also is committed to and passionate about health care. Olof recently completed her doctorate in nursing at the University of Minnesota. Over the past two years, she has used her training in infectious diseases to impact not only her local community but also cities outside of Minnesota that have needed extra support during the COVID-19 pandemic.
She currently serves as an assistant professor of nursing at St. Catherine's University, where she enjoys pouring into the next generation of health care providers.
"I'm a rehab nurse, [and] I switched into teaching because it's my passion to help my students become their best selves and the best nurses they can be," Olof said.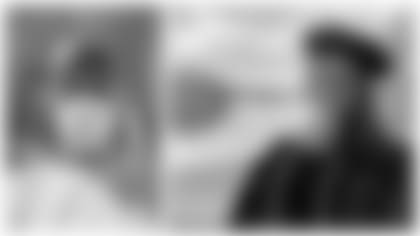 During summer break, though, she signed up through the U.S. Department of Health to help support facilities that were struggling through the COVID-19 pandemic. She traveled to work in Indiana and also was set to head to New York, but that trip was canceled last minute.
Justin was all smiles after surprising Olof. He took the time to engage in a few 1-on-1 discussions with Olof and happily signed autographs for each youngster before then joining the team photo. The second-year receiver encouraged Olof in her recovery from ACL surgery and expressed his respect for everything she's done.
"It feels great to bond with people around the community," Justin said of interacting with Olof and other fans after a rookie season drastically altered by the pandemic. "I'm really seeing what Minnesota is like … and I'm able to meet with people. It feels good to finally see how people's lives are.
"Hearing her story is crazy. Being from Iceland, playing football, playing defense – and being a coach. She's amazing," he added. "And she's a nurse, too, so she's been doing so many types of things. She's Superwoman."
But if you ask Olof, she doesn't see herself that way. She's grateful for her circle of friends and family and wakes up every day hoping to make a difference.
"It's teamwork. My husband is as equally excited about football as I am. Our date nights are sometimes tackling drills," Olof laughed. "I have this inner motivation to just live my life, try things to see if I can do it, and just do my best. Either I succeed or I don't, and if I don't, I just continue trying until I get where I want to be.
"I'm just a mom, a nurse, from Iceland, who plays football. I'm just me. I'm not [anyone special]," Olof emphasized. "I like helping people succeed, whether as a nurse, a teacher, a mom, so [Justin] coming here, for me, is just something I didn't expect."