Long before Jordan and Kyle Rudolph had an NFL platform from which to contribute to the community – and years before the two even met – Jordan appreciated various opportunities to give back.
She recalled raising funds for cancer research through "Relay for Life" when her mother was diagnosed with breast cancer and spending consecutive Thanksgivings serving food with her family at a Salvation Army near their home in Union, Michigan.
When Jordan went on to attend college at Saint Mary's, she participated in a dance marathon to raise money for Riley Children's Hospital in Indianapolis.
"My cousin was a patient at Riley, so Riley has always been very near and dear to our hearts," Jordan said.
When Kyle was drafted by the Vikings in 2011, he and Jordan relocated to begin their new life in Minnesota. It wasn't long after that the couple started finding ways to get involved with the Twin Cities community.
Their largest venture has been partnering with the University of Minnesota Masonic Children's Hospital, in which **"Kyle Rudolph's End Zone"** is currently under construction and due to open this winter. Jordan and Kyle have committed to the hospital, its patients and their families and regularly host visits or holiday parties, such as Tuesday's **Halloween Huddle**.
"We've met some incredible kids, some awesome families and heard their stories," Jordan said. "Now with the End Zone opening up in December, we're finally getting to put our stamp on the hospital and really see our impact."
Jordan has done some behind-the-scenes work, as well.
Last year, Jordan was made aware that the hospital had run out of its supply of blankets typically offered to each patient to use during his or stay and then take home.
Jordan contacted a number of other Vikings wives and girlfriends, and **the group took action**. From selecting and purchasing the fleece to assembling the blankets there at the hospital, the women soon had replenished the reserve.
She also has hosted a spa day at the hospital that allowed patients' mothers to get a manicure or a haircut without having to spend too much time away from their children.  
"I'll always remember, one little boy was losing his hair already and was very self-conscious about it, and he wanted to come down and get an actual haircut so it was all one length; and he wanted to save it to remember what his hair once was," Jordan recalled. "I'd love to continue to get the wives involved and let them be a part of it, too, because it's so rewarding."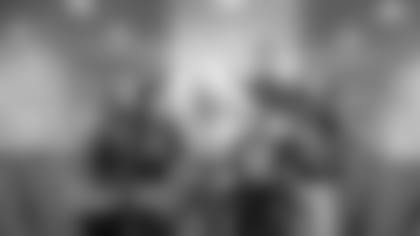 A year of new perspective
Being involved at the children's hospital has more strongly hit home since becoming a mother herself.
On Oct. 4, 2016, Kyle and Jordan welcomed identical twin daughters, Andersyn and Finley.
"Now, here we are a year later, and now that they're 1 and healthy and everything, I think Kyle and I both walk through there and think, 'Gosh, we're so lucky,' " Jordan said. "We're so lucky to have two healthy children and so lucky to not have had to spend any time in the hospital, other than when they were born – normal stuff, no NICU or anything like that.
"But when you walk through the hospital, it definitely hits home," Jordan continued. "Whether you see a baby or you see an 18-year-old … it just hits you. And it's way different as a parent than it was before."
Motherhood has given Jordan a new outlook on life in a number of different areas.
Reflecting back over the past 13 months, Jordan has proven to herself that she can "handle more" than she thought she could.
"It's never really, 'Well, this, this and this are going to happen today.' It's really, 'Well, it's very likely that none of that will happen today, and things will not go your way.' And that's fine," Jordan said. "I think I've always been very go-with-the-flow, but it's at a whole new level. If things don't get done, it's like, 'There's another day.' I can't beat myself up about stuff like that."
Jordan said she feels blessed to spend full days with the girls but that it's always welcome when Kyle comes home to offer an extra set of hands – catching passes by day, playing catch with his daughters by night.
And even amid the occasional chaos, Jordan and Kyle wouldn't change it for the world.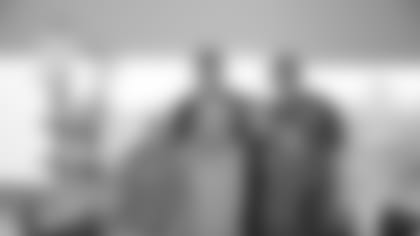 "It's so much fun," Jordan said of motherhood. "And I've realized how I've become more patient. I think my mom and dad would probably say that; growing up I wasn't the most patient, and even before I had the girls, I wasn't the most patient with myself or with other people. And I think that has improved."
After having the twins, Jordan also gained an increased gratitude to her own mother.
"I found myself saying, 'Oh, gosh. My mom was right.' You know that feeling, where you're like, 'Do I dare say it?' And then you're like, 'No, I do. You were right,' " Jordan said, laughing. "We're very similar, so we don't always get along, and we can butt heads, but there's just a whole new appreciation for her and what she's done for my brother and I over the years, and for Kyle and I, and the grandma that she's now become, that new role."
Added Jordan: "She's an even better grandma than she was – and is – a mom."
When initially encouraged by her mom to start a public blog, Jordan didn't jump at the idea. Although she had been a communications major at St. Mary's and had an interest in writing, she felt that there might not be an interested audience.
She soon was encouraged by other family members and friends to share her unique experiences of an NFL spouse and mother of identical twins.
"I know I'm not the only mother of twins in the NFL; there are multiple," said Jordan, who mentioned that Matthew and Kelly Stafford also are raising identical twin daughters. "But this lifestyle is very unique, and there's good, there's bad and there's ugly. I think starting it was just getting the courage to be unfiltered and show that side of our life.
"Of course everybody wants to see the pretty picture and paint the pretty picture, but not every bit of it is pretty," Jordan added. "I think it's important to be unfiltered, and that was kind of my goal with the whole thing."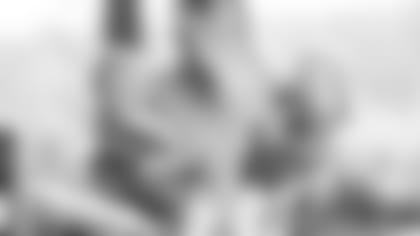 Jordan emphasized that being a first-time mom can be overwhelming and confusing, and she hopes to create both a dialogue and a reassurance for new parents.
"I hope it's inspirational and a light-hearted read, but that it also has good insight on our life," she said.
As Jordan and Kyle raise Andersyn and Finley, they are excited about continuing their dedication to the children's hospital and making it a family affair.
Jordan has valued the time she and Kyle have been able to give back together, but the twins have also been included from nearly day one.
"We had the 2016 Halloween Huddle at the hospital two-and-a-half weeks after they were born," Jordan said. "It's really important for us as a family. Yes, it's important for Kyle and I, but we also want to rai
se the girls in knowing the importance of giving back, using your time wisely and using [the resources you have] to help others. I think that's so important to continue to ingrain in them for the rest of their lives."