Most days, Johnny Mundt sets his alarm for 6:40 a.m.
The Vikings tight end is intentional about his morning routine, waking early and taking time to brew and drink coffee before jumping into his agenda.
"I like to prepare for the day mentally and not feel rushed out the door," Mundt explained.
And even on those incredibly rare days of sleeping in? He's always up before 9.
The morning mindset has been ingrained in Mundt since childhood.
He remembers his grandfather, Dave Hendley, coming over from his farmhouse across the street. Dave often would be in the kitchen, drinking coffee, before Mundt and his two younger brothers even had gotten up for school.
Mundt grew up in Hughson, California, a town of fewer than 8,000 people that is about 100 miles east of San Francisco. He comes from six generations of farmers, including Dave – who first farmed peaches and later walnuts. In 1999, Mundt's parents started Alpine Pacific Nut Company, a plant that processes more than 75 million pounds of walnuts per year.
"Grandpa always got up before the sun does. That was always instilled in me," Mundt said. "My parents did that, too. In the summertime it was never, 'You guys are sleeping in.'
"There's always something to do," he added. "When the sun's up, it's go time."
That meant the Mundt brothers helped, but Johnny quipped that he and his brothers, Sam and Joey, never were given jobs that "we could mess up too bad."
"Expensive mistakes, so to speak," he laughed.
Sometimes, the brothers would walk down the rows of the orchard, behind a tractor, scooping up prunings – the branches cut off the walnut trees during hedging – and tossing them into a trailer.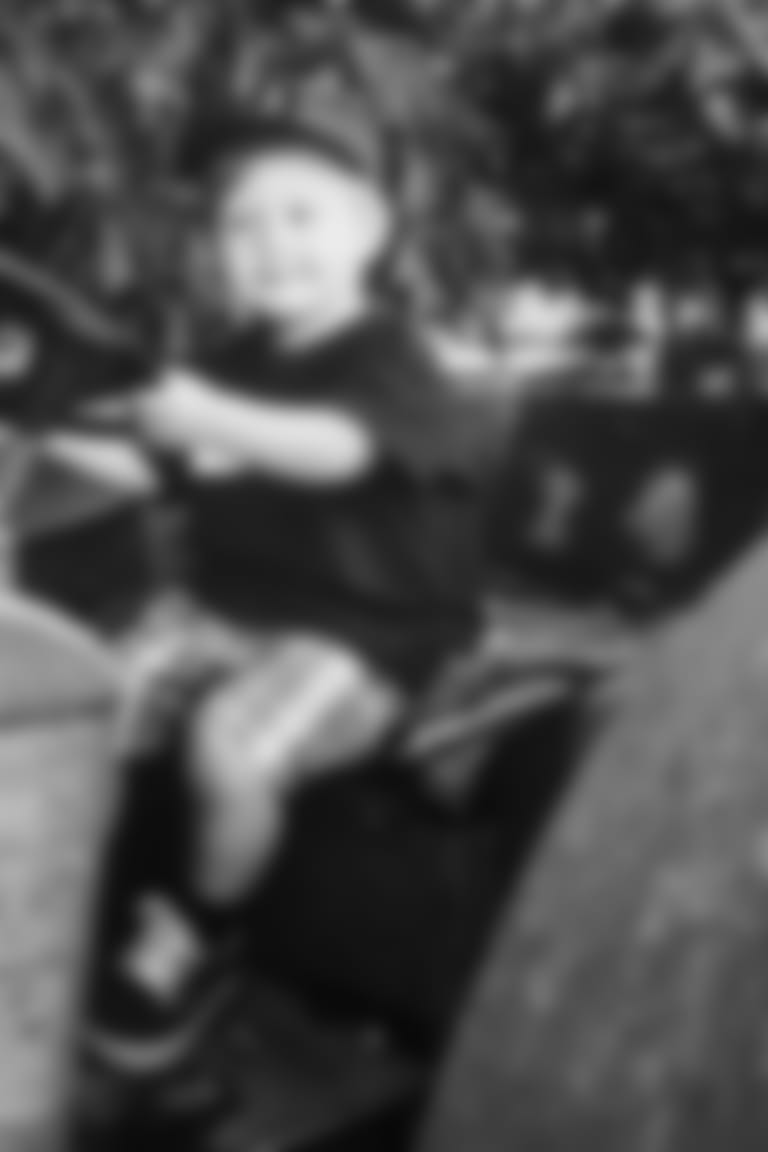 Other days, they'd cut suckers. The chore entailed walking around the trees with a pair of shears and removing low-hanging limbs that grow off the base of the tree and deplete – "suck" – the nutrients.
"You need to cut those and allow all the nutrients to go up into the walnuts," Mundt explained.
They'd work in shifts: Sam would drive the tractor for two hours, and then Joey would take over for two hours. After a lunch break, Johnny would finish out the day.
"There are always suckers that need to be cut," Mundt said. "It was not fun. But there's always something to be done."
In some ways, life looks a lot different nowadays. But at 27 years old and starting his sixth season in the NFL, Mundt approaches football not too unlike farming.
"There's always something that needs fixing," he said. "In farm life and football, nothing's ever 100-percent finished. There's always something that needs to be done, to be checked on, to be cared for."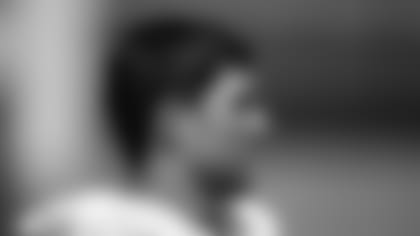 For Mundt, that currently means extra film study, consistent mobility work, taking additional catches after practice, taking care of his body. He's also purposeful about stepping away from football for moments here and there to clear his mind and recharge to be at his best.
"There's always something to give you an edge," he said.
That dedication to his craft has paid off in big ways for Mundt, who grew up a die-hard 49ers fan looking up to the likes of Jerry Rice and Joe Montana.
Johnny recalled going to occasional Niners games with his dad, and above his bed hung a framed Sports Illustrated magazine. The cover headline read "Joe Knows Super Bowls" and pictured an airborne Montana high-fiving guard Guy McIntyre during Super Bowl XXIV, in which San Francisco defeated Denver 55-10.
"My uncle worked for Upper Deck, so at a little clinic he got a personalized signature for me," Johnny said. "It said something like, 'John, you're going to grow up to be a great young man – Joe Montana' or something like that."
He never pursued the quarterback position, but Mundt started playing football at 10 years old.
He vividly remembers his first Friday of third grade, noticing that many of the boys in his class were wearing football jerseys with their names on the back in preparation for Saturday's game.
"I had just missed sign-up day or something, and I felt so left out," Mundt said. "I was so bummed that I didn't have a jersey."
So when fourth grade rolled around, Mundt signed up for the football team and got his own jersey.
He fell in love with the sport and played all throughout middle school and junior high, then at Central Catholic High School. With only 400 students across all four grades, Central Catholic fielded a small football team on which nearly everyone played both ways.
Mundt played tight end and outside linebacker, garnering attention at both.
He played on the JV squad as a freshman, was elevated to varsity for the playoffs and never looked back. In 2012 as a senior, he totaled 33 catches for 625 yards and eight touchdowns. He additionally recorded 80 tackles and 15.5 sacks.
Looking back, Mundt knew during his junior year of high school, after receiving his first scholarship offer, that football would be a major part of his life.
"I loved defense," he said. "I was a very physical player. But most colleges saw me as a tight end, so that's … where I knew I had to channel my focus."
Johnny shined throughout his career at Oregon, and in 2017 he signed with the Rams as an undrafted free agent.
After five seasons with the Rams, including earning a Super Bowl LVI championship in February, Mundt was signed by the Vikings in March. He came to Minnesota with new Head Coach Kevin O'Connell and Offensive Coordinator Wes Phillips, who served as Mundt's position coach in L.A. His knowledge of the offense has been a tremendous benefit in meeting rooms and on the practice field.
While he's learning the ins and outs of the Twin Cities – "the humidity was a surprise, they definitely drive a lot slower on the freeway here, and the people are so nice" – Mundt is able to help his new teammates learn a "foreign language," per se.
"There are some instances where the first time I talk to a guy is when he's next to me on the field asking, 'What do I have on this route?' I tell him, and then he comes over after and says, 'Thanks, bro,' and then we start talking from that," Mundt laughed. "So it can go the personal route, or it starts with football and we get to know each other from there.
"The guys have been great," he added. "There's a really great culture here."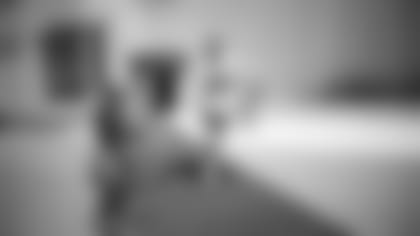 There are times Mundt misses those days back home, when he'd spend hours riding quads through the walnut orchards with Sam and Joey or take a weekend ski trip to the Sierra Nevada Mountain range.
"Growing up in the country is invaluable. I loved it," he said. "Living with that space is something I can never take for granted."
He also doesn't ever take for granted that he's living his NFL dream.
"I'm super grateful to have been surrounded by such great people, as far as players, that just elevate my game and show me what to do on the offensive side of the ball, as well as the defensive side of the ball. Coaches that really saw something in me, truly inspired me – 'Johnny, you can do this. You've got a shot,' Mundt said. "It's just been such a blessing to have people help me reach my goals and have success. But I do try to live in the now. It's just day by day."
Mundt has the added benefit of working with Phillips, who has emphasized the tight end's strength and smarts.
"In L.A., the defensive players started calling him "Strong Hands Mundt," Phillips said. "Johnny's physical in the run game; he's explosive as a runner."
Mundt's skill set goes beyond just blocking, though, as we've seen while Irv Smith, Jr., has been sidelined with a thumb injury.
"Early in camp, he had a ball where he went up and caught it on the top shelf," Phillips said. "He's just a reliable guy that's kind of done each phase – whether it's the pass protection, the run game or the pass game, you just know what you're getting from Johnny.
"He's always been a really solid player, and I'm excited about him in a different role – seeing how he flourishes with a few more ops," Phillips added.