Josh McCown stepped back in the pocket, and Jared Allen screamed around his left side to topple the Bears quarterback from behind.
In one smooth motion, Allen rolled off McCown and onto his feet, running into the open field to the roar of a raucous Metrodome crowd. The defensive end knelt down, tied an imaginary rope around a rodeo calf and threw his arms up in the air.
"Voice of the Vikings" Paul Allen captured the moment on the radio broadcast:
"There it is! Jared Allen haaaaaas done it! Twenty-two sacks – a new Vikings record!"
It was New Year's Day, Jan. 1, 2012.
With just over five minutes remaining in the third quarter of Minnesota's 2011 regular-season finale, Allen notched his third-and-a-half sack of the contest. The takedown effectively set a new Vikings single-season record, surpassing Chris Doleman's 21 sacks recorded in 1989.
Allen remembers every piece of that play a decade later.
"They were in split backs. The backs stepped up to block the middle, and l was able win on the edge," Allen recalled this week. "Plus, the crowd was great, and I had a good jump on the ball. When you've got two-and-a-half, you know you need one more … So you definitely know what's coming, and you know your opportunities."
The Vikings fell 17-13 to the Bears that day, but the game remains in the record books.
"It was phenomenal," Paul Allen said. "It brought energy to a game that otherwise was lacking energy."
Throughout the 2011 campaign, Allen's game had been a thing worth watching.
"He was basically un-blockable that entire season," Vikings Legend Chad Greenway told Vikings.com.
Brian Robison, who played his first season as Minnesota's other starting defensive end, described Allen as being "on fire" every single game, despite the team's overall struggles.
"I had some of the best rushes of my career that year and had to split half of them with Jared," Robison quipped. "It was special to watch it happen because when you look at it, he just made all the right decisions. That whole year was a clinic tape."
Minnesota finished that season just 3-13, tying its worst record in franchise history. And yet despite the win-loss totals, Allen absolutely thrived in the pass rush.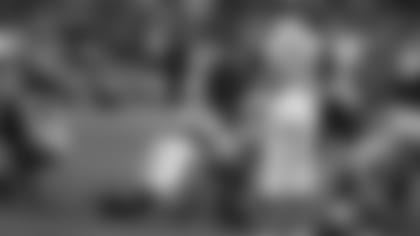 Paul Allen will never forget the thrill of watching Jared Allen hunt down opposing quarterbacks at the line of scrimmage that year.
"When the season has gone sideways, that doesn't mean there won't be cool plays and reasons to get excited and for the guys to jump around on the field," Paul Allen said. "Every single time he fired off the ball, specifically on passing downs, you got a hundred percent. I mean, you got his absolute A-game, and that was just phenomenal to follow."
McCown, who spent 2002-09 in the NFL before spending 2010 with the United Football League's Hartford Colonials, returned to the NFL in 2011. He started two of three games he played that season and was plenty familiar with – and had plenty of respect for – Allen's game.
"Everybody talks about Jared's motor, but his skill set, too. He's uniquely gifted to be able to bend and get around edges, and he's underrated athletically. And I think underrated strength, too," McCown told Vikings.com. "He can go speed to power sometimes, and if he did that, it caught everybody off-guard because it's not really his go-to. His ability to change it up and do that enough to be effective set him apart. His speed and ability to bend off the edge was unique – and as good as anybody that I remember playing against."
Looking back on what made the 2011 season so personally special, Jared Allen noted one simple but significant point:
"Honestly, I just didn't miss."
The Vikings Legend recalled poring over film during his playing days. Every season, he said, there'd be "six or seven" missed sack opportunities he'd beat himself up for. Not in 2011, though. In 2011, there were just two instances that irked him.
The first was at Lambeau Field in Week 10. Aaron Rodgers fumbled as he tried to scramble and recovered the ball 7 yards behind the line of scrimmage. Allen contacted him down, but the sack was ruled a team sack.
And second, a hit on Drew Brees at the exact moment the Saints QB released the football.
"So they didn't count that [as a sack]," Allen said. "So other than that, maybe one other where I hit them as they were throwing? But it was just one of those years, when I got to the quarterback, they had the ball, and I got them on the ground.
"It was one of those special seasons," he added.
You could say that again.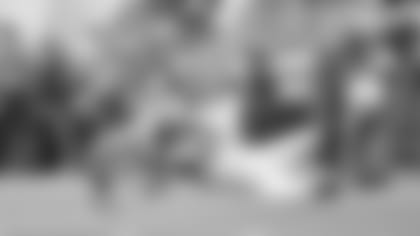 Allen recorded at least 3.0 sacks in three different games. In addition to the finale against Chicago, he also racked up three apiece in each of Minnesota's games against Detroit. The Lions prevailed in both divisional matchups, but Allen certainly didn't make it easy on Matthew Stafford.
He also had a trio of two-sack games, taking down Chiefs QB Matt Cassel and Cardinals QB Kevin Kolb twice. He also sacked Rodgers two times when Green Bay visited Minnesota in Week 7.
Allen, who played for the Vikings from 2008-13 after being traded from Kansas City, lined up alongside All-Pro Kevin Williams during the duration of his time in Minnesota.
Williams described Allen as the "wild child" of a "pretty well-rounded" defensive line room that also included Pat Williams, Robison, Ray Edwards and Fred Evans.
"We had all types of guys there, and Jared kind of was the wild card guy that would say anything and kind of do anything," Williams laughed. "But he also was a good leader in the fact that he showed up every day, he gave it a hundred percent, and he was a great teammate. He kind of got a reputation of being a 'bad guy' when he was in Kansas City … but Jared was a great person, great heart, and once you get to know him, he'll do anything for you."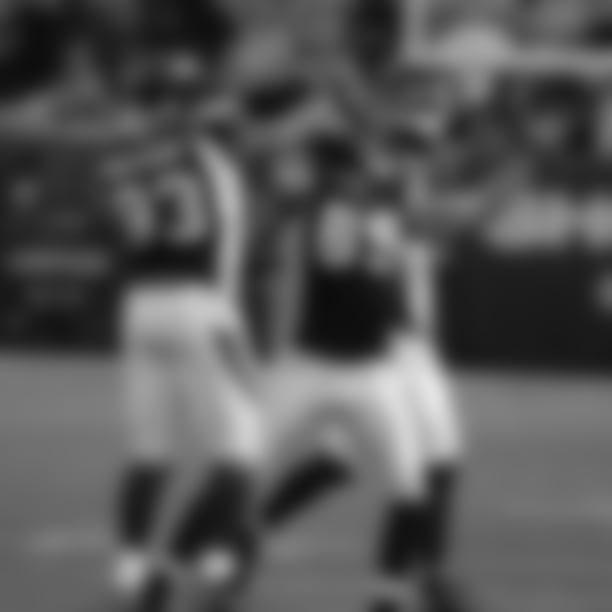 Williams revisited the "memorable year" Allen had in the linemen's fourth season together. He pokes fun at his friend and former teammate, but the respect heard in Williams' voice is undeniable.
"I was working my tail off, and I was like, 'Y'all just gonna keep single-blocking this guy every game? He's at 15, 16 sacks, and y'all still sliding the defense over here and trying to double-team me.' I'm like, 'You've gotta be kidding me,' " Williams quipped. " 'I mean, this guy's over here doing the ropin' celebration three, four times a game, and y'all haven't tried to double him yet.'
"Some games they did, but the majority of them, they were just like, depending on their tackles, 1-on-1 – and, I mean, Jared was eatin'," Williams added.
Chicago defeated Minnesota in both meetings that season, but Allen still made his presence felt.
Against the Bears in Week 6, Allen recorded a sack of Jay Cutler. McCown at the time was simply a reserve but later replaced Caleb Hanie, who had stepped in for an injured Cutler. McCown recalled game-planning in both instances for Allen.
"You'd try to slide your protection toward great defensive ends like Jared, and that way, when that tackle sets, he can set for Jared's speed by kicking wide, and he knows that he's got that guard coming in his pocket to help if Jared decides to go inside," McCown said. "But when you have guys like Kevin Williams inside … well, now you can't necessarily do that.
"You're going, 'We need to set the center so he and the guard can double Kevin.' Well, that puts that tackle that's away from those guys on an island with Jared – and you don't love that, either,' " McCown added. "So you're sitting there in the meeting room going, 'OK, how're we going to get this protected?' "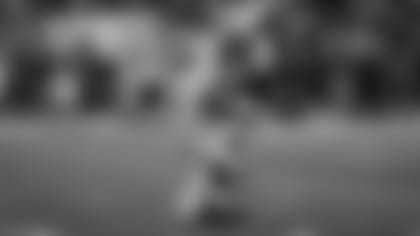 While Allen's entire 2011 campaign was impressive, he didn't start really seeing the single-season record as attainable until near the end of the year.
"That was at the top of my goal list every year," Allen said. "But I think it was a weird season, too, where I was really trying to get the sack lead, and Jason Babin and DeMarcus Ware were having insane seasons, as well. So I knew going into that last game, I think I had 18.5, and I think I only had the sack lead by, like, half a sack. … So for me, I think that kind of helped me not focus on the record so much. I was competing with those guys to have the sack lead for the season."
As Allen warmed up for the Week 17 Vikings-Bears contest, he couldn't shake the feeling that something was about to happen.
The only problem was, he couldn't put his finger on whether the premonition was positive or negative.
Allen remembers talking pregame to his wife, Amy, and a friend who had seats near the field.
"They asked, 'How do you feel?' And it was like, 'Dude, honestly, it's either going to be crazy good or crazy bad … I'm either going to get zero sacks this last game and have the worst game of my life, or I'm going to have the best game.' I just couldn't describe it. I just had this feeling it was going to go one way or another."
Allen shared his first sack of the day with Erin Henderson late in the first quarter, dropping McCown for a loss of 5 yards. He sacked the Bears QB again five minutes before halftime, forcing Chicago to punt.
On the first play of the third quarter, Allen sacked McCown again, bringing his total for the day to 2.5.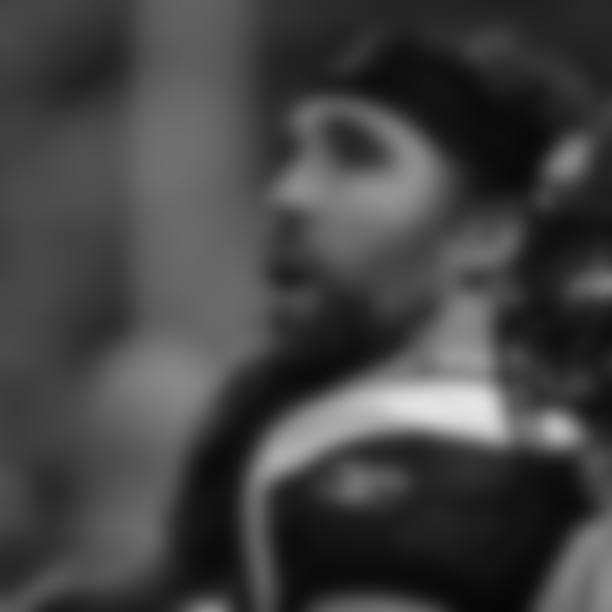 Was there a concerted effort, then, to get Allen to the quarterback?
Williams will tell you there was.
"It started out business as usual, but after he got those first couple, I think we kind of started stacking the box and basically funneling the guys to try to get him 1-on-1 so he had a chance to get it," Williams said. "There were a few times I know we started all-out pressuring him, just to try to give him a shot to get the sack record."
Allen also is quick to give credit to his teammates and then-Defensive Coordinator Fred Pagac.
"I'm sure 'Pug' would say he was just doing it to win and create matchups, but Kevin's absolutely right," Allen said. "They were chipping up through the middle, they were chipping up out to the edge, so I got that half sack early. And I got another one, and I think when I got to around 20, 'Pug' kind of was like, 'Well, all right, let's just keep this thing going.'
"It became a team effort. Everybody was excited, everybody was thrilled," Allen continued. "So everybody's just playing with their hair pinned back, and 'Pug' was calling a great game."
McCown also can attest to the Vikings relentlessness in coming after him.
"They schemed it well and created 1-on-1s for Jared. Which, obviously, he won a lot of," McCown quipped. "I can remember in that game, Chad Greenway walking up in the A-gap going, 'Dude,' because, you know, both teams are kind of out of it, and we were sitting there laughing and he's like, 'When we get this record, we'll stop blitzing, but we're coming. We're gonna get our guy the record.'
"You're sitting there like, 'Man, what are we gonna do here?' It was a fun cat-and-mouse game," McCown said.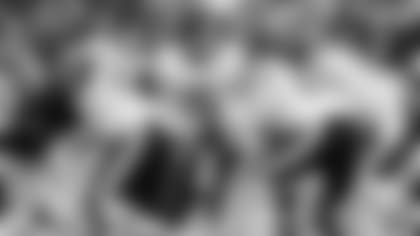 Interestingly, both Allen and McCown vividly remember one play in which the mouse escaped the cat.
McCown remembers running to his left and feeling Allen pursuing him, but the quarterback was able to get rid of the ball before being chased out of bounds.
"I know he's trying so hard, and I'm trying … to put out tape to secure a job for the offseason. I'm running, like, 'You're not getting me! You're not getting me!' And he's laughing, going, 'Go down!' It was just fun," chuckled McCown. "I'm running, and I flip it out, and he's all mad. And I was like, 'Man, I'm not trying to be on the replay for the next 30 years.' "
When Allen did notch 3.5 that day, though, the Metrodome erupted.
"It was cool, his pursuit of the record. And the great thing was, he didn't do anything out of the ordinary for who he was for 17 weeks out of the year," McCown said. "He was playing, he was laughing, he was having fun and his motor was running. And I appreciated that. That made the moment fun, and that made the game fun."
Among those on the Vikings sideline celebrating with Allen was Doleman himself, who had been invited by the team.
Most probably wouldn't enjoy a front-row seat to their achievements being passed. But for Doleman, it simply gave him another reason to root for Allen.
Cameras showed Doleman, wearing his purple Vikings Ring of Honor blazer, smiling and embracing the younger player.
Allen had gotten to know Doleman over the years and held the 2012 Pro Football Hall of Fame class member in high esteem. To have Doleman there for that moment meant the world to Allen, who currently is among 2022 finalists for enshrinement in Canton.
"To be able to celebrate with him – he was such a true human being. Just a good human being," Allen said of Doleman, who passed away in January 2020 after a battle with brain cancer. "I think anybody would say they'd love to have their records stand, but it's kind of just part of the game. He broke somebody's record; mine will probably eventually be broken. And I think that's just kind of, that's who Chris was. Chris was genuinely excited for others' success.
"That's how our relationship always was. He was always there for advice when I needed it … so it meant the world to be able to give him a hug, just tell him thank you for being such an amazing player and giving me somebody to chase after," Allen continued. "Half of the stuff I was able to do was because I had great players to chase, which pushed me to be even better and better, to never be satisfied until I got over those hurdles."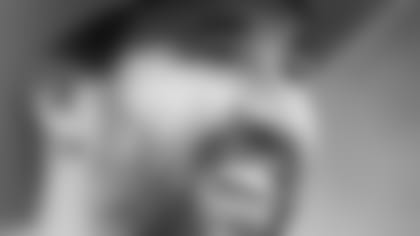 Breaking one record, missing another
Allen's accomplishment was lauded by fans across the league who'd grown to love the rowdy, mullet-wearing Viking.
But of course, Allen had also fallen just short of the second hurdle he'd hoped to clear that day.
Dan Weiderer of the Star Tribune wrote the following in the next day's paper:
Defensive end Jared Allen, the Vikings lone Pro Bowl pick, showed he had no interest in taking the holiday off, delivering one last captivating and record-breaking performance. Allen recorded 3.5 sacks to finish with 22, a franchise best and just a half-sack off Michael Strahan's NFL record.
"It's like being runner-up at the prom," Allen told reporters of barely missing the league record. "The crown doesn't weigh as much."
When asked what he would have done had he notched one more sack, Allen responded:
"I probably would have thrown my helmet in the crowd. I would have jumped up, ran up, kissed my wife and my baby in the suite and walked into the locker room quick. I don't know. I might have done some turf angels, probably would have cried. They probably would have given me a 15-yard penalty."
"Winning is what this job is all about," Allen told media members. "It's been a great individual season. But at the same time, we are 3-13. That's garbage."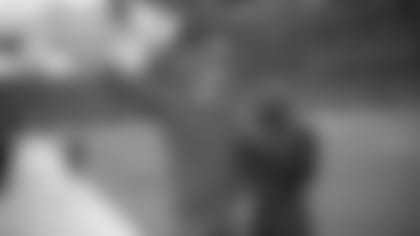 The sentiment remains true. To this day, Allen views 2011 as a bittersweet chapter of his NFL story.
"It can be hard to enjoy your individual success in that environment," Allen said. "But the defense as a whole, they all took part in that. They know things really do work together. I would hope that everybody on that defense took a little piece of that with them."
Williams called Allen's record the season's highlight.
"It was something for us all to work toward and cheer for, and it was great to be a part of," Williams said. "If taking two [opponents] a lot of times was freeing him up, it was an honor to do it. He always cashed in, I can say that. I didn't have much to complain about when he was always cashing in and making those plays and getting the quarterback to the ground."