EAGAN, Minn. — The two Vikings years for Jan Stenerud were short in comparison to the Hall of Famer's 19 pro seasons, but the connections were strong and remain deep.
Stenerud visited Twin Cities Orthopedics Performance Center on Thursday when he was in Minnesota to speak at an event in honor of Norwegian Constitution Day, an annual celebration of Norway declaring its independence at Eidsvoll on May 17, 1814.
As Stenerud toured the sparkling new Vikings headquarters, he chatted with Vikings punter Ryan Quigley, kicker Kai Forbath and equipment manager Dennis Ryan outside Minnesota's new locker room.
Stenerud then made it up to the level where the coaches offices and personnel department are for a quick interview with Vikings.com.
The Norway native explained how he came to the United States to compete in ski jump and cross-country skiing at Montana State when fate directed him toward football. Part of Stenerud's workout routine to prepare his legs was to run the steps of the stadium. He did so in the summers and falls of his freshman, sophomore and junior years.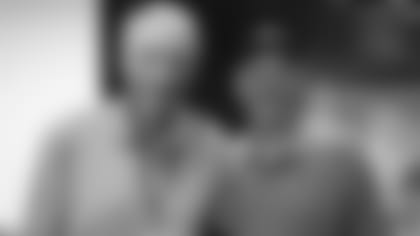 "One day of my junior year in 1964, I ran the stadium steps, and the kicker was kicking field goals. He kicked with his toe like [50 Greatest Vikings member] Fred Cox," Stenerud explained. "I went up and kicked a few like he did and noticed I could kick the ball farther than he did. After a few attempts, I said, 'Can you kick with the side of your foot like a corner kick in soccer?'
"He says, 'Yes, you can. There's a guy from the Buffalo Bills. His name is Pete Gogolak. He kicks with the side of his foot,' so I did that on my own many times the next three or four weeks," Stenerud continued. "In late November of 1964, I'm running the stadium steps again, the football team is working out before the last home game. The football coach had gotten the word from the basketball coach, who had seen me from his office window, that this Norwegian skier was kicking the ball a long ways.
"The football coach yelled at me and said, 'Hey, skier, get down on the field. I hear you can kick.' I had never put the ball on the tee before, so I kicked a few from the kickoff, and my second one went through the goal posts from 40 yards and into the seats. I did that again, and the football coach … "
Stenerud breaks from the story at the site of Vikings personnel consultant Paul Wiggin, who was Stenerud's head coach with the Chiefs from 1975-77.
The pair quickly shift into fond memories and catch up with each other.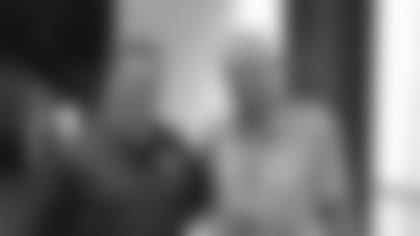 Special Teams Coordinator Mike Priefer is next to pass by. Priefer had never met Stenerud, despite working in Kansas City from 2006-08, but always enjoys the opportunity to talk football, particularly with the first pure placekicker to be enshrined in the Pro Football Hall of Fame in 1991.
The two discuss how much more focus is placed on the kicking game in the NFL these days, from wind studies to the alignment of the ball on holds and how little nuances can make big differences.
Scott Studwell, the Vikings all-time leading tackler, then spotted his former teammate of two seasons and quickly reconnected. Studwell and Stenerud have maintained a relationship over the years, even **teaming in February** to raise funds to fight hunger.
Rookie Daniel Carlson, who is of Swedish descent, then enjoyed the opportunity to meet with a "fellow Scandinavian," before Head Coach Mike Zimmer also swung by to say hello.
After all the chatting, Stenerud was kind enough to resume the interview mid-story:
"… I kicked a few and impressed him enough, so he said, 'What are you doing tomorrow afternoon?' I thought, 'This is the land of America, who knows what can happen here?' I went out for spring practice and made the team."
Gogolak, a native of Hungary who was a rookie in 1964, and Stenerud, who joined the Chiefs in 1967, were significant in ushering in soccer-style kickers. NFL scouts turned their eyes to Europe for players with similar kicking backgrounds.
Stenerud led the NFL with 21 field goals made and 36 attempts in his rookie season and then made four consecutive Pro Bowls. He led the NFL in field goal percentage four times (75.0 in 1968 and 77.1 in 1969 with Kansas City, 91.7 in 1981 with Green Bay and 87.0 with Minnesota in 1984). He battled through a back injury in 1985 before retiring amidst significant fanfare.
"I had played soccer since I was 3 or 4 years old," Stenerud said when asked to explain his success. "I had a knack for kicking the ball. To play soccer, you don't know who has the strongest leg on the team.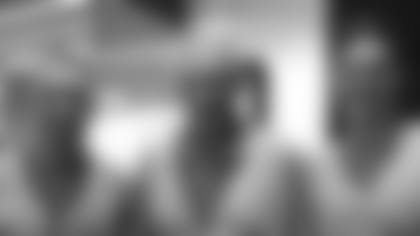 "I was stubborn, liked to compete and just did the very best I could," he added. "I was able to be a professional for about 20 years. For it to start off, in the beginning I didn't know. They went all over the world to find people like me, but after a couple of years, I realized they're not going to find anybody. I think I have a gift where I can compete with anybody."
During his visit, Stenerud stopped by Priefer's office, and the coach pulled up tape of Forbath and Carlson.
"I was telling him about the digital tape and how I could call up all of these different games," Priefer said. "I showed him the practice tape from when Kai and Daniel were kicking. He looked at me and said, 'I haven't talked technique in over 40 years. I had so much fun today.' I think he had a really good time as well. It was a great honor for me to meet him."
Priefer said he picked Stenerud's brain "a lot more than he picked mine."
"He was kind of watching the technique, but his deal was that they didn't have any full-time snappers and they just started at the end of his career to get full-time holders," Priefer said. "They were in muddy conditions … cold, wet, icy conditions. Our kickers don't deal with the stuff that he had to deal with. Everything is so specialized now, and you need to be to be an 85-90 percent kicker. He was a great kicker in an era where it was very difficult to be a great kicker."
Stenerud said he received status as an American citizen in 1976 after a 15-year process. He lives in the Kansas City area but tries to visit Norway at least yearly.
"I'm an American citizen now, but I'm still very proud of where I came from, and I'm very proud of what I represent today here," Stenerud said.
He's also grateful that part of his time in the pros included the Vikings and an area with so many fans of Scandinavian heritage.
"It was fun for me to be here, even if it was a short visit," Stenerud said. "I was very happy to be here for a couple of years. There was a group right behind the goal post, every home game, I have no idea who made the sign, it was probably 30-40 feet wide, it said, 'Jan, han kan gjore det.' It means 'Jan, he can do it.' "