Every season, a team's lineup of games offers particularly intriguing matchups between players from opposing squads.
Now that the 2017 schedule has been set in stone, let's take a look at seven of the top 1-on-1 showdowns that fans can expect to see between Vikings players and their opponents.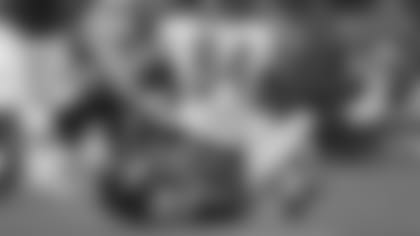 Week 2 at Steelers: CB Xavier Rhodes vs. WR Antonio Brown
For the first time since his rookie season, Xavier Rhodes will have a chance to match up against Antonio Brown, a five-time Pro Bowler and three-time All-Pro. Brown has notched five 1,000-yard seasons in his career, including most recently accomplishing the feat four consecutive times. In 2016, Brown tallied 106 catches for 1,284 yards and 12 touchdowns, his second-highest scoring total.
In Minnesota's last meeting with Pittsburgh, Brown recorded 12 catches for 88 yards but did not make it into the end zone. Brown was tackled twice by Rhodes in just the cornerback's fourth NFL performance.
Rhodes had an impressive 2016 season, snagging a career-high five interceptions and effectively covering talented receivers that included Kelvin Benjamin, DeAndre Hopkins and Odell Beckham – whom he held to just three catches for 23 yards in Week 4 – on the way to his first Pro Bowl.
Week 3 vs. Buccaneers: WR Stefon Diggs vs. CB Brent Grimes
Don't let Brent Grimes' age fool you. The 33-year-old is entering his 11th season but hasn't shown much sign of slowing down. Grimes tied for fourth place in the league with four interceptions in 2016, making it his fourth consecutive season with at least four picks, including three that have been returned for touchdowns.
Grimes will likely spend a portion of the game assigned to Diggs, whom the Vikings drafted in the fifth round in 2015. After an impressive rookie year and then recording 84 catches for 903 yards and two touchdowns in 2016, Diggs will be looking for a breakout third season in Purple.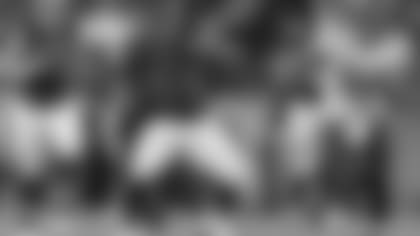 Week 5 at Bears: LB Eric Kendricks vs. RB Jordan Howard
Chicago selected Jordan Howard in the fifth round of the 2016 NFL Draft, and he came on the scene with fury. In his first season with the Bears, Howard recorded 252 carries for 1,313 yards and six touchdowns. Howard notched 288 rushing yards and one touchdown in two meetings with the Vikings, including a 69-yard run at Soldier Field. The rookie was tackled nine times by Eric Kendricks, who will look to shut down the running back on his home turf. Kendricks has had an impressive first two seasons with the Vikings, leading the team in tackles last year with 126 (86 solo) and returning an interception 77 yards for a touchdown at Tennessee.
Week 6 vs. Packers: S Harrison Smith vs. TE Martellus Bennett
Martellus Bennett isn't a new foe for the Vikings, but it will be the first time Harrison Smith sees the tight end in yellow and green. The Packers signed Bennett in March as a free agent, and he provides another offensive weapon for Aaron Rodgers. Bennett adds Rodgers to a list of talented quarterbacks he's played with over his nine-season career. After spending four seasons in Dallas with Tony Romo, Bennett spent 2012 with Eli Manning and the Giants and 2013-15 with Jay Cutler in Chicago. Last season, 40 of his 55 catches, 454 of his 701 total receiving yards and six of his seven touchdowns were from Patriots quarterback Tom Brady. Brady missed the first four games of the season due to suspension.
Smith in 2016 recorded 91 tackles (69 solo), 2.0 sacks, two passes defensed and two fumble recoveries en route to his second consecutive Pro Bowl nod. Smith has tackled Bennett five times, all while Bennett was with the Bears, and will look to wrap him up again as a division rival, albeit in a different jersey.
Week 10 at Redskins: DE Everson Griffen vs. T Trent Williams
Everson Griffen is entering his eighth year with the Vikings and coming off consecutive Pro Bowl seasons. Griffen totaled 8.0 sacks in 2016, second on the team behind Danielle Hunter (12.5), and will look to increase that number in 2017, but he will be going up against a talented tackle at Washington in four-time Pro Bowler Trent Williams.
The Vikings in Week 9 didn't face Williams, who was serving a four-game suspension for violating the NFL's substance abuse policy. Despite the missed games, Williams was tabbed by Pro Football Focus as the league's top offensive lineman in 2016 after allowing just 10 quarterback pressures against Kirk Cousins in eight games. Williams is also a talented run blocker who helped Washington average more than 100 rushing yards per game.
Week 13 at Falcons: T Mike Remmers vs. OLB Vic Beasley
The Vikings signed former Panthers tackle Mike Remmers in free agency, and one of his toughest challenges of the season may come against the Falcons, who lost to the Patriots in Super Bowl LI. Remmers is expected to play right tackle and could have his hands with outside linebacker Vic Beasley. Beasley, who was drafted No. 8 overall in 2015 – and in the same class as Hunter – led the league in sacks with 15.5 in just his second NFL season. Beasley is a physical force that often comes around the left side to create plays for the Falcons, and Remmers and the rest of the offensive line will need to be well-aware of his whereabouts while protecting Sam Bradford.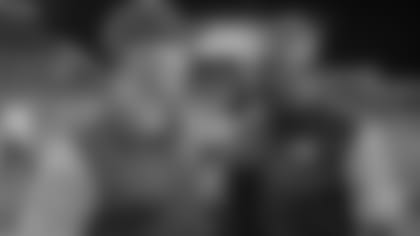 Week 15 vs. Bengals: Head Coach Mike Zimmer vs. Head Coach Marvin Lewis
For the first time since leaving his position as Cincinnati's defensive coordinator to take the Vikings head coaching job, Mike Zimmer will coach against Marvin Lewis and the Bengals in the regular season. The Vikings and Bengals faced each other during the 2016 preseason.
Lewis has been the head coach in Cincinnati since 2003 and hired Zimmer as the defensive coordinator from 2008-13. Since Zimmer took the helm in Minnesota, the Vikings and Bengals records are 26-22 and 28-18-2, respectively. In 2015 and 2016, both teams were among the NFL's top 10 teams in scoring defense.