EAGAN, Minn. – The Minnesota Vikings will open the 61st season in franchise history by visiting the Cincinnati Bengals at noon (CT) Sunday at Paul Brown Stadium.
Here are all the ways to catch the action, a synopsis of the series history and a key topic addressed this week by Vikings Offensive Coordinator Klint Kubiak, Assistant Head Coach/Co-Defensive Coordinator Andre Patterson, Co-Defensive Coordinator Adam Zimmer and Special Teams Coordinator Ryan Ficken.
FOX (KMSP FOX 9 in the Twin Cities)
Play-by-Play: Chris Myers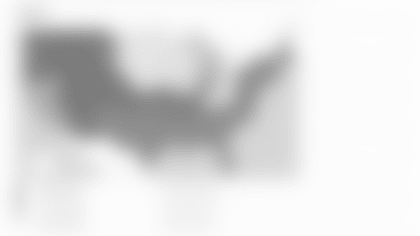 Fans who live in the yellow areas shown on the map from 506sports.com will be able to watch the game on their iOS mobile devices with the Vikings app or Vikings mobile site (Safari browser only). The Yahoo! Sports app for smartphones and tablets offers another method for viewing live local and prime-time NFL games.
Radio: KFAN (100.3-FM), KTLK (1130-AM) and the five-state Vikings Radio Network
Radio Pregame Show: Hosted by Mike Mussman (10 a.m.)
Sideline reporters: Greg Coleman and Ben Leber
Minnesota: Sirius 133, XM 383, SXM App 820
Cincinnati: Sirius 137, XM 228, SXM App 806
Keep the Vikings nearby wherever you go with the Minnesota Vikings mobile app. A source for news and exclusive features, the app also will stream video broadcasts of games for people in the market/broadcast area of each game.
Click here for the full bevy of options that include over-the-air, cable, satellite, over-the-top and streaming methods.
Start your free trial of NFL Game Pass today to re-watch Vikings games on-demand. NFL Game Pass includes condensed games, live game-day audio, NFL programming and much more.
The Vikings are 7-6 all-time against the Bengals but just 1-6 when playing in Cincinnati. The lone victory by Minnesota there, 42-7, occurred on Sept. 27, 1992.
It was the fourth game under Vikings Ring of Honor Head Coach Dennis Green. Rich Gannon threw four touchdown passes for Minnesota, and the Vikings intercepted Boomer Esiason four times, including three by Todd Scott.
Kubiak on getting new tight ends up to speed
In addition to preparing for his first game as Minnesota's play caller, Kubiak has been helping integrate new tight ends Chris Herndon and Ben Ellefson into the offense.
"I'd say they are one of the more difficult [positions to quickly onboard] because they are so detailed in the pass and run game," Kubiak said. "But the great news is that [tight ends coach Brian] Pariani, we've worked together for a long time and he's got a lot of knowledge in this system and he's able to get these guys up to speed quickly."
Kubiak was asked about Herndon specifically and described the recent acquisition via a trade with the Jets as a "quick study."
"Really been impressed with the hard work he's putting in. He's really working hard to get everything down, and Coach Pariani's spending a lot of time with him," Kubiak said. "We're going to have a role for him, and we've just got to keep getting him reps in practice and getting him ready. It's more on us; he's putting in a lot of work himself, and we've got to do a good job of getting him a good menu where he can go and play confidently."
The Vikings entered camp with a competition between veteran Stephen Weatherly and Wonnum. Weatherly, who returned to Minnesota after spending 2020 with Carolina, opened as the starter on the preseason unofficial depth chart, but Wonnum, a second-year pro, has swapped places. Expect both to have an impact for Minnesota this season.
"He made plays when he was on the field. He was active in the run game, he was active as a pass rusher. It wasn't anything that Stephen Weatherly did wrong, it was more that D.J. made plays out there," Patterson said. "As a defensive coach, you want as many playmakers on the field as you can. I think he helps us. Stephen is going to play a lot, and I'm glad he's here, but the reason D.J. earned the job is because he showed he has the ability be a playmaker."
Zimmer on defending Joe Burrow
Burrow, the No. 1 overall pick of the 2020 NFL Draft, is on track to return to action Sunday after missing the final six games of last season with a torn ACL.
Burrow passed for 300-plus yards in five games last season, which is tied for the third-most by a rookie.
Zimmer said part of Burrow's impressive debut resulted from his ability to play fast so early in his career.
"We've got to be tight in progressions, read and react quickly to what we're seeing. He does get the ball out extremely fast," Zimmer said. "For a young guy, he knows where he's going to go with the ball, which is really impressive. We've got to be right with our eyes, No. 1. And No. 2, we've got to play fast and get to the spot."
Ficken on adding punter Jordan Berry
The Vikings opted to switch punters and part with Britton Colquitt after two seasons once Jordan Berry was released by Pittsburgh. Berry, who was born in Australia, played in 91 games for the Steelers.
"That was a very difficult decision. Obviously Colquitt has done … a great job, so that was very difficult leading that decision, but as an organization, we just felt Jordan was a very talented punter," Ficken said. "He's got big upside with a strong leg. He's had success in very difficult venues outside, especially, obviously Pittsburgh, and we just saw it as an opportunity to continue to improve in every facet of this football team."