EDEN PRAIRIE, Minn. –It's not often that two high school teammates make it to the NFL, and the chance that they'll sign with the same NFL team? Even less likely.
Vikings rookies Theiren Cockran and Keith Baxter played together for the Homestead High School (Florida) varsity football team in 2009 and 2010. Five years later, the teammates have been reunited and are suiting up in purple.
"We were both excited," Baxter said about realizing they had both signed with the Vikings as undrafted free agents. "It was just funny to us – we both started smiling."
Cockran and Baxter stayed in touch with each other while they played collegiately at the University of Minnesota and Marshall University, respectively. In addition to exchanging texts and phone calls during their time apart, the rookies said they often used the Snapchat app to communicate. In exchanging "snaps" while Cockran was playing for the Golden Gophers, Baxter often commented that Minnesota looked like a beautiful place.
"I saw the post on the Internet that Keith was coming to the Vikings as well, and immediately I called him," Cockran said. "I told him, 'How ironic that you're [coming to Minnesota] too. It a wonderful thing, and we're both excited to be here."
Although Cockran received calls following the draft from three other teams in addition to Minnesota, he said signing with the Vikings was a dream come true.
"It's right in my backyard," Cockran said. "Playing at the U of M, and being here since 2011 – it was always a dream to play in the NFL, and being able to do it here in my second home, here in Minnesota, has been a blessing."
While Cockran and Baxter were at Homestead High School, the cornerback and defensive end were part of a defense that ranked in the top three of Miami-Dade County. In 2010, the Broncos allowed just 94 rushing yards, 78 passing yards and 9.6 points per game.
Homestead's head coach at the time was Bobby McCray, Sr., father of the former NFL defensive end. Cockran credits McCray with pushing him to focus more on football and helping him reach his dream of making it to the NFL. Cockran started out playing both basketball and football in high school, but McCray encouraged him to make football his main concentration.
"Coach McCray used to tell me, 'You need to just focus on football. That's going to be your ticket in life. That's what you're good at,' " Cockran said. "Just taking knowledge from Coach McCray and things he applied to his son […] helped me become a better football player." 
Baxter and Cockran now have rookie minicamp and six organized team activity practices under their belts, and they both said they're feeling good about their progress since arriving at Winter Park. Baxter said he's specifically working to improve his back-pedaling skills, as he solely played in a press defense while at Marshall.
"[Defensive backs coach Jerry Gray] has been working hard with me, teaching me some things to help me learn how to play in this defense," Baxter said. "It's been going well. I feel like I'm making a good transition – I just need to keep learning."
Cockran has been staying after practice to get in some extra work on the sleds, fine-tuning his hand placement and footwork. He said perfection is always his goal.
"At this level, everything has to be perfect," Cockran said. "You can't get away with just your athleticism; you can't get away with just your strength. You have to be a technician.
"I want to be perfect," Cockran added. "Even if it's not possible, I want to try to get as close to that as I can."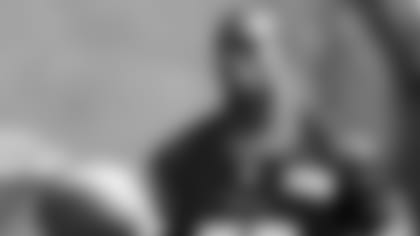 After playing for a top-rated defense under McCray, Baxter and Cockran recognize the value of learning under Vikings Head Coach Mike Zimmer, who's entering his third year at the helm after 14 seasons as an NFL defensive coordinator.
Baxter described Zimmer as "fiery," saying he appreciates that quality and believes it's that type of coach that makes players work their hardest and achieve greatness. Cockran echoed Baxter's sentiments.
"Coach Zimmer is definitely defensive-minded," Cockran said. "He knows all the defensive calls. If we take any step wrong, he knows it. He sees everything. He holds us to a high standard, and I love that. At the end of the day, it's going to make me a better football player."
The former high school teammates are hoping to make the Vikings final 53-man roster and continue their saga together. Rookie free agents making the active roster is not unprecedented in Minnesota, as Marcus Sherels and Adam Thielen joined the Vikings after going undrafted in 2010 and 2013, respectively.
"We both want the best for each other," Baxter said. "We're just trying to work hard and encourage each other to do great here."