EAGAN, Minn. – There are plenty of well-known facts about Harrison Smith.
Minnesota Vikings safety, selected out of Notre Dame in the first round of the 2012 NFL Draft. He's a five-time Pro Bowler and in 2017 received First-Team All-Pro honors from The Associated Press.
But did you know that his favorite color is green (we'll try not to hold that against him – more on that later), that he took guitar lessons as a child or that his favorite food, although he eats it sparingly, is pizza?
Smith recently joined the Minnesota Vikings Kids Club for a fun and interactive Q&A.
Although the Kids Club hopes to soon return to in-person events, the Q&A's virtual format gave approximately 100 children the opportunity to hear from Smith. Participants joined the Zoom call from 19 different U.S. States, including Colorado, California, Utah, Oregon, North Carolina and Maryland.
Smith introduced himself to the young people and answered a few questions right off the bat; among them was naming his favorite thing about Minnesota.
"There's a lot of great things about Minnesota. I think the people, number one, kind of jump out. Everybody's very nice up here," Smith said. "Everyone complains about the long winters, the cold winters, but I think it really makes you appreciate the nice days, too. Right now it's really nice up here – I don't think you can beat it anywhere in the country. The lakes, the water – it's just a really pretty place. And it's a great community."
And while Smith's favorite team to play is the Packers, he joked that too much green and gold has made its way into the state.
"It's such a good rivalry," he said of the annual Border Battles. "There's a little too many Packers fans in the Twin Cities area for my liking, but it makes for good home and away games, for sure."
Participants in the Q&A had the opportunity to vote virtually on two different polls. After the question was asked to Smith, young people were given 15 seconds to weigh in before the safety responded.
When asked if Smith would rather record a sack or an interception in a game, 79 percent voted for interception.
"I voted, as well," Smith laughed. "They're right. It's definitely an interception, although I love getting sacks, too. It's always good to hit the quarterback. But interceptions are, I think, a little bit bigger sometimes because you take the ball away and give it to your team. And you can also score. So that can affect the game pretty drastically."
Smith would know. His four career interceptions returned for touchdowns are a franchise record.
On the second question, Smith was thankful for the 61 percent who believed he could do "The Griddy," the celebratory dance made popular by Vikings receiver Justin Jefferson.
"60-40 yes-no, I think, is appropriate," Smith said. "I'm probably never going to do it on the field; I'm not much of a dancer on the field. Well, maybe not never. I won't say 'never.'
"But I think I can do it," he added. "I might not be super smooth with it, though – I might look like Kirk [Cousins] or something – but I think I could do it."
Several attendees then showed off their skills in "The Griddy" for Smith, who offered plenty of praise for the moves.
Fans know that Smith doesn't get too flashy on the field, and he held the same down-to-earth demeanor during the Vikings Kids Club event. He happily answered numerous questions, football and non-football alike, even talking about his chocolate Lab, Deuce, and sharing a portrait of the pup drawn by Garrett Bradbury's wife Carson.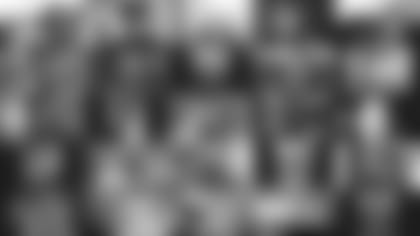 As part of the event, some of the Vikings Kids Club Members had the opportunity to personally ask their pre-submitted questions. Below are the questions and Smith's responses.
What sports did you play growing up? | Charley R.
"I played pretty much everything I could. – football, basketball, track, golf … karate … I played hockey for, like, a second. … I tried it – it was probably the hardest sport I ever played.
"I learned guitar when I was little. That's not a sport, but I kind of compare it. I tried to do pretty much everything I could."
What is your favorite vacation spot? | Holthaus Family
"I don't think I've found it yet. There are some places I've wanted to go, but since COVID came around it's been hard to get to them. But to keep it simple, I'd say my favorite vacation spot is, my whole family always goes once a year to South Carolina. Anywhere between Charleston and Hilton Head, any of those little towns on the coast there. It's just a great spot to go and hang out with your family."
Do you have any advice for a kid who wants to play in the NFL? | Jacob H.
"That's a good question. I could probably give some advice for a while on that, but to keep it basic, I would say to play all the sports you want to play. You don't have to just play football. Play all the sports you want to play – and not even [just] sports – activities, anything in school, any types of clubs you want to get into. Just kind of grow yourself that way. It will make you a better and more-rounded individual and football player. And then you've also got to work hard. Not just in football, but you have to be good in class because you'll have to go to college, as well, if you want to get to the NFL. It all kind of works together. Being a good person, treating people with respect. But you've definitely got to work hard and do well in school."
How many interceptions have you made? | Allen Family
"I've made 28. I need to get a little bit more."
Do you have a goal in mind?
"Yeah, I have a loose goal, but I don't talk about it too much. It helps if you have great players around you, too, so every interception I've made, it isn't just me. It's the whole team working together, and I just happened to make that play. I always have more success when I think about things that way. If I can make a good play and help somebody else, and they make a good play and it helps me, it's just better for the team."
What's your favorite color? | Braiden G.
"Man. My wardrobe, it's pretty much just [neutral] shades – there's no colors. But if I've gotta pick a color, I'd say maybe green. Something like that. I don't know. There's shades I like, of all kinds.
"Not a Packers shade … more of a blue-green, you know? Kind of an aqua color."
What is your biggest achievement professionally? | Beckett E.
"Strictly football? I haven't reached the achievement I want to be my greatest, winning a Super Bowl, so that's what I'm chasing. But I guess as an individual, being an All-Pro is a good thing. But it's such a team game. You're always chasing the Super Bowl, so that's what I'm chasing. That's what I'm going for."