EAGAN, Minn. – Harrison Smith regularly spooks opposing offenses.
He's been a force to be reckoned with since joining the Vikings secondary in 2012; a decade in, and nothing's changed. Coaches around the NFL game-plan for Smith, whom they're well-aware can be a monster in the backfield.
Smith will look to scare the Cowboys on Sunday Night Football this weekend, and he's anticipating a raucous U.S. Bank Stadium crowd.
"Night game, Halloween — I mean, I can't imagine it won't be wild," he told media members Wednesday. "A lot of time before the game to get your costumes right and get ready for kickoff."
As pumped as Smith is for Sunday's game, he won't lie – he's a tad bummed the contest falls on one of his favorite days of the year.
"I'm a big Halloween guy, so it's a little disappointing I can't have a celebration," said Smith.
In 2019, the All-Pro safety hosted a party for teammates at his home, and he and Madison, who were married this spring, went as a Day of the Dead couple.
Smith is known as a fairly reserved, low-key guy, but all bets are off when it comes to Halloween.
"He really does [go all out]," linebacker Eric Kendricks said. "When I came to the Vikings in 2015, it was totally unexpected. It was like, 'Oh, OK, we're doing Halloween. This is a thing.'
"It's always been really fun," Kendricks added. "There was karaoke involved, we had treats. I definitely miss that."
Smith also enjoys the tradition of welcoming trick-or-treaters, who can expect a high-level sugar rush from the safety. He only gives out full candy bars, he emphasized – no fun-sized Snickers allowed.
Though he won't be able to answer the door this year, Smith doesn't want to disappoint the pint-sized princesses and superheroes who come through the community.
"I'll put some candy out for the neighborhood kids," he said. "But the problem is, when you put out a bowl of candy, the first group of kids takes all of it. It happens like almost every year, but, you know, whatever."
He smiled when ribbed by a reporter who questioned, "You give out full-size candy bars and are surprised they disappear?"
"I'm not surprised. I'm not surprised," Smith said, shaking his head. "I'm getting exactly what I asked for."
Though he doesn't plan to costume up this year ahead of the Vikings game, Harrison remains proud of some of the costumes he and Madison have unveiled over the years.
"I've had some good ones. We went as the characters from [Disney's] Up once, so I [had] a cane, the old guy," Harrison recalled. "I was a big [Robin Hood] guy. We went as the American Gladiators once.
"I had long hair in college," he added, "and I went as Jack Sparrow. It was money. Those were good ones."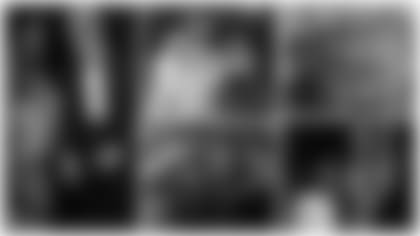 Though the American Gladiators get-up was before Kendricks arrived in Minnesota, the linebacker called it a "legendary costume" that's still talked about.
And don't forget the time Harrison was a dalmatian to Madison's Cruella de Vil, or the year he went as the D.C. Comics villain Bane accompanied by Madison as Catwoman. He once also dressed up as a carrot to pair with Madison (snap peas), Anthony Barr (carrot), Kendricks (sweet corn) and Kendricks' fiancée Ally (eggplant).
The chocolate Lab half-heartedly goes along with ideas his "parents" come up with costumes. One year, Deuce was a shimmery green snake; another October, Harrison and Madison dressed him as a pumpkin.
This year? Well, you'll just have to wait and see.
"It's a surprise," Madison noted.
"He doesn't love the costumes, but he's got good spirit," Harrison laughed.