A frigid January wind batters the pale blue siding, but laughter inside the Ham household drowns out the cold of a Tuesday night.
Stephanie jokes with C.J. as the Vikings fullback dishes himself a serving of pulled pork she's prepared for dinner, re-telling for a guest the story of a cooking mishap two years prior that involved fried shrimp and a sprinkler system.
Skylar, 2-and-a-half, grins and shows off a slice of cheese pizza before pushing a napkin toward each adult, an ironic reminder from a toddler to keep messes to a minimum.
Nearby, 6-week-old Stella sleeps peacefully – for the time being – in a baby swing.
"I have to eat quickly," Stephanie thinks aloud when Stella stirs and lets out an unconscious chirp.
The rest of the evening will buzz with activity: after-dinner clean-up, feeding Stella and watching a movie (which turns into mostly playtime) with Skylar. Stephanie will need to study before the night wraps up, prepping for an upcoming exam, while C.J. gives Skylar a bath.
Her pursuit of a doctorate in physical therapy has required sacrificing and a lot of juggling, but Stephanie wouldn't have her crazy life any other way.
Stephanie was just 11 years old when she made the decision that likely determined her career path years later.
She started dance class at age 5 but in fifth grade was asked by her parents to decide between continuing in dance or playing soccer. For the young girl drawn to athletics, the choice was an easy one to make.
"I went with soccer, and that was my love for the rest of my life," Stephanie said.
Soccer took Stephanie from Ankeny High School in central Iowa to Augustana University in Sioux Falls, South Dakota, where she scored 16 career goals, was a two-time All-NSIC first-team selection and first met C.J., who played running back for – perhaps prophetically – the Augie Vikings.
Stephanie reflected recently on her decision to play soccer collegiately and said she "wouldn't be who she is" without her experience as a student athlete.
Self-identifying as shy, she explained that being part of a team at Augustana, as well as spending significant time off the field in volunteering and fundraising efforts with teammates, helped develop time-management skills as well as coax her out of her shell.
Her athletic career wasn't without its challenges, however. Stephanie has torn her right ACL three times, her left ACL once and also suffered a meniscus tear, all of which have required surgery and rehab.
In the wake of each injury, Stephanie became well-acquainted with physical therapists and the important role they played in her recoveries. But it wasn't until partway through her time at Augustana that she set her sights on a career in physical therapy herself.
"I actually went into Augie wanting to do pharmacy," Stephanie said. "Then I took organic chemistry, and it was like, 'This isn't going to work. This isn't what I'm interested in.'
"I didn't know what else I was going to do," Stephanie continued. "But I took a bunch of Exercise-Phys classes and also health and nutrition, and I kind of just fell in love [with the program]."
Stephanie graduated from Augustana in December of 2015, and she and C.J. were married the following May.
The spring and summer of 2016 brought plenty of good news for the Hams but simultaneously threw an early curveball into Stephanie's career path. Shortly after being accepted to physical therapy school at Des Moines University, she found out she was pregnant with the couple's first child. And it wasn't long after that when C.J. was given an opportunity by his home-state Vikings.
Faced with a big decision, Stephanie took a leap of faith and decided to go forego school that year in order to remain in Minnesota with C.J. as he pursued his dream of playing in the NFL.
"Stephanie's done a great job of supporting me in my career," C.J. said. "Obviously being in the NFL, it's a tough job – more so on her – because you never know where you're going to be, you never know your job security, all those things.
"For her to sit back and seek out a different opportunity [to continue pursuing] her goal, it was awesome," C.J. added.
Opting to wait a year paid off.
Stephanie found the perfect fit through South College in Knoxville, Tennessee, which was the first school to offer a hybrid, two-year physical therapy program. The unique format allows Stephanie to work through her classes – and exams – at home and travel every three months to Knoxville for extensive lab work.
"There are other online programs, and there are accelerated programs, but they're the first to combine the two," explained Stephanie.
"My favorite part of the program is being able to stay home with my kids … and being there for C.J., going to his games on the weekends. We don't have to be separated," she added.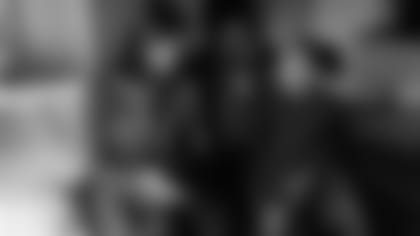 Managing school and family life isn't always easy.
Soon after the Hams moved to a home in the Southeast Metro and during Vikings Training Camp this past summer, Stephanie started her first clinical rotation and drove nearly an hour each morning, often making it back just in time to bring Skylar to Twin Cities Orthopedics Performance Center and connect with C.J. after the team's afternoon practice.
She is quick to give credit to both sets of parents, however, and is beyond grateful for a supportive husband.
"The grandmas are a huge help," Stephanie said. "When I have to go to Tennessee … C.J. can't just up and leave, so when I'm gone for a couple weeks, we typically have each grandma come for a week.
"And the biggest thing with C.J. is that he's so hands-on," Stephanie continued. "He'll come home after a 10-hour day and put the kids to bed so I can study. That has been a huge help, helping with the little things. He's physically and mentally tired from a long day, but I'm mentally tired, as well, and he's super supportive."
During the 2018 season, C.J. was one of just 20 fullbacks listed on teams' active rosters. Making a career in the NFL, especially at a less-prevalent position, isn't easy. And yet, he's the one who is fascinated daily by his wife and her ability to keep everything moving smoothly.
"It's a lot on her plate. And on top of all that, she pretty much manages our entire life, too," C.J. said. "To see her do all of that and do such a great job in school – it's not like she just takes the tests and is in the classes – she's excelling, she's getting A's; she's in the top part of her class. She's doing such a great job, and I don't know how she does it. It's very impressive."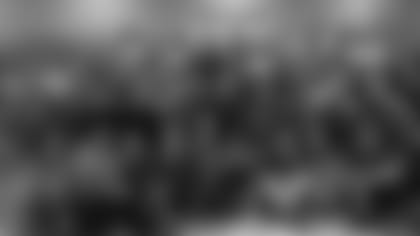 It may not always be easy, but Stephanie has no regrets about the goals that she's set or her journey to reach them.
Even when C.J. made the Vikings practice squad in 2016 and then was part of the active roster the next two seasons, Stephanie never questioned whether or not she would give up her pursuit of being a physical therapist.
"At the end of the day, C.J. is good at what he does … but football isn't going to be forever, and it's not guaranteed," Stephanie said. "We continue like we normally would, as if it's any other job."
Added C.J.: "If I play 10 more years or if I'm done playing, we as a family always think long-term picture."
Stephanie hopes that Skylar and Stella will learn about passion and the importance of work ethic as they grow up with a working mother, though she is quick to also praise stay-at-home parents, as well.
"I've gotten to experience both, and [staying at home] is just as hard, if not harder," Stephanie said with a smile.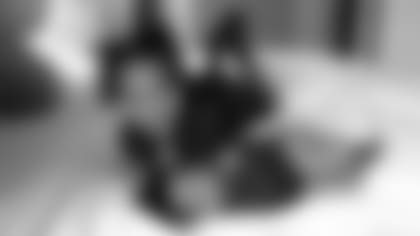 While balancing play time and study time, family days with test days, she hopes to show her girls that it's important to go after one's dreams.
"She's very passionate about everything she does, [including] being a physical therapist," C.J. said. "For the girls to see her work as hard as she does, and especially when they get older, they'll be able to appreciate it and learn how to be independent themselves."
While she always thought she would work in sports, Stephanie has found that a number of different areas appeal to her. A recent rotation involved shadowing Rachel Hunkele, the wife of Vikings assistant athletic trainer Tom Hunkele, for in-patient therapy and opened her eyes to a whole new perspective on physical therapy.
"I loved it," Stephanie said. "You're helping people who have been in the hospital for a while and are getting to walk again. It's a completely different side of it, but it's equally rewarding."
She is scheduled to graduate in June with a DPT degree but won't be fully finished until September. The National Physical Therapy Exam will follow in October. Upon passing the exam, Stephanie will be a licensed physical therapist and set her sights on a residency, where she can work under someone for further training before settling on a specialty.
"That's probably a five-year plan," Stephanie said, laughing. "We'll see if that's exactly how it goes."